Public Cloud vs. On-Premises: Whatever Your Choice, You Need Visibility
What's the difference between public cloud and on-premises cloud? Which option is best for you?
There's an (internet years) old saying that the cloud is nothing more than other people's computers. That's an amusing rejoinder for server room banter, but a gross oversimplification of an important IT services model that hints at a common misconception when it comes to the cloud. It also ignores the reality of private clouds, creating confusion over the differences between a public cloud and an on-premises, private cloud.
What is the difference between a public cloud and on-premises? First, let's make it clear what public cloud and on-premises are not. Private, on-premises clouds are not just really big data centers, and public clouds are not just someone else's computers. Whether it's public or private, cloud computing is defined by a broad range of services that have democratized access to powerful applications and resources.
How do you define cloud computing?
Depending on which experts you ask, you might hear a different definition of what cloud computing is, but every description has a common theme: remote delivery of services. For example, the 451 Group defines cloud computing as "a service model that combines a general organizing principle for IT delivery, infrastructure components, an architectural approach and an economic model – basically, a confluence of grid computing, virtualization, utility computing, hosting and software as a service (SaaS). Or, put more simply, the cloud is IT, presented as a service to the user, delivered by virtualized resources that are independent of location."
Forrester identifies cloud computing as "a standardized IT capability (services, software, or infrastructure) delivered via Internet technologies in a pay-per-use, self-service way." While Gartner calls cloud computing "a style of computing where scalable and elastic IT-enabled capabilities are delivered as a service to external customers using Internet technologies."
What is a cloud service?
Whichever way your organization defines it, and whether it's public or on-premises, cloud computing is about the ability to take advantage of on-demand cloud services. These services are designed to provide easy, affordable access to applications and resources, without the need for internal infrastructure or hardware. And whether those services are available internally, or purchased from a public cloud provider, they are made possible because of specialized, purpose-built, hyperconnected infrastructure comprised of virtual machines, software defined networking, and all of it backed by hypervisor-based automation and orchestration.
How are cloud services delivered?  
When deciding how to leverage cloud services, organizations must decide which type of environment works best for the business: public cloud, on-premises cloud, or a mix of both (hybrid cloud).
Public cloud services are services that a cloud service provider makes available to numerous customers over the web, including: Software-as-a-Service (SaaS), Infrastructure-as-a-service (IaaS), and Platform-as-a-service (PaaS). The main benefit of public cloud services the ability share resources at scale, allowing organizations to offer employees more possibilities than would likely be possible alone.
Private, on-premises cloud services are services that are made available through an organization's own internal infrastructure. The cloud platform and software serve one company. Highly regulated companies, such as healthcare and banking firms, often use private clouds to leverage advanced security protocols and extend resources in a virtualized environment as needed.
Hybrid cloud services combine a private cloud solution with public cloud services. This configuration is often used when an organization needs to store sensitive data in the private cloud but wants employees to access apps and resources in the public cloud for daily communication and collaboration.
With public cloud services, organizations can procure services on an on-demand, as-needed basis. If and when there's no longer a need for a particular app or service, the business can simply cancel the subscription or shut down the service. The same can be true with on-premises cloud services.
Public Cloud vs Private Cloud Considerations
When you are considering the advantages and disadvantages of building out a public cloud vs. hybrid cloud strategy, there are some things to keep in mind.
The first is that no decision is final. You may need to rely on public cloud resources for the sake of cost, convenience, or because you don't have time to wait for a private cloud build out—even if your organization's long-term business strategy includes operation of a private cloud. Dropbox comes to mind as a company that started in 2007 with services running solely on public cloud resources before announcing in 2016 it had invested billions is a massive private cloud buildout to take sole responsibility for the infrastructure on which its product and service portfolio would operate.
That's a dramatic example, but it makes the point that private cloud ownership may make sense for some organizations with a desire to control their own services and infrastructure. Typically, it is larger organizations with multiple, even multi-national locations, that may have a more compelling need for building and operating a private cloud. And in cases were an organization works with data in different countries or jurisdictions, there may also be a need to ensure data sovereignty and security in compliance with regulations like Europe's General Data Protection Regulation (GDPR).
If a company a chooses to extend existing on-premises software deployments or moves 100% to the cloud, cloud services will continue to simplify how organizations deliver mission-critical apps and resources to the workforce. Cloud services are transforming how people work and the way businesses operate. This is evident by the need for ad hoc collaboration to accommodate the needs of a highly distributed workforce that is especially important in the age of COVID-19.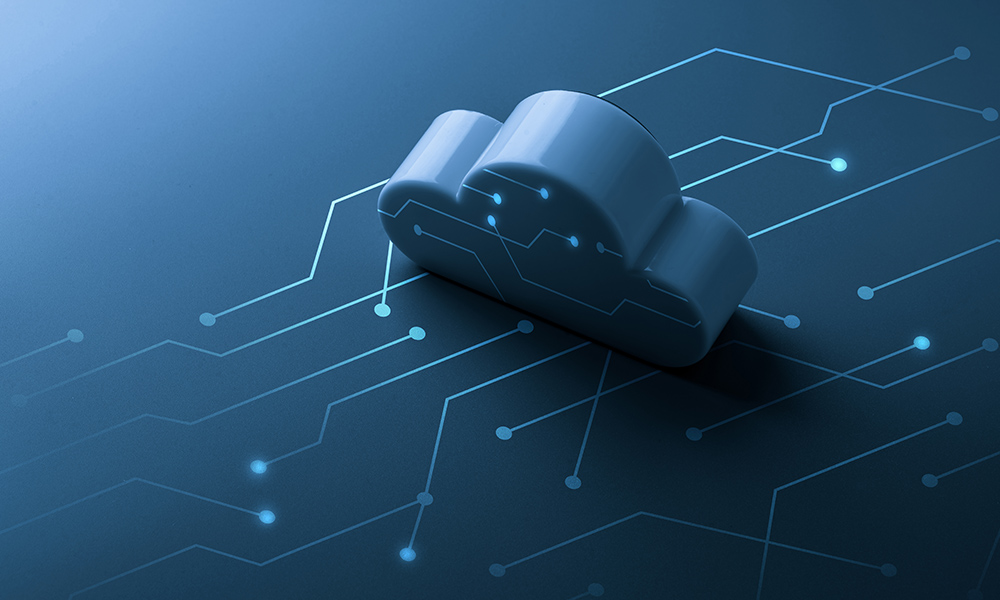 ITOps Teams Manage and Monitor Across Entire IT Estate
But whether your organization relies on an on-premises cloud, public cloud, or hybrid cloud business model, it is vital that the IT operations team be able to monitor and manage infrastructure and applications to ensure its mission-critical business services operate reliably.
While cloud service providers often providing monitoring and management of their platform, few provide visibility across public clouds, much less across on-prem environments. But with a unified hybrid cloud monitoring and AIOps platform like ScienceLogic SL1, you can not only see the entirety of your on-premises IT estate, but you also have visibility into multiple public clouds, with the ability to establish all relevant interdependencies, and monitor the health, availability, and risk of your essential business services.
Seeing Through the Cloud
The ability to see into and understand what's happening in the public cloud as it pertains to your organization's operations is vital to understanding how problems in the private or public cloud may require you to take action to mitigate or avert any issues. You may need to shift resources internally, or to another cloud services provider, but whatever the cause happens to be, your contingency is based on data, not a best guess.
Whether Public Cloud vs. On-Premises, It's ScienceLogic
Whatever your cloud strategy, and however the balance of your use of traditional on-premises IT, private cloud, and public cloud changes, you need the ability to see and monitor everything that's going on, and more importantly, respond quickly and accurately to avert or fix service-impacting problems. The SL1 AIOps platform from ScienceLogic delivers that visibility and actionability from one place.
Public cloud vs. on-premises private cloud vs. hybrid cloud? It doesn't matter. ScienceLogic has you covered. To learn more about how ScienceLogic can help you, read the EMA AIOps Radar report »