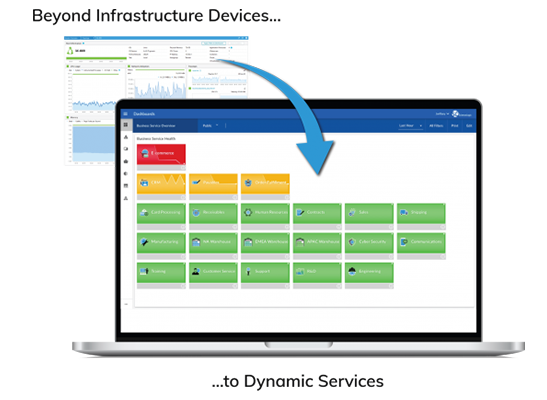 Shift from device-centric to service-centric management.
In a rapidly changing IT world with microservice-based, containerized workloads, monitoring at the device level is no longer practical. Forward-looking enterprises are shifting from tracking individual IT devices and apps to a single service view across a heterogeneous mix of clouds.
ScienceLogic's AI/ML-based IT platform helps you make that shift with Business Service Management (BSM).
What is business service management?
Business Service Management is a customer-focused approach to bring IT operations in alignment with business objectives. Business Service Management from ScienceLogic provides a comprehensive framework for viewing (See), prioritizing (Contextualize), and managing (Act) the health of your critical business services:
How business service management can help you.
Break down visibility gaps with comprehensive business service views.
Automatically discover and map infrastructure and app topology (e.g., VMware, Kubernetes).

Model business services and integrate third-party relationships (e.g., APM, ITSM).

Pull in business KPIs to measure IT impact on business outcomes.
Diagnose root cause faster with AI/ML-powered behavioral correlation.
Prioritize work with a full understanding of service impact.

Apply ML-based Behavioral Correlation to zero-in on the root cause within service topology.

Avoid war-room finger-pointing to focus on issue resolution.
Avoid service outages by identifying service risks and acting proactively.
Use customizable dashboards for instant health and risk snapshot of multi-tier services.

Immediately drill down to the resource impacting service health.

Leverage recommended actions to quickly diagnose and resolve issues.
ScienceLogic Named a Leader in AIOps
What customers are saying...
"We are trying to build something that is not only a repository, but that will build relationships between resources and provide actionable information that is not just IT-centric but presents a business sense, as well. In the end, the goal is to have a proactive monitoring system that provides value to the business and, ultimately, to the customer"
Joe Kosmal, Manager Data Center Operation, SRP
"Having a real-time detailed business service view of our entire operations lets us instantly isolate root cause across different tools, databases, and hybrid IT and multi-cloud architectures, all without the extra noise that is typical in other tools alert floods. But the most impressive aspect of the SL1 deployment is that it took only seven days to get it up and running."
Arnaud Carrel, CTO, Direct Energie
"Leveraging ScienceLogic SL1 for intelligent business services is a relatively new effort—we have been in production for selected services for five months. But it brings strong added value to some of our more progressive customers, because it allows them to map their application infrastructure to critical business services and prioritize accordingly. You might say it provides our customers with a dynamic template to manage according to relevant business outcomes. It also helps us keep well ahead of the curve as an MSP capable of delivering meaningful added value."​
Doug James, Director for Technology and Business Management, IT Services, NetDesign
Experience the Difference.