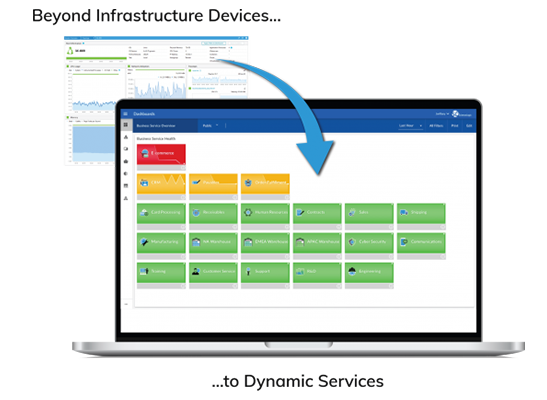 Shift from device-centric to service-centric management.
In a rapidly changing information technology world with microservice-based, containerized workloads, monitoring at the device level is no longer practical. Forward-looking enterprises are shifting from tracking individual IT devices and apps to a single service view across a heterogeneous mix of clouds.
ScienceLogic's AI/ML-based IT platform helps you make that shift with Business Service Management (BSM).
What is business service management?
Business Service Management is a customer-focused approach to bring IT operations in alignment with business objectives. Business Service Management from ScienceLogic provides a comprehensive framework for viewing (See), prioritizing (Contextualize), and managing (Act) the health of your critical business services:
How business service management can help you.
Break down visibility gaps with comprehensive business service views.
Automatically discover and map infrastructure and app topology (e.g., VMware, Kubernetes).

Model business services and integrate third-party relationships (e.g., APM, ITSM).

Pull in business KPIs to measure IT impact on business outcomes.
Diagnose root cause faster with AI/ML-powered behavioral correlation.
Prioritize work with a full understanding of service impact.

Apply ML-powered Behavioral Correlation to reduce event noise and zero-in on the root cause within service topology.

Avoid war-room finger-pointing to focus on issue resolution.
Avoid service outages by identifying service risks and acting proactively.
Use customizable dashboards for instant health and risk snapshot of multi-tier services.

Immediately drill down to the resource impacting service health.

Leverage recommended actions to quickly diagnose and resolve issues.
ScienceLogic Named a Leader in AIOps

Artificial Intelligence For IT Operations
ScienceLogic Named a Strong Performer Among AIOps Platform
Read Report
Success Stories

Hundreds of customers already trust ScienceLogic.

Here's why.
What Our Customers and Analysts are Saying
"Investment in SL1 helped Capgemini achieve many business goals, including the enhancement of AIOps practices and transforming the firm's global IT NOC to reduce operational costs, deliver a better user experience, rapidly respond to business needs, replace and/or minimize tools, reduce event and incident noise, reduce MTTR, improve business service visibility, drive increased incident automation, and shift from being reactive to proactive."
The Total Economic Impact™ Of ScienceLogicSL1 For Capgemini, Forrester 2022


View Report
"ScienceLogic is helping us to deliver true unique value to our customers. Good examples include giving customers direct data to relevant dashboards, giving them data to the services that matter to them, and giving them an overall view of their business for health, availability, and risk. That is something we have not been able to do before."
Doug James, Head of Transformation Office, NetDesign

"We are delighted to partner with ScienceLogic, one of the AIOps market leaders. YASH Intelligent Business Services Monitoring (IBSM) will leverage ScienceLogic SL1 AIOps-based Monitoring and Automation platform and assist customers in driving context-based innovation and fostering competitive differentiation. In the rapidly evolving IT operations scenario, this would address the growing need for autonomous IT operations, enhance customer experience and accelerate digital transformation initiatives."
Manoj K. Baheti, CEO & Co-founder, Yash "Our level of visibility across our infrastructure has increased dramatically. ScienceLogic provides excellent metrics and data that helps keep on top of network events, and application and business services monitoring are being built to support the changing needs of our organization. With the move to a hybrid environment of private & public cloud application installs, ScienceLogic has become key for us."
Ross Thompson, Senior Solutions Design Engineer, SunLife Financial
"With the SL1 platform, it offers new data to present to your clients like additional dashboards for the core functionality. We're able to deliver more value, build business services, related dashboards, deliver health, risk and availability statistics to clients in a clean, modernized manner, all of which delivers more value and promotes enrichment of data your clients will desire."
Ste Pallett, Head of Security and Networks, Content+Cloud "Flexential is a long-time partner of ScienceLogic, focused on helping customers optimize their IT transformation journey. ScienceLogic's SL1 will help us become more competitive and address new opportunities by creating new advanced services that combine business service visibility with applications and infrastructure views - while giving our operations team greater level of automation to help us deliver outstanding service quality."
Jim Parks SVP, Central Operations, Flexential

"ScienceLogic presented …application and business service visibility – critical to the success of the solution. This enabled a worldwide Order & Fulfillment process with a zero tolerance for downtime."
Global Consumer Packaged Goods Company

View Case Study
"The organization has end to end visibility towards business services > application > infra components/devices > app components. Overall, positive feedback was received from senior management."
Kshitij Sheth, Solution Architect, TCS

Experience the Difference.