What is IT infrastructure monitoring?
Customer experience has become one of the most important metrics of success. And good customer experiences rely on interconnected technologies and virtual machines working together to deliver information, transactions, and interactions to your end-user.
IT infrastructure is the collective grouping of interconnected technologies that include servers, routers, and networks in addition to software and data centers. IT infrastructure monitoring provides visibility into these technologies in order to actively diagnose performance and accessibility problems across the entire infrastructure—before an outage that hinders customer experience occurs.
IT infrastructure monitoring, which includes application monitoring, server monitoring, and network performance monitoring, provides you with the ability to see what is happening across your organization's infrastructure to help teams predict and prevent outages—alerting your team to unplanned downtime, network intrusion, and resource saturation. When you have visibility into your entire infrastructure, the problems IT infrastructure monitoring tools alert you to are solved fast and effectively.
Gain deep visibility formulti-cloud, hybrid IT, and legacy infrastructure.
The ScienceLogic SL1 platform includes some of the broadest technology coverage in the industry and it can serve as the single source of truth for your IT needs. Beyond networks, servers, and operating systems, our monitoring solution covers all major public clouds (AWS, Azure, Google, IBM, and Aliyun) as well as multiple virtualization solutions (VMware, Hyper-V, Xen, and KVM), storage arrays, unified communications and videoconferencing, and wireless.
Multiple locations are a challenge for IT to face because it can be difficult to identify and solve problems quickly.
Features & Benefits of SL1 IT Infrastructure Monitoring
What should you be looking for when selecting an IT infrastructure monitoring platform? Here are some key attributes to look for:
A single platform that handles hybrid IT use cases & eliminates the cost and complexity of multiple point tools
Cross-domain visibility: network monitoring, server monitoring, application monitoring, virtual machine monitoring, & performance monitoring
More consistent operating processes
Reduced administrative burden on operations teams
Private, segmented views for each operations team (network, UC, server, cloud, etc.)
Ability to share views easily with management, internal and/or external customers
Eliminate Visibility Gaps while Driving Tool Consolidation
Enterprises have significant gaps and overlap in visibility across the data center, cloud, and containers resulting in increased operational costs and conflicting sources of truth.
ScienceLogic SL1 helps consolidate and minimize tools, maximizes cross-domain visibility, overall performance monitoring, and reduces the total cost of ownership with a single platform.
SL1 Integrations
With 500+ integrations known as PowerPacks, spanning over 100 vendors and thousands of device types, ScienceLogic has pre-built PowerPacks for most of the commonly deployed devices and technologies that any customer would need to monitor.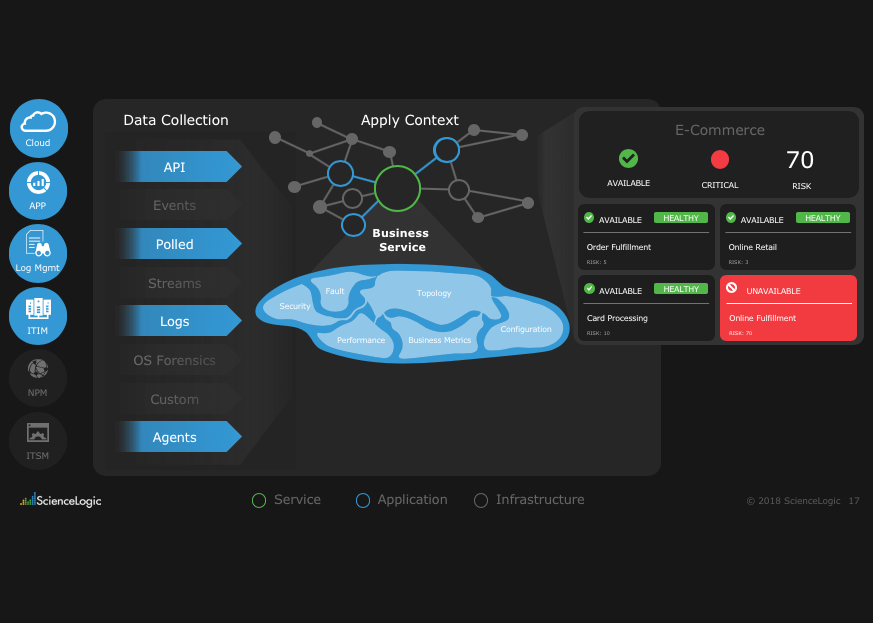 Holistic IT Monitoring for Enhanced Business Services
ScienceLogic Business Service functionality groups devices into service-related views and monitors them as a holistic system – while also mapping applications to their underlying IT infrastructure. Newly enhanced Business Services include:
Application monitoring & visibility – see how infrastructure affects application performance
Business Service dashboard views
Incident management, enrichment, and automation via integration with ServiceNow
Gain real-time context for how everything – infrastructure, apps, data, virtual machines, and business services–works together.
What customers are saying...
"It was a business decision to have one of the organizations in the department to be on one platform. ScienceLogic was chosen to be the platform. It addresses visibility into the servers that are managed in that department. We have also added it to manage our network devices. Our visibility has changed. We have a better insight into our servers. We can change the thresholds to alert us before there are bigger problems. Helping us to fix the issue before it causes the server to go down."
Benita Proctor, IT Specialist, National Institute of Health
"ScienceLogic is THE enterprise monitoring tool. It goes above and beyond and integrates across our area's network, infrastructure, and application. Would recommend for any organization."
Anonymous, Federal Government Entity
"ScienceLogic changed our IT culture. It helped us break down organizational silos and operate more effectively and transparently."
Anonymous, Federal Government Entity
Experience the difference.