What is cloud monitoring?
Cloud monitoring is the process of evaluating, monitoring, and managing your cloud-based services, applications, and infrastructure. Cloud monitoring keeps you informed about any issues regarding business-critical applications and the allocation of cloud resources while monitoring multiple infrastructure elements associated with your applications.
Why is cloud monitoring important?
With more and more companies transforming towards multi-cloud environments—Gartner predicts that 90% of enterprises are operating in a hybrid cloud model —it is critical to ensure that everything you deploy in the cloud is performing optimally.
And, in a multi-cloud environment, your business only performs as well as what you can see. You need comprehensive visibility to determine whether resources are working optimally and properly interacting with other applications and services.
What if your infrastructure is comprised of legacy tools that have little to no cloud capability? These tools were made for traditional environments—not a mix of clouds, microservices, and containers. You need cloud monitoring tools that give you visibility into your entire IT environment—the cloud, servers, network, apps, services, etc.—either on-premises, in the cloud, or a mixture of the two. That way, you can see how each component relates to each other. The good news? We've got cloud monitoring tools that do just that.
Limited visibility into security, behavior, and performance of your solutions could get in the way of delivering valuable customer service. The ScienceLogic SL1 platform helps you see and contextualize how critical workloads are performing—regardless of where they are—so you can effectively support the business with these key capabilities:
• Discover private, public, hybrid, and multi-cloud resources—dynamically.
• Establish dependency mapping—automatically.
• Ensure optimal cloud performance—easily, with a unified view of all your clouds.
• Use one system for cloud monitoring of multiple clouds – avoiding multiple tools with different interfaces.
Types of Cloud Monitoring 
• Virtual—ensures that a virtualized IT infrastructure performs optimally and that virtual resources are properly allocated.
• Application performance management (APM)—applies analytics to data collection from IT environment and makes changes on the fly
• Database—monitors thousands of resources in minutes by automatically applying best practice monitoring policies appropriate to each element
• Hybrid—monitors whether your workloads are on-premises, off-premises, cloud-based, or hybrid
• Unified—includes all aspects of IT infrastructure are monitored for availability and performance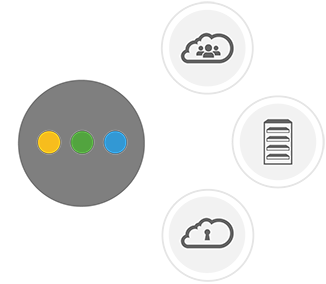 Get public cloud, hybrid & multi-cloud visibility.
SL1 gives you comprehensive visibility for Amazon Web Services, Azure, IBM Cloud, Google Cloud Platform, Alibaba Cloud by:
Enabling you to automatically monitor your entire IT universe—on premises and in multiple clouds—from a single console
Ensuring a consistent approach when managing multiple clouds and technologies
Supporting the needs of every business unit—whether in AWS, Azure, or any other cloud
See everything in your clouds.
It's easy—with our appliance-based platform, you can monitor:
Container/Container Management
Private Cloud
What's currently running in your private cloud?
Things dynamically change in your private cloud so you need visibility to self-serve. Our platform provides a current view of resources running in your environment so you have access to accurate performance data.
Prevent unused capacity.
ScienceLogic pinpoints which resources are not being used. You can decommission it or move things around to eliminate congestion in other resources. Visibility across the network means you can address performance issues faster than before.
Use one platform for it all.
ScienceLogic is a single solution to automate discovery of your private and public cloud. You only need one platform and one skillset to manage your cloud infrastructure. You also save time on new deployments because you can configure monitoring with our technology.
Public Cloud
Do You Know Everything in Your Public Cloud?
Your public cloud is constantly expanding. It is easy to lose track of everything you have—and everything you are paying for. We discover all your clouds so you optimize resources and evaluate ROI on your investments.
Manage What You Move Around
No matter where the cloud is running—whether it is a platform as a service, infrastructure, or applications—our platform allows you to move things around and best manage your resources.
Support Any Public Cloud
It doesn't matter what public cloud you have. We support the major players and are flexible enough to extend support to others.
Multi-Cloud
How Easily Can You Move Things Around?
Beyond seeing everything in your cloud, you need the flexibility to move workloads around easier and faster. Even if something is running on-prem, our platform allows you to move it to any cloud and still manage that resource.
Learn One Tool for Staff Efficiency
Once we train your staff to use ScienceLogic, they can apply those skills to manage your entire network. Our solution also provides built-in automation so staff focus on higher value work. The technology integrates with your environment to run mundane tasks.
Change Direction If You Want To
Because ScienceLogic can adapt to any technology, you are not locked into using one vendor for all time. For instance, if you are using Azure Stacks and Azure, we've got you covered.
Make your containers work best for your needs.
How is your visibility into short-lived resources?
You need granular visibility into your containers on any cloud in order to scale and operate effectively. Our platform allows you to dig into each container to see performance metrics.
Monitor the data that is most important to you.
Pick and choose the data you want to collect for each container, so you prevent data overload. SL1 allows you to monitor it all or fine tune to collect data on the metrics most relevant to your business. Choose your data preference on an application-by-application basis.
Fix and debug problems.
When something goes wrong, you have the data you need to diagnose the issue fast. SL1 shows you which container experienced an issue and what specific process failed (i.e. used too much memory).
Integrate with your IT management ecosystem.
Easily integrate with other IT management solutions for full visibility and optimization of your IT services.
SL1 provides visibility into the cloud by combining configuration, performance, and relationship data from the cloud provider's API along with Log File records. Since SL1 is monitoring the cloud in real-time, you can set policy-based automations to automatically turn off instances that are out of compliance with corporate policy or change management processes.
This level of visibility also assists IT analysts in capacity planning and right-sizing application to infrastructure requirements. At each step of your cloud journey, ScienceLogic is your trusted partner to 
See across your entire hybrid and multi-cloud environment.
Contextualize the relationships.
Automate data flows and workflows, including remediations.
The ScienceLogic SL1 Platform
Our unified monitoring solution provides full visibility and automated operations across cloud and distributed architectures.