Observability vs. Monitoring: Discovering the Difference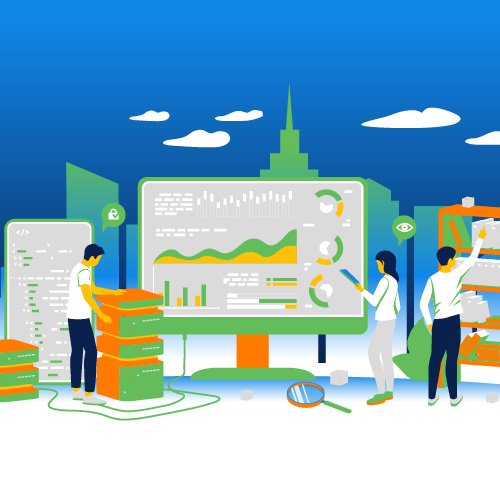 Successful IT operations management of today's complex enterprise infrastructure requires collecting a lot of data and making informed, automated decisions based on the insights contained in that data. Every device, service, and application in an IT estate generates a continuous stream of data that, when complete, accurate, and in proper context, can tell IT operations everything it needs to know to keep things running at peak efficiency. This is why understanding the concepts of observability and monitoring—what they are, what they mean, how they are similar, and how they are different—is important.
Observability vs. Monitoring: According to Gartner
IT infrastructure monitoring is the use of tools and processes to see and track what is happening across your organization's IT estate, alert your team to trouble and outages, and provide a moment-to-moment view of the health of operations. Observability is defined by Gartner as "the evolution of monitoring into a process that offers insight into digital business applications, speeds innovation, and enhances customer experience."
Observability vs. monitoring is a distinction important for IT operations; it is the difference between knowing of the presence of a device, service, or application (monitoring), and collecting enough information to know about those things (observability), and then using those insights to make informed decisions. And in ITOps, those are significant distinctions, especially when addressing the needs of today's IT infrastructure.
The Value of Observability vs. Monitoring
In ITOps, it is vital to not only monitor the state and activity of every element of your infrastructure, but to be able to understand why something is working—or not working—as expected. This is where the relationship between observability vs. monitoring makes a big difference in ensuring your IT estate is meeting user and customer expectations. By monitoring a server, for example, you can know whether it is operational. It's an either-or proposition. By observing that server, you can know whether it is operating at maximum efficiency and, if not—or if it is not working at all—you have enough contextual data to know why, and what to do about it.
According to Gartner, the proliferation of technologies like cloud platforms, containers, virtual systems, IoT, and applications has "resulted in an explosive increase in telemetry and machine data that challenges [infrastructure and operations] technical professionals as they manage aggressive service-level objectives. Existing processes and tools may not be sufficient," as they are unable to keep up with the flow of data and are unable to sufficiently analyze and use what data they have.
The level of understanding an ITOps team gains from observability vs. monitoring alone makes possible more advanced functions like autonomous operations that enable ticket enrichment, self-healing, and preventative maintenance. It can also provide the kinds of vital insights that support service innovations, a higher level of customer service, and contribute to the bottom line. Together, observability and monitoring can transform an organization from one that is in tactical reaction mode, responding to events and customer demands after they occur, to one that assumes a strategic and proactive posture addressing issues before they affect services.
Observability vs. Monitoring for Improved Performance
The key to improving IT performance and maximizing the productivity of IT infrastructure investments is in knowing every detail of and about what comprises your IT estate. A good place to start is with an IT operation monitoring platform engineered to keep pace with the speed, complexity, and ephemerality of today's complex, sprawling, and sophisticated enterprises. Artificial intelligence for AI operations—AIOps—is recognized as the best technology to meet that need; and the ScienceLogic SL1 platform is recognized by technology experts like Gartner, Forrester, and Enterprise Management Associates (EMA) as a leader in the category.
Establishing comprehensive AIOps-enabled observability, vs. monitoring with legacy tools, is what your tech environment requires. The ability to effect real-time discovery of all configuration items, including hardware, software, and virtual systems that may blink into and out of existence at any moment and for an indeterminate period, is essential. Only through complete, real-time discovery can you begin to monitor all those elements.
Then, with every element identified and monitored, you need the ability to observe the state and activity of each, collect and format the associated data, and use it to create an operational data lake. That data lake is the basis for conducting the analytics necessary to give context to the status of each element, including bi-directional relationships to other configuration items, as well as the health, availability, and reliability of devices, systems, and applications.
How AIOps Enables Observability
It is impossible to achieve observability and monitoring for today's enterprise infrastructure with legacy ITOps platforms. Legacy systems do not support many of the technologies in use today and, thus, they are incapable of discovering all infrastructure elements; they are not fast enough to keep pace with the speed of operations and changes that occur; and they do not have the inherent intelligence necessary to conduct the analytics required to make informed decisions and support automation.
AIOps platforms like SL1 are engineered for the specific purpose of supporting the needs of today's IT operations teams. By integrating with all the popular tools used to by IT operations, as well as all the cloud and on-premises systems (including legacy tech) that make up the estate, and with advanced machine learning algorithms built in to ensure that the best possible and most precise insights are available, observability and monitoring are fundamental to SL1's functionality.
In fact, with SL1, observability and monitoring operate on a continual virtuous cycle that ensures maximal health, availability, and reliability of all systems, as well as the highest levels of operational efficiency.
Monitoring

Complete discovery of all configuration items
Real-time data collection & formatting

Observability

Data lake establishment & CMDB population
Advanced analytics

Results

Insight application for decision-making and automations
Observability vs Monitoring: Now and the Future
Your IT infrastructure is not going to get any simpler to manage. The demands and expectations of today's customers and users will only increase, and with it the complexity of the systems you need to maintain to meet those needs. That complexity comes with an increase in data to collect, format, and analyze in order to achieve meaningful observability. But while your IT infrastructure will grow more complex by necessity, you can simplify the task of managing it by putting that data to use. With an AIOps platform like SL1 as the basis of your approach, you can build an IT operations program that leverages observability and monitoring, and the machine intelligence that makes it possible, to tremendous effect.
If your infrastructure has been robbing you of your time and resources, it would be a crime to let things continue as they are.
Ready to learn more about IT infrastructure monitoring? Read this eBook>