Designing and Migrating to a Service-Centric Management Model with ScienceLogic
AIOps,
Cloud,
ITOM,
ITOps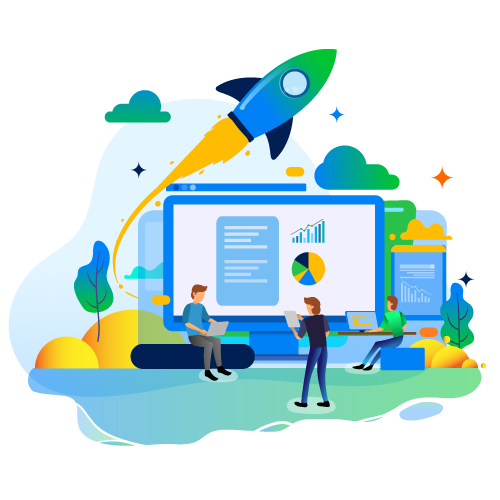 How to Migrate to a Service-Centric Model
As enterprises begin to migrate away from device-centric management to a service-centric model of IT operations, it is vital that IT operations and management (ITOM) leaders start by addressing the need for comprehensive visibility across their IT infrastructure. Gaining a contextual view of your full-stack service topology, based on real-time collection of data, is necessary to keep pace with the speed of change inherent with today's dynamic and fast-paced business environment.
When we talk with ITOM leaders setting out on their journeys—or those who are stuck at a crossroads—we hear the same questions: where do you begin? How do you gain an understanding of the health, availability, and reliability of the business services you and your customers rely on? And does it have to be complicated?
In the latest ScienceLogic webinar, "Why, When, and How to Design Business Services with ScienceLogic," we tackle these questions by walking through the process, based on our experience helping other forward-thinking organizations. The goal in this session is to convey three important lessons, including:
Why, when, and how to design and implement business services;
How to implement service monitoring within the ScienceLogic SL1 platform; and,
Avoiding common mistakes, pitfalls, and traps.
Migrating to a Service-Centric Model
Organizations have shifted to digital services to support the remote workforce and changing consumer/buyer behavior. Migrating to a service-centric management model is critical to manage the rapid delivery and continuous updates of these digital services, all while ensuring they meet customers' expectations for performance. Service-centric management means shifting from reactive to proactive management by gaining an understanding of service context, and of monitoring and knowing the dependencies that make it easier to:
Eliminate event noise
Understand potential service impact to prioritize work
Rapidly identify root cause and fix issues to avoid potential service interruptions and outages.
The inefficiencies inherent with a device-centric management approach also tend to result in higher costs associated with service level agreement violations, excessive staff hours spent on incident response, and the effects of dissatisfied customers.
With SL1 as the foundation, a service-centric management posture transforms reactive into proactive; it allows your ITOM team to turn the data it collects from all your configuration items into fuel that populates your CMDB with reliable data drawn from a single operational data lake. That data lake serves as the basis for making rapid, informed decisions on maintenance and incident response, and even allows the organization to automate incident resolution and other IT workflows to resolve issues without tying up your people with repetitive and mundane tasks.
Crawl, Walk, Run
When you understand the benefits of adopting a service-centric model for IT management, the natural inclination is to ask, "Where do we start?" That's a great question, because knowing where to start your migration is often the hardest part of the process. ScienceLogic advocates for a "Crawl-Walk-Run" approach to adopting new technologies and approaches to ITOM, and it is no different with service-centric management.
Step One (Crawl): While SL1 is a powerful AIOps platform, you should resist the urge to dive in and try to shift everything away from legacy monitoring tech and approaches immediately. Instead, pick just one service to start. We recommend choosing a service that will deliver an immediate and obvious benefit to the customer. Maybe it's a service that is the most unstable, one that is mission critical and that would cause a host of problems if it were to fail, or the one that generates the most and ugliest phone calls.
Step Two (Walk): Go to the whiteboard and start to map out how that service will be modeled. That means engaging with key stakeholders and getting their input so that you have a clear direction and goal rather than simply reaching for the keyboard, logging into ScienceLogic SL1, and launching into the building a service. It's important to first identify what matters to each service stakeholder and asking them, "How will these changes help you do your job better." Make stakeholders a part of the process and they'll be invested in its success.
Step Three (Run): Having engaged with stakeholders, gotten their inputs, and tested your assumptions, you can begin to actually model the service. Keep this initial service model simple and focus on solving one or two of the biggest problems identified during step two, and solve them in a way that will be obvious to the stakeholders and that fits in with their way of working. You can build in greater complexity later on, but trying to do too much, too soon, may lead to an early setback and use up goodwill.
Results that Matter
One of our MSP customers saw an opportunity to build on an already strong customer service reputation by leveraging SL1 as the basis for a service-centric management approach. SL1 helped them better understand the impact incidents were having on the performance of their offerings and, by extension, on the success of their customers. Their goal was to evolve from reactive infrastructure monitoring to proactive, service-centric monitoring.
Today, that MSP uses SL1 to monitor and measure the performance of their core delivery platform and identify and diagnose problems before they affect their service offerings. With a clear, contextual view of what services and which customers are impacted by incidents, they're able to fix issues before they impact customers. And when something does break, they can go out proactively to their customers and tell them before the customers call them. As a result, customer satisfaction ratings—already among the highest in their industry—have increased significantly.
If you're interested in learning more about using SL1 to transform your IT operations monitoring and management to a service-centric model, watch "Why, When, and How to Design Business Services with ScienceLogic." ScienceLogic's senior director of services, Jonathan Chivers, walks through the process with examples from the field. And when you're done, feel free to reach out to us for answers to questions about your organization's situation and how ScienceLogic can help.