Low-Code IT Workflow Automation
If automation is the Holy Grail of IT operations management (ITOM), AIOps is its Sir Galahad. Read how you can achieve both—without having to pull a sword from a stone.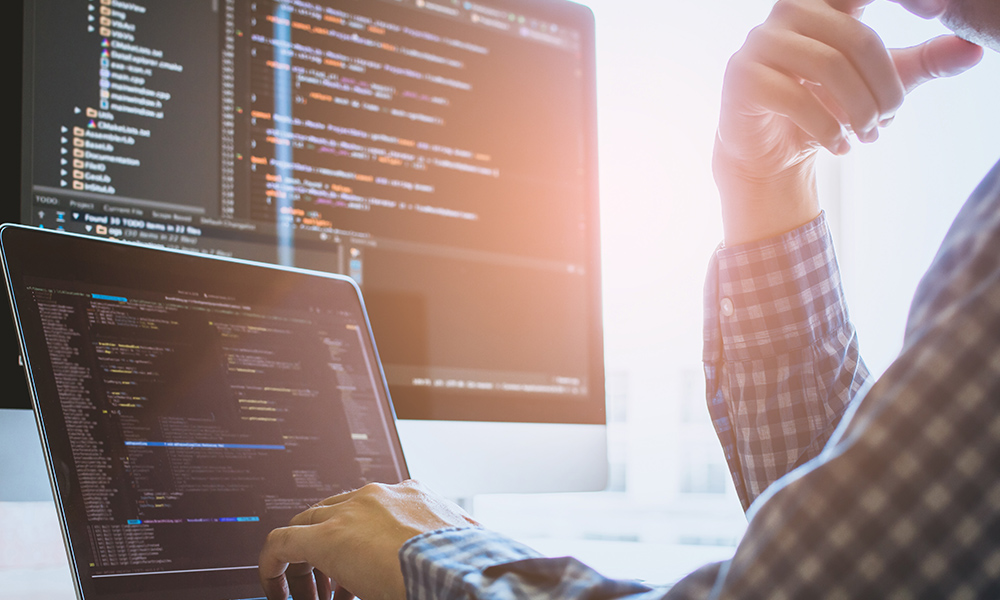 Born to the task and possessing the ability to ingest and translate data into meaningful insights, AIOps has proven to be a worthy approach for enabling automated IT operations. But, as with any quest, automation is not easy. Achieving it requires more than just the right technology and tools, but a vision and the skilled staff to navigate the right path along your journey.
In a new ScienceLogic webinar, "Accelerate Automated Operations with Low-Code," Nagender Vedula, Senior Director of Product Marketing, and Frank Sun, Product Manager, talk about how a low-code approach to workflow automation makes it easy for IT organizations to implement a broad range of powerful automations without highly specialized staff.
Typically, building automations requires custom scripting to stitch together disconnected datasets and workflows. That places the automation burden on the few people in an organization that have both coding skills and a familiarity with the business and IT processes to be automated. That often results in a bottleneck that can stifle progress and undermine enthusiasm for an organization's desired digital transformation. Those negative effects can be devastating as more and more organizations seek to take advantage of the time and cost benefits and efficiencies that can be achieved through IT workflow automation.
Consider the results of a recent Enterprise Management Associates (EMA) study of organizations in the midst of tackling IT automation. The firm found that:
85% are actively involved in a journey to AIOps;
85% are actively involved in automating three or more specific use cases; and,
64% are unifying automation investments across these different use cases.
Those numbers reveal that today's enterprises recognize that, while IT process automation can achieve benefits across all domains, it should be built on a single platform that applies artificial intelligence and machine learning to the task of monitoring and automating IT operations, better known as AIOps. With AIOps, you're able to observe everything that constitutes your IT infrastructure, both on-premises and across multiple clouds, and you can gather all the data associated with every configuration item, including its relationships, its performance, its configuration, recent changes, and more. With all that data, normalized in a single, real-time operational data lake, you can apply powerful analytics to give context to and understand that data.
Contextualization is all about knowing what systems, platforms, and technologies are connected together, how they interact with one another, and how the data flows between them. Because these systems are all connected, automation requires that data – events, anomalies, changes and more – be shared and correlated within a business service context to identify, assess impact, diagnose, and fix any problems that occur. Data sharing involves complex processes, and while challenges differ from organization to organization, it is possible to apply blocks of standardized logic that can make it easy to automate the various data flows and operational workflows that occur in any IT environment.
Building Workflow Automations with SL1
That is the basis of ScienceLogic SL1 workflow automation, which allows organizations to build and execute rich workflows that have the ability to tie multiple systems and processes together with a compact, easy to understand approach. SL1 provides out-of-the-box workflow integrations for common systems like the Service Desk and CMDB. Customers can also build their own workflow integrations. SL1 PowerFlow builder is an advanced drag-and-drop, low-code workflow authoring environment that allows you to stitch together an application that automates data flows and processes without needing to write (or know how to write) a single line of code. During the webinar, Frank Sun walks through a demonstration of SL1 PowerFlow builder to show how easy it is to create and execute rich, complicated workflows to automate processes that would otherwise consume an IT organization's valuable time and resources.
In his demonstration, Frank creates a sample application by clicking a button, naming his application, and then selecting from a host of objects to establish a series of prebuilt steps that need to be executed in order to automate the desired process. The demonstration shows how SL1 integrates with common ITOps systems and platforms like ServiceNow, Cherwell, Jira, and others.
Every enterprise can benefit from automating any number of IT processes, but when that requires making a request of ITOps, getting approval, and then working with the team to help them understand specific objectives, and develop code, it takes time. With SL1, ScienceLogic delivers on the promise of AIOps by making it simple for the people in your organization to take control of building and automating the operational workflows they need to ensure the systems and services they use are operating at peak efficiency.
Check out our webinar, "Accelerate Automated Operations with Low-Code" to learn more about creating automated workflows in a low-code authoring environment. Achieving IT workflow automation may not require Arthurian virtue, but your colleagues may still regard you as a hero if you succeed at delivering that elusive grail. Just don't tell them how easy it was with SL1.