Event Correlation 101: Why It Matters, and Why It's Not Enough
You've seen the movie. You know the scene. There's a diabolical criminal on the loose, a city in fear—and one obsessed investigator in dogged pursuit of justice. Her eyes are bloodshot from too many sleepless nights, too much caffeine, and too many cigarettes. She paces frantically in a windowless room. On the wall is a corkboard festooned with maps, notes, and pictures, and a web of red string is woven haphazardly across a clutter of seemingly unrelated clues.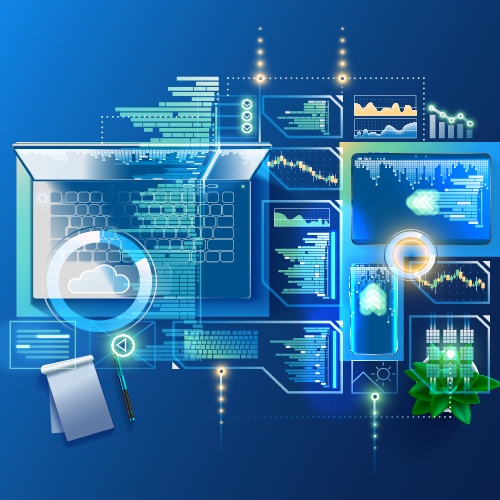 If our protagonist can figure out what connects all the evidence, she can identify the mastermind who has been taunting her during the spree, bring an end to the reign of terror, and deliver a coup de grace line as the credits start to roll. The villain may be a fiendish genius, but our hero is a master of event correlation. If she ever gets tired of police work, she has a bright future in IT operations management (ITOM).
What is IT event correlation?
Event correlation is a process for understanding relationships between events that occur within the IT environment.
Event correlation helps IT operations management make sense of the many events that take place and to identify those events that require further investigation or action on the part of the ITOps team in real-time.
Events are simply the things that happen during daily operations. Most events are normal. A parent device communicating with devices or applications downstream; a user logging into a workstation; a virtual machine turning on in response to an increased workload. In IT operations, events fall into three categories:
Informational or normal events are routine and merely show that your infrastructure is working as it should, and that data is moving through the network;
Warnings are events generated when a service or device shows signs of trouble, or exhibits unexpected behavior; and,
Exceptions occur when a device, service, or application is operating outside of its expected parameters, indicating severe performance degradation or failure.
Every event is associated with data that can be used to determine the health of a network, and event correlation is how that health is measured. With today's sprawling, complex networks, a large organization's IT estate can generate thousands of events at any given moment, and that presents a problem for IT operations teams if they do not have the tools with the speed and intelligence to keep up.
How does event correlation work?
The IT event correlation typically entails the following:
IT infrastructure monitoring data is collected from your entire IT ecosystem and fed to a correlation engine.
IT events are filtered by correlation rules that are defined by the user.
Data normalization converts the data to a uniform format so the event correlation tool's AI algorithm interprets it all the same way, regardless of the source.
The interdependencies are analyzed to determine the root cause of the event.
Examples of IT Event Correlation
Events on their own are just noise. If all your monitoring tool can do is detect events, you'll overwhelm your dashboards—and your staff. To turn down the volume on the noise you can set parameters to try and guess what might be a priority incident, but since anomalous signals are common in IT, you'll still get a lot of noise and very little context.
Event correlation turns noise into information because it makes a connection between a signal and its cause. For example, an unusual spike in demand on a server may be correlated with other signals showing employees have begun to log into their workstations at an unexpected time.
The Importance of Correlation
Of the tens-of-thousands of events that take place within the network each day, some are more important than others. These are known as incidents, and when an incident happens, it's because something isn't quite right. There may have been a momentary spike in demand on a server, a disk drive could be starting to break down, or a business service you rely on may be experiencing slow response times. Without event correlation, it could take time to figure out what is wrong. You might not even know until it is too late.
Event correlation software can sift through the signals and, like that doggedly determined detective, make the connections necessary to quickly identify incident from event, and to better understand what is a problem and what is a symptom of the problem. This is a critical step in prioritizing and resolving incidents. Event correlation software handles threat detection faster and more proficiently than humans can. But even some older, legacy products have a hard time with today's modern IT estates. That's why more enterprises are turning to artificial intelligence for IT operations—AIOps.
AIOps is engineered with advanced machine learning and automation techniques that have the ability to not only tackle event correlation in real-time, but to expose the "what it means" of every event. This feature of event management speeds up the process of sifting events and incidents, supports triage to appropriately assess impact, prioritize incident response, and enrich ticketing with the data necessary to achieve a quick—potentially even automatic—resolution.
Limitations of Event Correlation
AIOps is more than just event correlation. Investing in AIOps to merely achieve event correlation does not maximize the potential of the platform. If you want to get the most out of your AIOps—and of your IT infrastructure—event correlation is table stakes. To go beyond mere event correlation and improve your ability to diagnose and solve problems requires behavioral correlation.
Why? If a business service is operating at a level that is in violation of a customer's service level agreement, other events may show that there has been a sudden increase in the number of users attempting to access the service. Your employees may be working remotely from their homes in a different time zone. Or maybe your customer just completed an acquisition and now has many more employees who are trying to access that service. With behavioral correlation, your AIOps platform can provide the context needed to investigate such problems.
The ScienceLogic SL1 platform achieves behavioral correlation by combining full-stack service topology, machine learning, and automation to deliver a real-time, service-centric view of the complete IT estate. Behavioral correlation allows your IT operations team to focus on service-specific health, availability, and risk by relating and exposing service-impacting events, anomalies, and changes.
When done right, AIOps transcends event correlation to deliver behavioral correlation; and only with behavioral correlation can IT operations achieve fully automated diagnostics and incident remediation. That not only reduces the noise normally associated with event correlation, but it allows IT operations to shift focus to delivering a superior customer experience.
Event Correlation and Behavioral Correlation in Reach
If you've been struggling with the challenges associated with an enterprise that is too big, too fast, and too complex to manage with legacy ITOps tools, there's good news. You can stub-out your last cigarette, roll that red string into a ball, and switch to decaf. If you want to transcend mere event correlation and keep your systems operating at peak health, availability, and reliability, take a look at SL1. Behavioral correlation and maximal operational efficiency are within reach.
ScienceLogic is recognized by industry analysts, and by some of the world's biggest enterprises, as the leader in AIOps. Give us a call. We'd be honored to work with you, too.
Want to learn more about getting started with AIOps? Read this eBook>