Gain deep visibility into converged technologies.
Keep the infrastructure of your converged technologies healthy.
Converged technologies combine compute, storage, and network into a single, optimized package. The configuration and administration of these resources is automated. Some offerings integrate technology from multiple vendors while other offerings provide network, compute, and storage from a single vendor.
Converged technologies are aimed at accelerating the transition to the Cloud and fully virtualized environments with pre-packaged infrastructure. ScienceLogic helps you accelerate your transition:
Achieve operational visibility on day one
Optimize your converged infrastructure and troubleshoot problems with ease
Improve overall time-to-value by seamlessly integrating these technologies into your larger data center operations framework, along with traditional and cloud resources
Simplify and reduce the costs of your IT management toolset
Monitor All of Your Converged Infrastructure Right Out-Of-The-Box

NetApp and Cisco collaborated to create
FlexPod
, a pre-validated data center solution built on a flexible, shared infrastructure. Components include Cisco UCS servers,
Cisco Nexus switches
, and
NetApp unified storage systems
in a pre-integrated solution.
Cisco HyperFlex combines software-defined storage and data services software with Cisco UCS
Nutanix software-driven Xtreme Computing Platform natively converges compute, virtualization, and storage into a single solution.
Keep Your Converged Environments Healthy
Get a clear view of your Vblock, FlexPod, HyperFlex, and Nutanix environments.
Always have an updated view of your converged infrastructure by automatically discovering, mapping, and monitoring all pre-integrated elements
Ensure the health and availability of the system as a whole
Assess availability, performance, configuration, SLA metrics, health, risk, capacity usage, anomalies, and trends/forecasts for your converged component systems to ensure they are operating at peak performance
Simplify management, troubleshoot issues, and manage everything in your data center—and the cloud
Alert based on industry standards and vendor-recommended best practices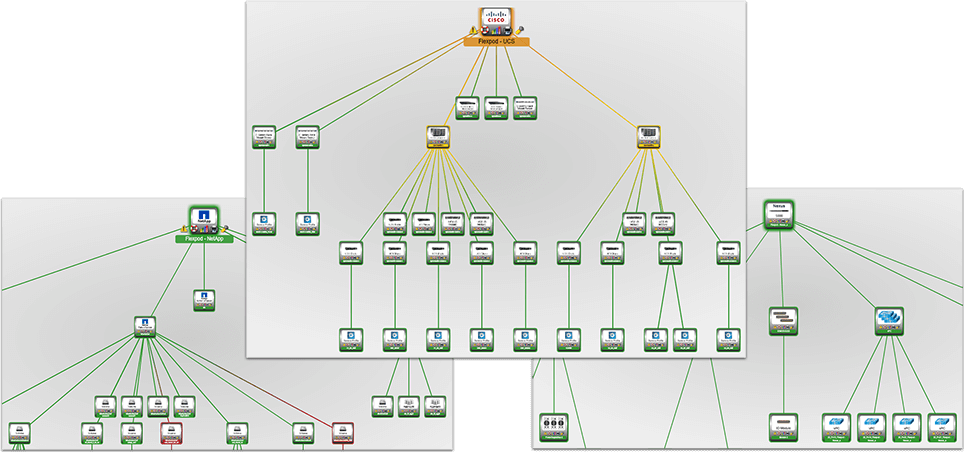 Discover & Map All of Your Converged Infrastructure
Automatically discover and keep track of changes in your converged environments.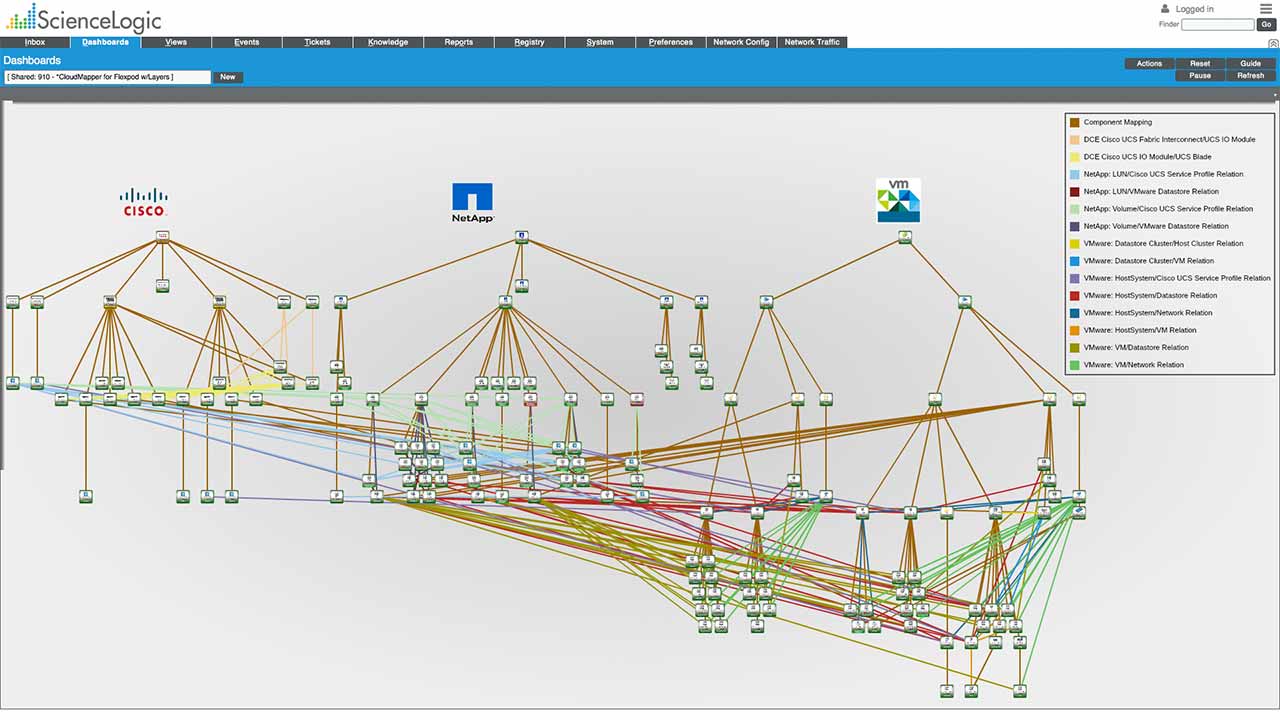 Provide Role-Specific Visibility into Your Converged Architectures
Use a single platform to monitor everything, everywhere. See everything you need to see in order to make sure your on-premises and associated cloud-based resources are working.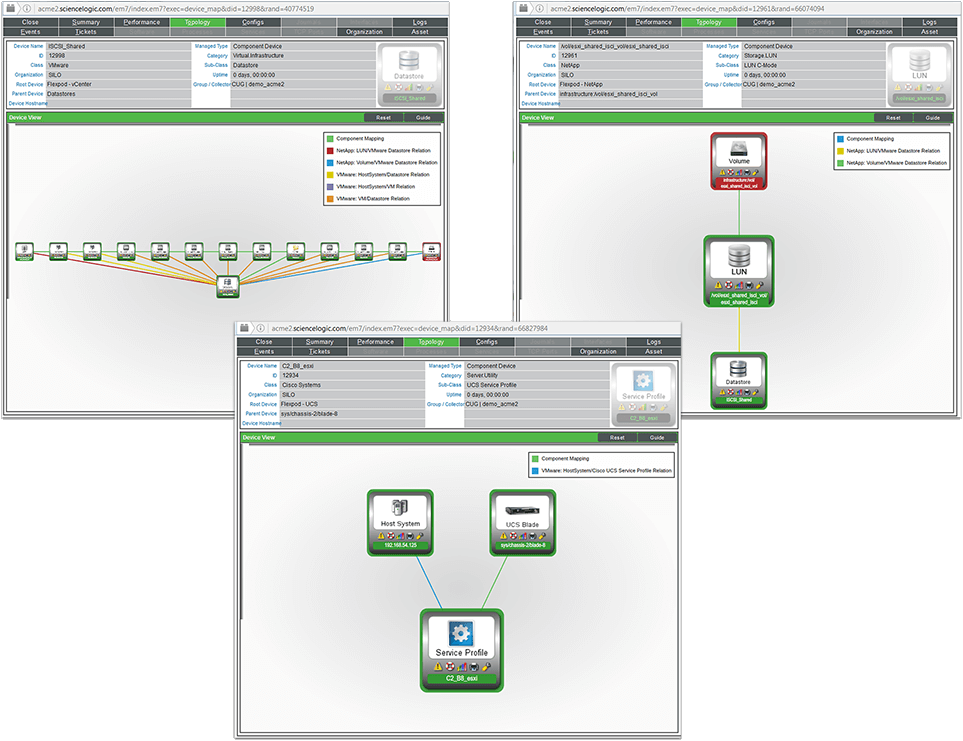 Get Universal Infrastructure Visibility
Comprehensive visibility for your converged, virtualized, software-defined, cloud, and traditional infrastructure from one solution.
Automatically monitor your entire IT infrastructure—whether on-premises or in the cloud—from a single console
Ensure a consistent approach when managing multiple vendors and technologies
Be prepared to support the needs of every business unit—whether on-premises or in AWS, Azure, or any other cloud
Troubleshoot & Resolve Issues Quickly
View every aspect of every converged environment in a single interface. Diagnose and resolve emerging issues before they impact users.
Proactively detect and be alerted on configuration changes, failures, anomalies, and performance issues
Easily navigate network, storage, and compute relationships for on- and off-premises services to speed problem resolution and ensure optimal performance
Drill into specific areas of concern, including log files—without needing a separate product and without composing complex queries
Monitor everything and intelligently capture deep diagnostics to speed diagnosis and resolution
Avoid finger-pointing and reduce MTTR for critical business services with unified troubleshooting; understand if issues are your problem or caused by a third party
Utilize runbook automation for immediate response to performance or availability degradation as well as configuration changes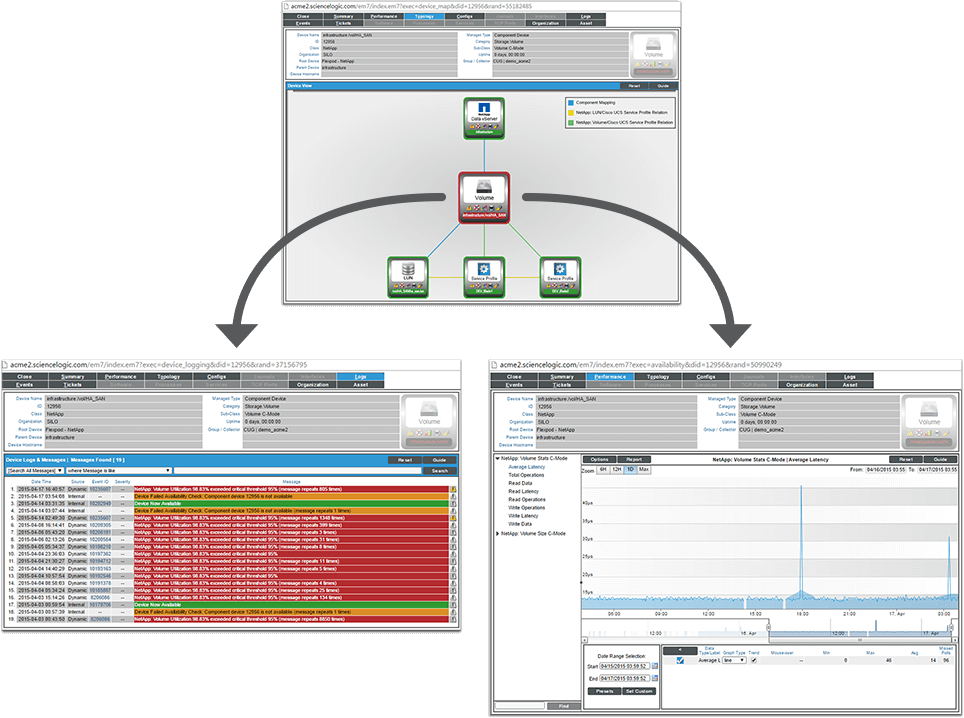 Integrate with Your IT Management Ecosystem
Easily integrate with other IT management solutions for full visibility and optimization of your IT services.