ScienceLogic Acquires Restorepoint, Expanding Portfolio Into NetOps & SecOps Domains
AIOps,
Monitoring,
NetOps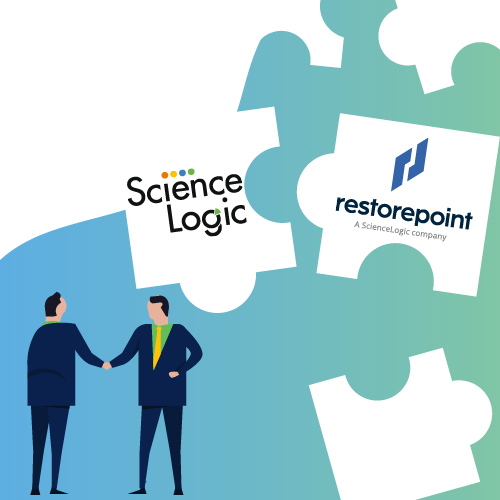 Hi, my name is Erik Rudin, and I have the privilege of leading our technical alliances and ecosystem team here at ScienceLogic. We are excited to announce that ScienceLogic has acquired the network configuration and change management vendor Restorepoint.
With this acquisition, we're expanding our IT operations business into the Network Operations (NetOps) and Security Operations (SecOps) domains. Restorepoint has been a strategic and complementary partner for ScienceLogic, and we're happy to welcome them into our rapidly expanding portfolio of solutions.
Providing Customers a Holistic Picture of a Modern AIOps Environment
We expect ScienceLogic customers managing IT operations to benefit from Restorepoint's deep insights into network and security configuration and change management, compliance detection and auditing, and change automation. Together, we represent a more holistic picture of a modern AIOps environment. For Restorepoint customers, our intelligent integration with ScienceLogic SL1 will offer the opportunity to expand into IT operations while pursuing their convergence to DevSecOps.
Our mission is to increase the fidelity and quality of the operational data we collect, resulting in higher quality insights that drive automated operations. We know that 80% of outages are linked back to change and configuration management issues. By joining forces, ScienceLogic and Restorepoint together reduce MTTR by introducing network configuration and change data into how we avoid service-impacting outages.
ScienceLogic + Restorepoint Use Cases
Use case #1: Assessing Service Impact From Change to reduce noise, understand and prioritize work based on service impact, and accelerate RCA. This is accomplished by correlating what changed along with anomalies and performance events within a service context. Along with ServiceNow changes, Restorepoint changes will become another source for SL1's behavioral correlation.
Use case #2: Automating Troubleshooting and Remediation by enriching events and tickets with recent configuration changes and differential backups. Understanding what changed enables the restoration of service by a backup. This is especially valuable for telcos and service providers with large practices built around resilient network services.
Use case #3: Onboarding network devices with standardized configurations improves GRC enforcement by auto-aligning a new monitored network device to a standard configuration.
Learn more about this exciting announcement, and contact your customer success or account manager to schedule a demo. Thank you for watching, and we look forward to sharing more details on this exciting announcement soon.