Blog, Customer Stories
December 13, 2018
How to Consolidate Your Infrastructure and Monitoring Tools: A Case Study
Integrate with multiple acquired companies existing infrastructure, and provide deep cross-company and cross-domain visibility.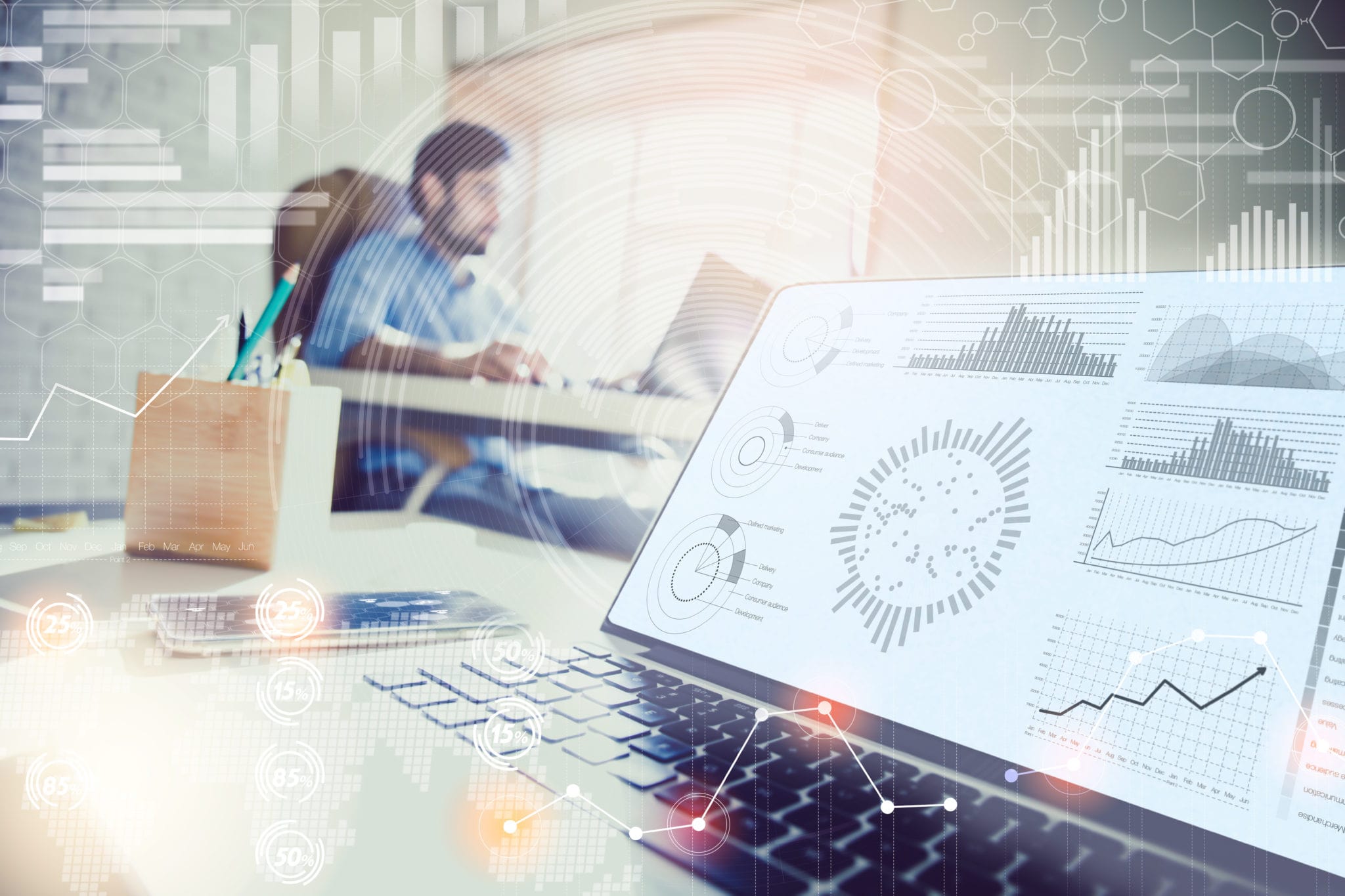 As the third-largest electricity and gas supplier in France, Direct Energie's impact is sizeable. A subsidiary of Total, the fourth-largest international oil and gas company and a global leader in liquefied natural gas, more than 2.6 million customers in France and Belgium rely on Direct Energie for their needs, ranging from electricity generation and distribution to natural gas and renewable energy. With annual revenues exceeding €2 billion, an annual average growth rate of 30 percent per year, and approximately 650 employees, Direct Energie has realized tremendous success while also grappling with some growing pains, such as IT operations management, integration, and scalability challenges.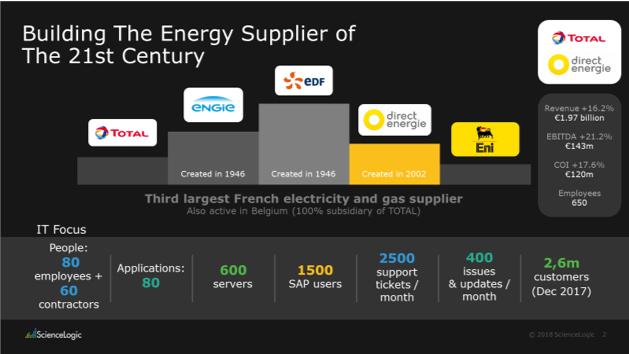 To continue growing through acquisitions in energy production, Direct Energie needed a flexible, future-proof IT operations monitoring and management platform that would quickly and easily:
Integrate with multiple acquired companies existing infrastructure
Provide deep cross-company and cross-domain visibility
Scale up to handle new users and devices being integrated
Configure applications and provide IT service management (ITSM) support more efficiently
Evolve into a future-proof AIOps solution
Because each company Direct Energie acquired used its own set of infrastructure and application monitoring tools (e.g., Nagios, Centreon), there was no visibility across the entire ecosystem for their IT assets and virtual resources. Their complex and sprawling IT ecosystem made isolation of root cause difficult, if not impossible.
Plus, technologies like NetApp, UCS, WMare, and multi-cloud environments weren't supported by existing legacy tools. This made monitoring over 80 applications, 600 servers, 2,500 monthly support tickets, and 400+ monthly issues and updates extremely difficult.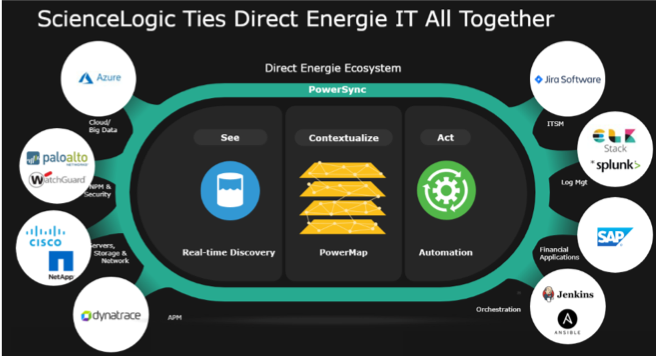 The ScienceLogic Monitoring Solution
Arnaud Carrel, CTO of Direct Energie, was sold on ScienceLogic's SL1 platform after he received a comprehensive proof of value (POV). In the POV, SL1 enabled Direct Energie to see, contextualize, and act on data from all of its infrastructure components, clouds, and applications to monitor the network, security, APM, ITSM, log management, financial, and orchestration elements.
Carrel says of SL1, "Having a real-time detailed IT services view of our entire operations lets us instantly isolate root cause across different tools, databases, and hybrid IT and multi-cloud architectures, all without the extra noise that is typical in other tools alert floods. But the most impressive aspect of the SL1 deployment is that it took only seven days to get it up and running."
ScienceLogic's Infrastructure Health solution shortened Direct Energie's issue investigation time, led to quicker problem resolution, reduced onboarding time, and lowers its overall IT operations costs. To read more visit www.stagesl.wpengine.com/resources.
Direct Energie is a proud sponsor of Tour de France. For more information on Direct Energie and their offerings, please visit: www.direct-energie.com.