Using Cisco Meraki Solution for SD WAN? ScienceLogic Was Built for That.
Managed Service Providers (MSPs)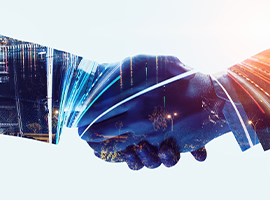 Since its acquisition by Cisco in 2012, Meraki has taken off as one of the most valuable tools for simplifying networking in the cloud era. Organizations using Meraki to install and configure software-defined networking (SDN) and software-defined wide area networking (SD-WAN) devices across their IT estates can attest to the fact. Their deployments are faster, easier, and virtually trouble-free, whether they manage a single enterprise running on hybrid infrastructure, a highly distributed enterprise with thousands of individual locations connected over the cloud, or are a managed service provider operating a multi-tenant environment.
Because Cisco Meraki's cloud-managed IT solutions simplify networking for businesses large and small, its user base has grown to more than 650,000 customers and more than ten million networked devices worldwide. Each of those ten million devices exists in a complex technology ecosystem with upstream and downstream devices, applications, and services. And so, while Meraki services make it easy to deploy things like wireless access points, switches, appliances, and a host of other endpoints, the Meraki ecosystem—and everything that flows through—must be monitored and managed. That's where the ScienceLogic SL1 platform comes into play.
Meraki for Managed Service Providers (MSP)
Using ScienceLogic SL1, organizations can monitor and manage their entire IT estate, including their Meraki ecosystem, with the power and convenience of the SL1 management interface that delivers a "single pane of glass" view of the data SL1 ingests and analyzes from every configuration item in the network. Moreover, SL1 provides virtually infinite network scalability that transforms Meraki products into an MSP-grade product, the value of an investment in a Meraki solution for every customer.
When describing the value of Meraki+ScienceLogic SL1, it helps to have examples that illustrate how the tech tandem has delivered value to customers in some of the most challenging IT environments. Among the many ScienceLogic customers that are also Meraki users are organizations like a large national energy and retail chain; and a managed service provider (MSP) supporting Wi-Fi infrastructure and connectivity for hotels, residential buildings, educational campuses, and healthcare facilities. Both show how combining the automated simplicity of Meraki device deployment and configuration with SL1's industry's leading orchestration, monitoring, management, and IT operations analytics maximizes network performance and reliability to deliver the best possible user experience.
Fill 'er Up!
Today's filling stations aren't often the first example that comes to mind when thinking of IT complexity, but the modern gas and convenience operation presents a massive challenge for IT operations. Fuel pumps, payment systems, video advertisement screens, price displays, and surveillance and safety systems are all separate networked components—and you haven't even gone into the store yet. Once inside, cash registers, food preparation equipment, telecommunications systems, lottery kiosks, lighting, electronic signage, environmental controls, refrigerated storage, and a whole lot more depend on an efficient and reliable network infrastructure. And for one chain with thousands of stations across the country, each location is connected, monitored, and managed via the cloud.
Meraki makes it easy for the chain's IT operations team to deploy, configure, and update the core networking devices. Still, Meraki lacks the ability to see and understand those devices in a holistic context. Using SL1 to ingest and analyze operational data in real-time, providing complete event visibility and alerts from a single, simple, intuitive dashboard, means that when an event occurs in Boise, the IT team knows immediately if the underlying cause will also affect operations in Bloomington—and everywhere in between.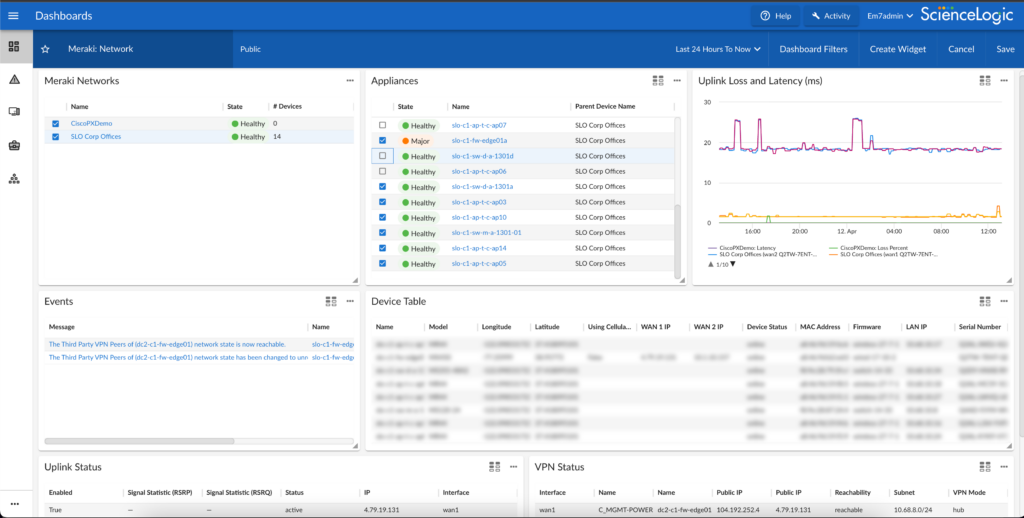 Going Up?
Internet connectivity is long past the point of being a mere convenience; today, it is an absolute necessity. And for hotels, large apartment complexes, educational campus housing, and organizations like long-term residential healthcare facilities, the ability to deliver reliable Wi-Fi is an expectation. A ScienceLogic managed services customer offering Wi-Fi connectivity services to hospitality, real estate management, educational, and healthcare facilities of every type and description saw a tremendous benefit to using Meraki as its networking tool of choice. However, it still needed to manage each customer in its multi-tenant network on vastly different terms. That meant using SL1 to gain visibility into each customer's infrastructure to ensure service health, availability, and reliability while complying with service level agreements (SLAs) and other customer-specific obligations.
By making it easy for the MSP to deploy, monitor, and manage a wide variety of customers in a complex, multi-tenant environment, they can also automate many of the IT processes used to deliver a high quality of service and excellent user experience, allowing them to allocate skilled staff to higher level tasks. For the MSP, it adds up to higher customer retention and the capacity to expand its customer portfolio and deliver more value-added services.
Meraki Management + ScienceLogic SL1 = Ruthless Efficiency
For Meraki customers, ScienceLogic offers many PowerPack integrations that make it easy to use SL1 as the analytics and automation engine that drives many other benefits. Our customers use the Meraki+ScienceLogic SL1 one-two combination to:
Track business and network performance metrics to better understand how your organization's services impact the business.
Deliver a rich, contextual view of the Meraki environment to maintain IT operations at their full potential.
Use Meraki data to further enhance SL1's ability to conduct root cause analysis and enable better—even automated—decision-making to lower mean time to resolution.
ScienceLogic's SL1 platform helps data-driven enterprises use data-driven analytics to operate their IT estates with ruthless efficiency. SL1 works with tools like Meraki by using the data ingested from the Meraki environment to run IT operations more precisely. If you're a Meraki customer, let's talk about how the ScienceLogic SL1 platform can extend the benefits of your Meraki investment.