Here at ScienceLogic, our vision is to accelerate service assurance for the hyperconnected world by making IT as easy and effortless as possible. This principle drives everything we do—product development, customer relationships, hiring decisions, and our company culture. That last area is incredibly important—we believe that making ScienceLogic a great place to work translates directly into better technology and an enhanced experience for our employees and our customers.
This approach is delivering the results we expected, and we wanted to share what others have been saying about us. We know our success is due to having the right people, in the right places, doing the right work, and getting the right incentives.
Business Insider Named Us One of the Hottest Startups
Business Insider profiles some of the hottest startups and fastest growing businesses each year. We made their 2017 list, with Business Insider saying, "The rise of cloud computing has been very, very good for this company: ScienceLogic's revenue under contract—its bookings—increased from about $30 million in 2014 to $100 million in 2015."
Dave Link, our CEO, explained some of the reasons for ScienceLogic's success in a follow-up piece on Business Insider, "We didn't build this company to build it and flip it. We wanted to solve a problem near and dear to our hearts."
Battery & Glassdoor Ranked ScienceLogic among the Top 50 Cloud Computing Businesses
Battery, a top VC investment firm, recently partnered with recruitment experts Glassdoor to study some of the top cloud businesses in the U.S. We were delighted to be placed at number 13 in their 50 Highest Rated Private Cloud Computing Companies To Work For study. We had an overall rating of 4.7 out of 5 for being a great place to work, with our CEO having a 100% approval rating.
One of the Top 500 Fastest Growing Tech Companies
Successful business isn't just about revenue and happy employees, growth is important too. That's why we were excited to be among Deloitte's top 500 fastest growing tech companies in 2016. We believe our 161% revenue growth in 2016 was due to a strong focus on IT service assurance—giving our customers the confidence their IT systems are performing as needed.
Dave Link said, "It's proof that our solutions drive real value and maximize business impact for our customers, and it further demonstrates that our customer-centric strategy differentiates our business in the marketplace."
Right Skills & Approach? We'd Love it if You Worked for Us
We're continually investing in our teams and providing first-class benefits and incentives to our employees. We're delighted to have an inclusive, happy, and engaged company and with a vibrant culture. Our growth has resulted in the recent refurbishment and expansion our headquarters facility. Benefits you can expect at ScienceLogic include:
Comprehensive healthcare coverage including medical, vision, and dental insurance
Retirement and vacation benefits including company matched 401(k) retirement savings, paid vacation, sick time, maternity leave, and holiday income protection
Employee assistance and enrichment including resources, referrals, service discounts, an employee training program, and employee referral bonuses. Our corporate headquarters in Virginia offers refreshments, healthy snacks (well, ok, some not-so-healthy!) and a complimentary, on-campus fitness facility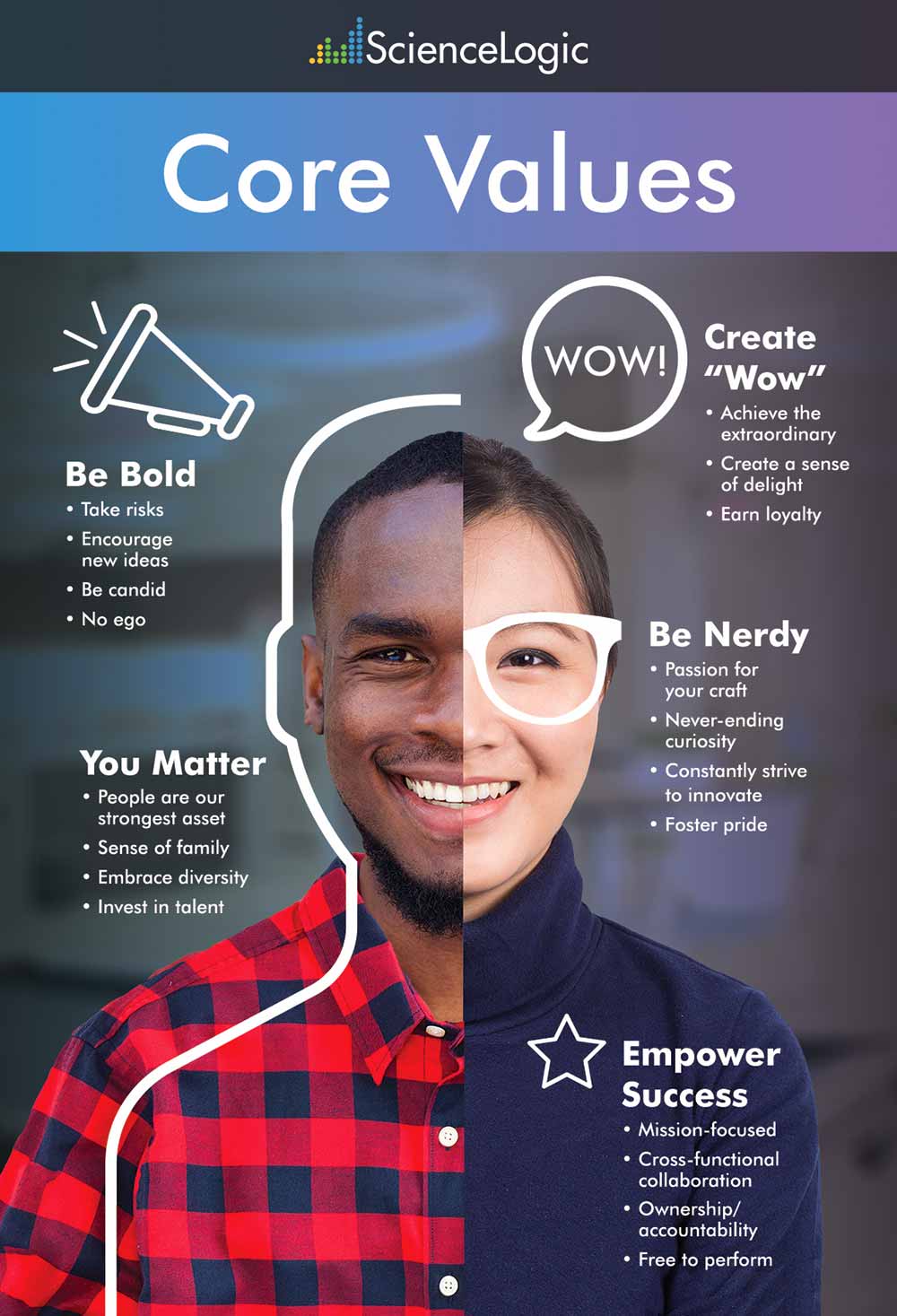 ScienceLogic Core Values
We're always looking for great people to join our team. If you're an IT service expert, you have some innovative technical skills, or you know how to simplify IT and put the customer first, we want to hear from you.