News Roundup, June 4, 2021: What's Happening in AIOps, ITOps, and IT Monitoring
On this day in 1896 before the sun came up, Henry Ford test-drove the first automobile he ever created, dubbed the "Quadricycle."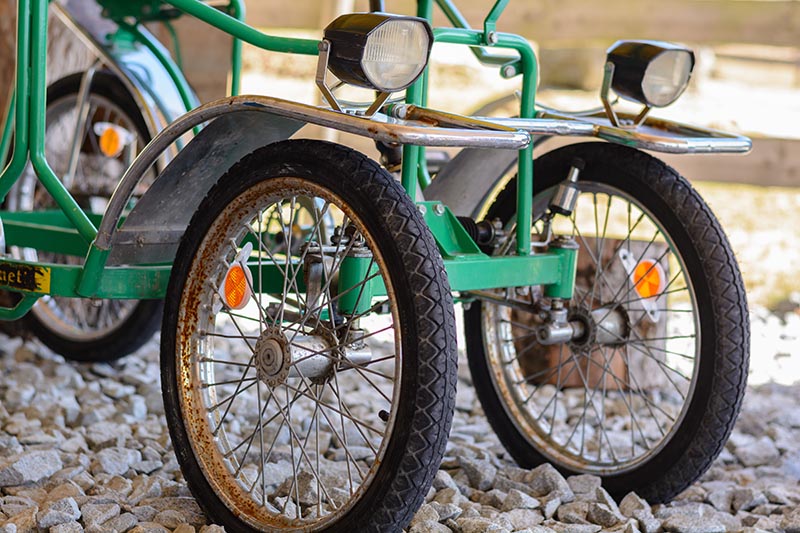 The Quadricycle had a light metal frame fitted with four bicycle wheels that was powered by a two-cylinder, four-horsepower gasoline engine. As primitive as this vehicle was by today's standards, it was a breakthrough. Speaking of having time to create technology breakthroughs because those manual processes are now automated, here's the latest in AIOps,  ITOps, and IT infrastructure monitoring.
1. How do you get visibility across your distributed systems? Look beyond testing & simple monitoring.
Tech Beacon recently published an article explaining how business IT experts may perceive a red flag when they face a project lacking automation.
The last decade has seen significant improvements in the approach to software quality. Practices such as test-driven development have created a new world, one where a project without automated unit tests tends to be a red flag for most engineers.
Unfortunately, writing beautiful code and reaching for perfect test coverage do not mean much until code is deployed to production and exercised by real-world users. The increased adoption of distributed systems has also raised the operational complexity of production environments, with more places for things to fail, especially in unpredictable ways.
Here is why you need to look beyond testing and IT operations monitoring and how you can instrument your applications to increase their real-time observability and ultimately raise your understanding of what's happening deep down in your production systems.
2. Changes lie ahead for the networking world in large part due to AIOps.
In an article published in The Field CTO, the author details how artificial intelligence (AI) can be used to not only help IT operations, but also improve networking as a whole.
The network is the foundation for all applications. With the increase in distributed applications and their hybrid nature, the network has become even more important. You may not realize this, but every application you use goes through different segments of the network. For example, when you click to join a Zoom call, it's like magic—a few seconds and you're in the meeting room. However, what happens on the backend isn't as simple.
Some questions posed and answered include:
How does AIOps help solve some of the complexities concerning networking?
Can AIOps really do all of that?
What are the core AIOps use cases in networking?
What is dynamic baselining and thresholding?
What is anomaly detection?
What is event correlation and noise reduction?
What is the root cause analysis?
How to observe quality of experience (QoE)?
How do you put incidents in context?
3. AIOps generates plenty of buzz. And here's why …
AIOps deliver a solo window for exploration across all domains, thus reducing the need for multiple tools for analysis. Analytics India Magazine just published a piece that explains why AIOps is such a popular subject to probe.
AIOps is a continuous integration and deployment (CI/CD) for core IT functions. It has two main components–machine learning and big data. It denotes a shift from siloed data to a more dynamic business environment for digital transformation.
As per a Gartner report, in 2021, 50% of the organizations will use AIOps with application performance monitoring to gain insights into mission-critical applications and other operations. Another study showed the enterprise adoption of AIOps had seen an 83 percent increase since 2018.
Further, the global AIOps market is expected to reach a valuation of $3127.44 million by 2025 at a CAGR of 43.7%. Many organizations find it hard to manage large chunks of data. AIOps helps enterprises break the data silos while getting complete visibility across the IT environments.
If and when properly implemented, AIOps platforms save the time IT professionals spend on mundane tasks, routines, and daily alerts. By training the AIOps platform, the IT team can improve system behavior and effectiveness.
4. Principles that are lean and agile will transform financial services.
Financial services are embracing new technologies in order to stay current with the needs and wants of their customers. This article in Global Banking and Finance Review delves into the issues related to how finance services are moving at the speed of technology in order to remain competitive.
The financial services industry is going through profound change, as organizations ready themselves to welcome the next wave of digital technologies. The pandemic has also placed additional pressure on financial services to implement new digital technologies that can meet the ever-changing customer expectations. CIOs are now expected to anticipate and prepare for what the 'next normal' will bring. It has traditionally taken IT teams up to 18 months to roll out a new product in financial services, which, in today's age, is far too slow. Upping this pace of change is a key challenge for the financial services industry.
Lean and agile processes, which are used by the biggest tech companies in the world, can help. Adopting and implementing these principles can help teams to become more efficient.
There are many hurdles to jump over when adopting lean and agile processes. Therefore, it is imperative the financial services industry starts thinking about adopting lean, agile processes now. Ultimately, using lean, agile principles and methodologies, means becoming agile in your way of working. This will add tremendous value to financial services organizations and to their customers.
Just getting started with AIOps and want to learn more?  Read the eBook, "Your Guide to Getting Started with AIOps"»