Blog, Customer Stories
June 8, 2021
Improving IT and Medical Outcomes: The Journey to IT Modernization in Healthcare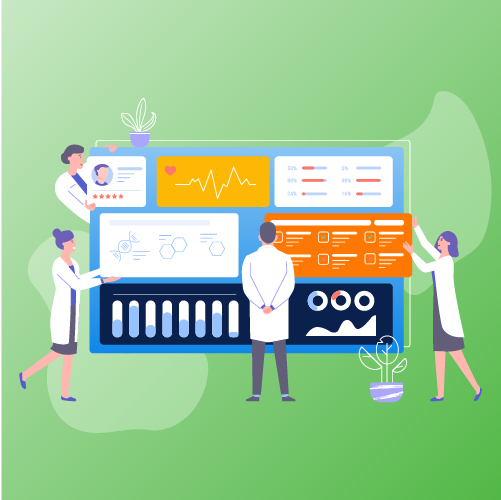 Technology monitoring in healthcare environments has changed radically in recent years. According to the National Institutes of Health (NIH), an aging population with multiple chronic conditions, and a medical labor force that is not keeping pace with demand, has placed an emphasis on medical devices—known as the internet of medical things (IoMT)—that can support diagnoses and treatment. The NIH says that, "Worldwide, more than 21 billion devices have been estimated to be connected to the internet in 2020, which is 5 times the number of devices 4 years prior."
Then the pandemic hit, forcing many hospitals, clinics, and other medical care-giving organizations to not only rely more heavily on medical technology, but to reconfigure IT infrastructure to accommodate patient needs and the need to provide touchless care and service. Rapid adoption and reconfiguration of new technologies, including traditional IT and operational technologies (OT), exacerbates an already challenging IT operations mandate.
Legacy ITOM Tools: From Bad to Worse
This is especially true for organizations that rely on legacy IT operations management (ITOM) tools, which are not capable of supporting many new technologies, let alone the array of connected devices typical of a healthcare environment. A recent Forrester survey, The State of IT Operations Management, found that 86% of companies use incomplete, legacy tools for infrastructure and application monitoring. And that situation is likely to continue to worsen. Market research firm Insight Partners projects 6.1% annual growth of IoMT adoption through 2027, meaning the resulting chaos will continue to strain IT operations' ability to monitor and manage an increasingly complex infrastructure.
For healthcare facility administrators, new technologies are embraced as powerful tools that can make staff more efficient, expand capabilities for diagnosis and treatment, and increase positive medical outcomes for patients. For IT operations, the primary challenge is in maintaining the reliability of new technologies and keeping them running as expected.
Visibility in Focus
Addressing these concerns starts with establishing visibility across the entire IT and OT estate. A hospital's technology footprint extends well beyond the walls of the physical plant, and includes satellite clinics, affiliated practices, supply chain partners, and a growing mobile, telemedicine capacity. Each entity connected to the primary IT infrastructure may include hundreds or even thousands of devices, applications, and services. Discovering each, understanding its contextual impact on IT operations, and monitoring all associated data to determine its health, availability, and reliability is vital.
With legacy ITOM tools, technology siloes were established out of necessity to simplify monitoring and management. But as the enterprise expanded and became fully integrated, these siloes resulted in blind spots. According to the State of the Cloud Report, 84% of enterprises have a multi-cloud strategy, and 58% have a hybrid strategy. But legacy tools can't see into the cloud or provide full visibility into a hybrid environment. And so, the ITOM toolkit expanded, complicating matters. In the race to keep pace with growth and provide maximal infrastructure visibility, legacy tools kept falling further behind.
The Value of Clean Data
Because legacy ITOM tools can't provide complete visibility across today's modern IT estate, the ability of ITOps to deliver a clear picture of the state of operations can be stymied. Reliable data is necessary to measure results and derive accurate, meaningful insights. This starts with complete, real-time discovery of both static and dynamic assets, ingesting the associated data streams, and creating a unified data lake filled with clean, normalized data. From there the enterprise's CMDB—the heart of IT operations—can be populated, and progress made toward establishing an ITOM program capable of keeping pace with the combined IT/OT estate.
This can't be done with legacy ITOps platforms, however. Achieving the ideal requires modernizing ITOM capabilities with the adoption of an artificial intelligence for IT operations platform (AIOps) capable of supporting todays' technologies, seeing across all cloud and on-premises infrastructure, and discovering the full array of IT and OT comprising the technology estate.
Healthcare Data Support and Integration
The value of operating with clean, reliable data is of the of the utmost importance in healthcare. Not only do ITOps platforms have to integrate with traditional IT service management software like ServiceNow and Cherwell, but they must also support healthcare-specific data software like Epic Systems, Allscripts, and McKesson. It is not an exaggeration to say that a breakdown of availability or reliability of the interplay of data, devices, and decisions in healthcare can have dire consequences on patient outcomes.
For example, Epic is the dominant electronic medical records management software in healthcare. Data within Epic is used to manage the full scope of patient care from registration, scheduling, testing, diagnosis, therapy, and even billing and insurance. If there is a failure in either the upstream or downstream flow of data to and from Epic, the effects can be catastrophic for the patient. Keeping Epic and all associated systems up and running, and quickly diagnosing and repairing any problems that may occur, is a top priority for IT operations in healthcare.
A Complement to Security
ITOM also has to function as a complement to IT security. Cyberattacks like those that struck healthcare customers of remote management software vendor SolarWinds, collaboration and data management vendor Accellion, and remotely managed surveillance camera maker Verkada illustrate the importance of knowing where all the organization's technology is, and whether it is operating properly. Monitoring this data in its totality means indicators of compromise are easier to detect.
Threat actors thrive in chaotic environments, and so avoiding chaos in the IT estate is vital. A strong ITOM program based on an AIOps platform with the speed and intelligence to turn chaos into order is key to mitigating the security risks that today's healthcare organizations face.
Consolidation on a Single Platform
One of the biggest challenges to running an effective ITOM program is the reliance on siloed, single-purpose tools. Forrester's recent State of IT Operations Management survey found that one-third of organizations are using 20 or more tools to monitor and manage their IT estate. That is an untenable situation in 2021.
Overcoming the limitations of legacy tools requires consolidating onto a single platform that can discover and monitor all the elements of the combined IT/OT estate, has the speed to monitor activity and capture data in real-time, and has the intelligence to normalize and consolidate data into a single operational data lake to drive and inform management, and serve as the basis for effecting IT process automation.
One Platform for Your Modernization Journey
The ScienceLogic SL1 platform is engineered to support every step of the journey to modernization
SL1 is a unified monitoring platform that delivers full visibility into your entire IT estate in real time;
SL1 collects, normalizes, and stores all your data in a clean operational data lake, supporting applications and business services through contextual data analysis; and,
SL1 helps to integrate and share data—including critical healthcare data—in real-time across the entire ecosystem, including applying bi-directional integrations to automate manual data and process workflows.
For more information about how SL1 can help you overcome the ITOM challenges that are common to all organizations—and those that are unique to healthcare—please download this white paper, "Seismic Shifts in NetOps: The Case for Modern Tools."