News Roundup, July 30, 2021: What's Happening in AIOps, ITOps, and IT Monitoring
Happy System Administrator Appreciation Day! This special day was created in the 1990s to acknowledge and celebrate the tech gurus who assure that our computers, printers, and servers are working and in good condition. So, after thanking your hard-working system admin team, check out the latest in AIOps, ITOps, and IT infrastructure monitoring.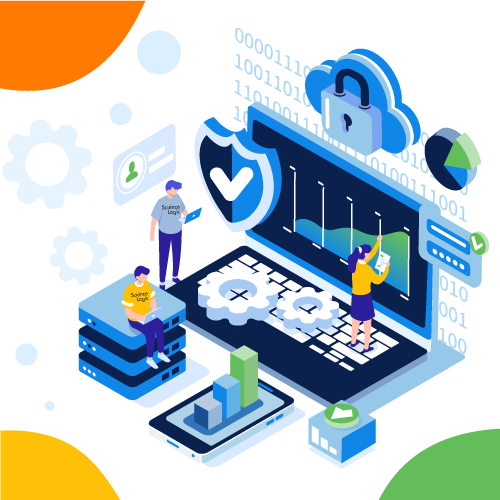 1. ScienceLogic joins VA's IT modernization effort with an eye on more federal cloud-2migration business.
According to the Washington Business Journal, ScienceLogic is deploying our artificial intelligence tools to help what's estimated to be largest civilian information technology spender in the federal government.
We partnered with McLean-based Swish Data Corp., securing a five-year, $43 million contract with the Department of Veterans Affairs to provide its AIOps tools to help monitor and manage its agency wide cloud efforts.
The contract will have ScienceLogic helping the VA migrate to the cloud by assessing its existing software applications, where they might fail and how to mitigate those failures, CEO and founder Dave Link said.
"One of the big catalysts for this contract was a very strategic initiative within the VA to move more and more of their applications to the cloud," he said. "Our focus originally is to help them manage those cloud assets more proactively."
2. Here's how you can migrate DevOps observability from code to cloud.
The evolution of modern software development hasn't happened overnight. This trajectory was explained in a piece in The New Stack,
We have things like GitOps, AIOps, DataOps, etc., that enterprises employ and experiment to see which one fits well to their needs. It is not just about being agile or speedy these days; companies focus more on the stability of the infrastructure.
While the advancements in DevOps and cloud native practices are in full bloom, it is highly essential to strictly monitor and observe metrics, logs, analytics, and datasets associated with the infrastructure performance to optimize system dependability.
What this means is understanding:
The three pillars of observability:
The difference between monitoring and observability

How to know when observability is necessary

How DevOps goes from observability to cloud

The importance of collaboration to eradicate vulnerabilities
Observability helps us know everything in a single pane of glass so we can take immediate action on the things that aren't going well and are impacting the performance of our application.
3. Make sure your SecOps solution is keeping up.
According to  SecurityWeek, the needs of a SecOps system is to collect, correlate, and assess data gathered from every corner of the network to detect and investigate anomalous behavior and then respond promptly to thwart an attack before any damage is done.
This article elaborates on:
The critical challenges of managing today's networks including evolutional changes pertaining to operational requirements, rapid expansion along network edges, changes required to the recent remote transformation, and growing compliance needs due to the increasing need to accommodate the new volume and complexity of data included in SecOps.
How to rethink SecOps by building a uniform platform, maintaining strict access and control, and properly utilizing AIOps.
Making sure your system is scalable and made to evolve for the future.
With a system in place that incorporates all these key points, organizations can confidently build the network they need to compete effectively in today's digital marketplace.
4. What's the difference between monitoring vs. visibility vs. observability vs. telemetry?
To the untrained ear, expressions such as "monitoring," "visibility," "observability," and "telemetry" all sound similar enough, but understanding the subtle nuisances of these turns of phrase could matter very much when you wish to transform your ITOps from good to great. This is emphasized in a recent article from RTInsights.com.
Do words like visibility, observability, and telemetry add anything valuable to discussions about monitoring? To a degree, they certainly do.
The application performance and reliability management corner of the IT industry is abuzz with buzzwords. Whereas monitoring was once the main focus, engineers now talk about visibility, observability, and telemetry, too.
What do all these terms have to do with each other? And are they just buzzwords, or do they refer to reliability management practices that are actually novel? Let's answer these questions by looking at the new lexicon of monitoring.
What is monitoring?

Monitoring is the systematic collection and analysis of data to help keep infrastructure or applications running smoothly.

What is visibility?

Visibility is the process of managing unknown or potential problems.

What is observability?

Observability is the use of externally available data — such as metrics and traces that you can collect by monitoring an application — to understand what is happening internally.

Telemetry

Telemetry is the collection of data from remote systems — hence the roots of the word: Tele (distance) and metry (measuring).
Do words like visibility, observability, and telemetry add anything valuable to discussions about monitoring? To a degree, they certainly do.
Just getting started with AIOps and want to learn more? Read the eBook "Your Guide to Getting Started with AIOps»