A Silver Lining for Managing Agency Hybrid and Multi-Cloud Ecosystems
Hybrid and multi-cloud strategies are quickly being adopted as the new normal for agencies who are currently undergoing the largest digital transformation in our nation's history.
Cloud,
Federal,
Monitoring,
SL1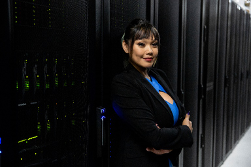 Key mandates that helped drive the push toward modernization and optimization include:
Data Center Optimization Initiative (DCOI): Establishes full inventory of data center inventory utilized by Federal Agencies and develops a strategic plan to reduce the overall footprint and optimize workloads.
Agency Forecast for 2020: Mostly Cloudy
At the launch of the fiscal year 2020, federal agencies were forecasting a $7.1 billion range of spending for moving to off-premises solutions. According to a report by MeriTalk, agencies across the board were looking toward cloud-based solutions:
77% were anticipating the inclusion of private cloud
57% were planning to adopt public cloud
20% were planning for edge solutions
Adding to that, COVID-19 drove massive and rapid adoption of cloud-based solutions that allowed agencies to continue delivering services with staff connecting from anywhere. At the time of this post, more than 100 COVID-19 contracts in March relate to "information technology.
Increased cloud adoption is being driven by:
Cloud migration—Investment in services that enable operational continuity has been adopted at a rapid pace. From online education, telemedicine solutions, and platforms that enable service delivery, particularly across the essential services sectors.
Expanding infrastructure—In addition to investment in new technologies like the FCC's 5G FAST Plan, Agencies are also increasing efforts to modernize the backbone infrastructure and increase access for rural areas to connect the estimated 21 million Americans currently without connectivity.
Work-from-home support—For some Agencies deemed essential staff, their workforce is continuing operations by connecting from home.
The Sky's the Limit with Hybrid and Multi-Cloud Strategies
To say hybrid and multi-cloud is nebulous is putting it lightly. Infrastructure is complex. Understanding which environments are best for streaming, collection, compute, and storage workloads are just the start. Other considerations include auditing current hardware investments and future growth needs, data governance, latency, location, and redundancy needs, energy/efficiency goals, and more. Some data may require added HIPAA, PCI-DSS, or FedRAMP compliance – so security and compliance needs must be understood and met.
Any one agency can have different data lifecycle needs governing availability, integrity, and security. So, data governance is a key consideration. And, at some point, the data moves depending on where it is in the lifecycle, so interoperability between clouds and locations is also a factor. It's a difficult journey to navigate but getting the right workloads in the right environments can make all the difference for cost and performance.
The workload placement today is hard enough, with Opus Interactive as your trusted advisor right by your side leading the way, will make for a stress-free journey today and for your tomorrow. Always providing continuous recommendations, to ensure you consistent cost and performance optimization.
Currently, 81% of Federal IT decision-makers say that their agency uses multiple cloud platforms. Top benefits include cost, performance, and reliability: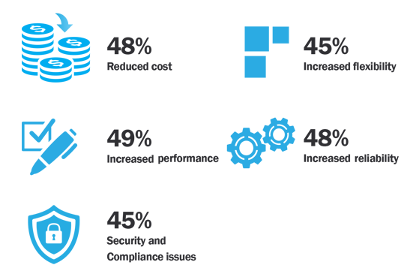 IT's Nebulous: Monitoring and Managing the Hybrid and Multi-Cloud World, Securely
In this world of complex environments where workloads are being dispersed through many cloud providers, the need to simplify monitoring and management intensifies. With hybrid IT solutions, it doesn't stop with finding the right mix and migration. Multi-cloud and hybrid solutions for mission critical IT means more to manage to protect assets, prevent over-provisioning, control costs, and enforce policies. In many instances, you've gone from on-prem and one cloud, to a mix of on-prem, colocation, private cloud, and a mix of public clouds to support your workloads. Complex environments with multiple locations and multiple vendors. If it feels challenging, you're not alone. 75% of agencies say managing a multi-cloud environment will be one of their agency's top challenges over the next five years*.
Managing the Ecosystem from Anywhere
The joint Opus and ScienceLogic offering makes the future clear and bright and reduces the haze by delivering real-time visibility and control across complex IT environments–with next level security and optimization. Map, monitor, and manage your entire environment through a single pane, DISA approved platform hosted on FedRAMP Moderate Ready Authorized infrastructure housed inside of FISMA High-Rated facilities. An added layer of security comes with the option to back up to FISMA High-Rated facilities located in redundant geographies in separate energy grids.
Health and performance monitoring –Automatically monitor your entire IT universe—on premises and in multiple clouds—from a single console.
Dependency mapping –Discover and track dependencies across clouds, on-prem infrastructure, and apps to speed problem resolution and ensure optimal performance.
Change management –Keep track of changes happening real-time across your IT ecosystem.
Policy enforcement –Ensure a consistent approach when managing multiple clouds and technologies.
Role-specific management –Segment visibility by user, business unit, geography, technology, and many other profiles.
Continuous optimization –Proactively detect and be alerted on configuration changes.
For more information about ScienceLogic in the federal market, visit click here.
For more information about Opus Interactive, visit https://www.opusinteractive.com/government/