Don't let bad data and manual ticketing impact your customers.
How quickly you solve problems directly impacts your customer experience. With rampant changes in IT, organizations spend up to 60 hours per week reconciling data from multiple sources to keep CMDBs current. And even then, CMDBs are still not timely or accurate. In fact, according to Gartner, 75% of CMDBs fail due to inaccurate data. What's more, manually creating a ticket can take 20-30 minutes and up to 90 minutes to route to the right team. A recent DEJ report shows that 82% of IT service desk tickets are not actionable.
Keep your CMDB up to date so you can automate ticketing and solve problems faster to improve customer experience.
Solve digital and IT transformation roadblocks.
With the ScienceLogic SL1 platform, enterprises and service providers of any size can conquer fragmented and siloed data challenges using turnkey CMDB, service request fulfillment, Configuration Item (CI) Lifecycle, and incident management capabilities.
Track both on-premises and multi-cloud assets in real-time and quickly resolve tickets in your service desk. Whether you are using ServiceNow, Cherwell, or BMC Remedy, ScienceLogic can help.



Achieve CMDB accuracy with real-time sync of monitored environment.
Many organizations are not aware of all the devices that can impact their network. And most CMDB deployments fail because they are not built to handle today's huge volumes of frequently-changing data.
ScienceLogic automatically synchronizes data in your CMDB with your ephemeral IT environment in near real-time. Have more complete and accurate data in your CMDB to drive more automated IT processes.
Keep your CMDB up to date.
Organizations are often challenged with multiple data sources that have to be fed manually into a CMDB. Manual updates lead to inaccuracy. And most organizations will not automate with data they don't trust. Continually synch your monitored environment with your CMDB to get the trusted insights your team needs to track assets and their configuration, understand business service impact, and power intelligent, automated IT operations
Auto-initiate fulfillment of service catalog requests.
Lengthy delays (days or months) are often associated with onboarding new services and technologies. Delays in discovering, populating the CMDB, and monitoring newly provisioned services are due to a mix of manual tasks and personnel handshakes using multiple tools. These delays result in higher operational costs, potential lost revenue, and risks due to inconsistent data. Confidently leverage SL1 to accelerate delivery of new services and ensure consistent data across new systems at lower cost and risk.
Automate CI lifecycle management.
Modern IT is complex and dynamically changing. Your team frequently adds and removes IT resources as often as every few minutes. Traditional change management processes for creating, updating, and retiring CIs are manual and painstakingly slow, fraught with errors and risks. Failure to keep up with ITOps and DevOps changes prevents you from understanding the impact on critical business services and applications that serve your customers. SL1 automatically synchs CI data with your CMDB and other management tools when changes occur.
Automate your incident management process.
No one likes to manually enter data into a ticketing system. It takes too long, introduces human error, and risks creating tickets that don't have all or the right info. Without the right information, you do not know who to route to and many siloed teams work to resolve the same issue. All these factors can increase the time it takes to process and resolve tickets—impacting your customer experience and staff productivity. And time is money. In fact, according to Ponemon Institute, the average cost per minute of downtime is $9000. Streamline and enrich your incident management process by automating ticketing with your service desk. Avoid costly service impact and downtime.
Work smarter with automated ITSM workflows.
Integrate ScienceLogic with your Service Desk (ServiceNow, Cherwell, BMC Remedy) to shift from human-assisted to automated operations. SL1 enables intelligent, bi-directional communications between SL1 and your Service Desk to ensure real-time CMDB accuracy and promote fully automated IT operational workflows for incident management, change management, service impact management, and service catalog request management.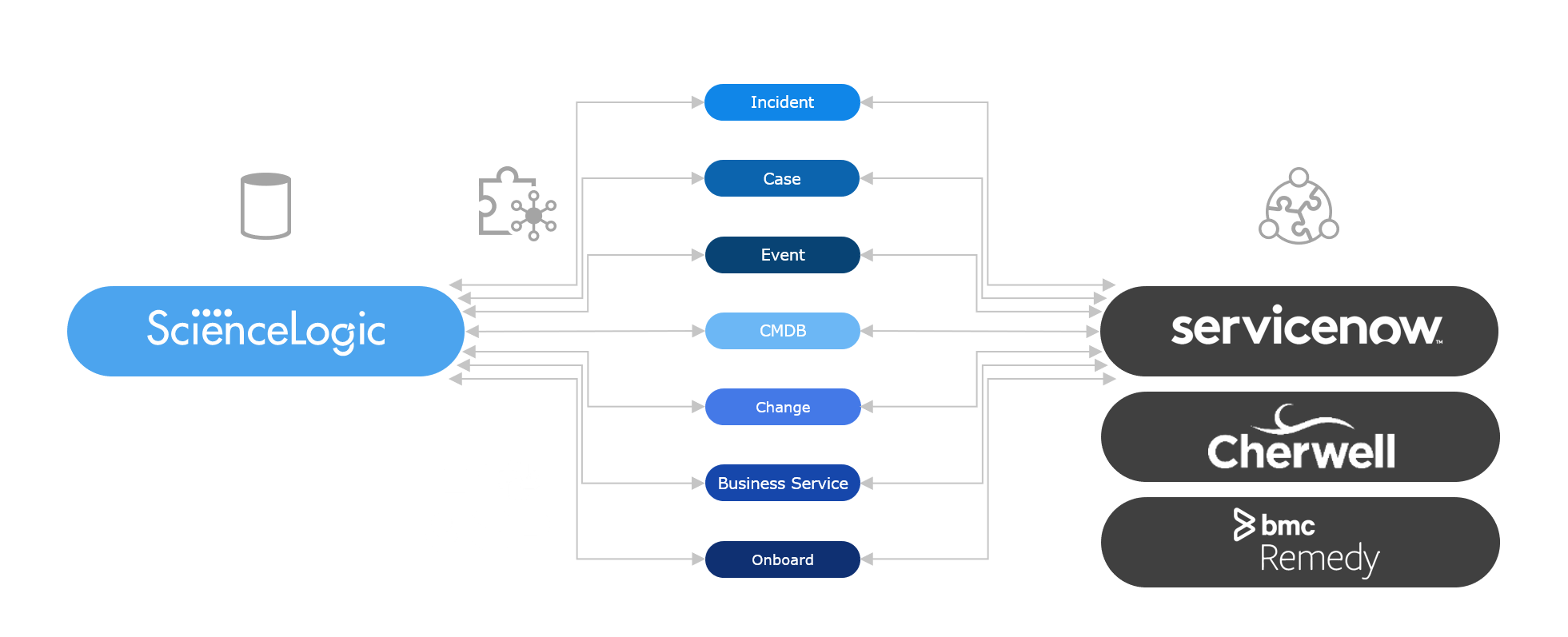 Success Stories

Hundreds of customers already trust ScienceLogic.

Here's why.
What Customers and Experts are Saying
"Investment in SL1 helped Capgemini achieve many business goals, including the enhancement of AIOps practices and transforming the firm's global IT NOC to reduce operational costs, deliver a better user experience, rapidly respond to business needs, replace and/or minimize tools, reduce event and incident noise, reduce MTTR, improve business service visibility, drive increased incident automation, and shift from being reactive to proactive."
The Total Economic Impact™ Of ScienceLogicSL1 For Capgemini, Forrester 2022


View Report
"Previously, we had an email inbox that would receive more than 1,000 alert emails every day. It was unmanageable. ScienceLogic helped wipe out that noise. Now, alerts are de-duplicated in ScienceLogic before incidents are automatically created in ServiceNow. We're handling issue resolution much faster."
Michael Woods, Portfolio Manager

Read Case Study
Integration with our ITSM tool has allowed us to automate CMDB population, as well as provide real-time enrichment of that CMDB data, allowing us to remove many of the processes we have historically performed manually.
Rich Dobry, Director
"Missed SLAs due to high MTTR are no longer an issue. ScienceLogic's tool consolidation approach and SL1's integration and automation capabilities have reduced IT Ops costs and MTTR."
Luc Horré, RCloud & Innovation Manager

"ScienceLogic establishes a real-time operational data lake and applies context to drive IT process automations for CMDB population and synchronization, proactive incident management, problem diagnosis, and resolution."
Aakanksha Narang, Software Engineer
"Right now, the [ScienceLogic-ServiceNow] integration targets two key areas. One is ticketing and incident management, to help coordinate and audit how we handle incidents and problems of all kinds."
EMA Interview with an IT Manager at a Large Global Tech Solution Provider
Read Case Study
"We use [SL1] to populate the CMDB in ServiceNow, as well as ticket creation and resolution with ServiceNow. Ticket enrichment and remediation automation reduce repetitive tasks and overall manual time spent on processes by the NOC. Overall, these automations and integrations reduce costs and increase our agility for serving customer and internal systems."
Matthew Carter, Systems Administrator
Experience the difference.