Data Federation and the Modern Enterprise
In our increasingly hyper-connected, data-dependent world, it can be difficult to keep track of where resources are, how to access them, and how to put data assets to work to run a more efficient and reliable enterprise. Traditional approaches to IT operations analytics are becoming outmoded as the sources and types of data grow more mobile, ephemeral, diverse and distributed.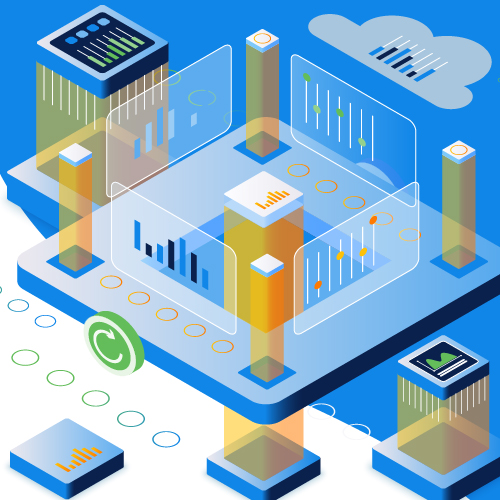 Overview of Data Federation
However, just as the complexity of the modern enterprise has evolved, so too have the systems and techniques used to manage the complexity and keep your IT infrastructure operating at its best. Data federation is one of the innovations helping to make that happen.
What is Data Federation?
Data federation is an approach to collecting, storing, and making use of data through virtualization rather than by physical storage of a dedicated database. Sometimes referred to as data virtualization, data federation is a way to keep pace with data and still turn it into useful intelligence.
With today's capabilities—like real-time monitoring and comprehensive discovery—data federation brings information from disparate systems together from all across the enterprise, and better than was possible using legacy systems and techniques. Whether the data needed for a particular query or to inform contextual analysis of system performance is located in the organization's data center, at the network edge, or somewhere in the cloud, data federation allows you to see it and use it as if it were in a local repository.
Data Federation at Work
Time was you'd install an appliance or software, log all the pertinent information, monitor performance, and occasionally poll your environment for changes that might have happened since the last check-in. All that data would be stored in a centralized database or data warehouse for access as needed, and the CMDB was updated whenever the IT operations team could get around to it. It was time-consuming, labor-intensive, error-prone, and inefficient. But it was how IT operations monitoring and management got done back in the day.
Now, with data federation, data can stay where it lives and still keep IT operations informed of the enterprise's health, availability, and reliability in real-time. Data federation is particularly useful in executing common IT operations tasks like tracking change management and automatically maintaining an accurate CMDB. Whether a new service is turned on, a mobile device connects, a virtual computing instance is generated, or a new piece of hardware is installed, data federation, in concert with modern enterprise monitoring tools like an AIOps platform, allows for the detection and updating of all relevant systems in real time.
Data Federation and Data Virtualization
Although data federation is sometimes referred to as data virtualization, the two are not the same. In fact, data virtualization—which replaces the old extract, transform, and load approach to collecting and monitoring system data—is what makes data federation possible. Virtualization gives data the flexibility to be federated and represented where it is needed to be applied, or to run the analytics necessary to make decisions or perform whatever function is needed. Federated data is virtualized data.
Data Federation vs. Data Warehouse
A data warehouse is a big repository for specific types of structured and filtered data—collected over time and for a specific purpose. Before data virtualization was possible, one of those purposes was to use data in much the way that federated data is used now. But data warehouses are resource-intensive and create more complexity in IT operations; just one more thing to monitor, manage, and maintain. And one more chance for things to go wrong. Data federation gives the enterprise the ability to access data, but without the resources and complexity, and thus eliminating a possible point of failure. Furthermore, data warehouses tend to be siloed components, limiting the value and utility of the data stored in them.
Data Federation vs. Data Consolidation
Data consolidation is another approach to data use that has been largely obviated by data federation. With data consolidation, large data sets are collected and stored—usually in a data warehouse or large database—where it is cleaned and formatted for its intended purpose. Once collected and consolidated, the data is applied where needed.
Data consolidation and warehousing is still used in limited, non-urgent applications where it may be useful to have a historical perspective for long-term trend analysis; but the traditional use of consolidated, warehoused data has been replaced by the data lake.
Data Federation and Data Lake
Data lakes are data repositories designed to collect, normalize, analyze, and use—in real time—all the raw data generated by an organization's IT enterprise, including structured, unstructured, and topological data. This includes data federated from all of an enterprise's different infrastructure sources, like the various cloud infrastructure services, but can also include data associated with events, faults, logs, configurations, and performance.
Data lakes use federated data to enable AIOps to perform tasks like real-time behavioral event correlation, and other critical analyses for determining the health, availability, and risk of business services. Data federation, plus the functionality of a data lake, not only allows for the analysis that delivers insights into the state of the infrastructure and applications that support the business, but also to remediate issues that affect performance, and to automate IT processes and workflows in real time.
Data Federation and the Modern Enterprise
Data is the lifeblood of the modern enterprise, and for IT to work at its best requires timely, accurate, trusted data. Data federation is a key component for the collection and operationalization of all the configuration items that comprise an organization's infrastructure. Because of the ephemeral nature of the systems and services today's enterprises rely on, and because of the large volume of data they generate, that data needs to be available immediately, and data federation allows that to happen.
The ScienceLogic SL1 platform leverages data federation to the fullest degree possible through real-time discovery and visibility across the entire enterprise, collecting federated data and putting it to use in every aspect of IT operations monitoring and management. From providing a contextual view of infrastructure to understanding the relationships between elements and diagnosing issues, to automating the processes necessary to maximize health, availability, and reliability, federated data provides the power to those systems doing the heavy lifting.
If you have questions about your operation and how ScienceLogic can help you get the most out of your technology investments, get in touch with us today. We'd be happy to answer your questions and provide guidance. ScienceLogic and SL1 are trusted by many of the world's largest, most complex enterprises. We'd love to earn your trust as well.
Learn more about ScienceLogic and IT infrastructure monitoring>