Cyber Monday stresses IT systems, but it shouldn't be stressing you out.
Cyber Monday is synonymous with exceptional savings, where many online retailers finally find their balance sheets in the black. But not everyone looks forward to retail extravaganzas of savings.

In the age of ecommerce, those of you in IT fret that both Black Friday and Cyber Monday refers more to the color of a dark cloud looming overhead—as your systems respond to the demands of online shoppers browsing and buying.
And after your feasting of turkey and sweet potatoes, you arise from your food coma with the following thoughts racing through your head:
Is there sufficient capacity?
What if some component picks a bad day to fail?
Are there other systems operating independently of the retail operations that might affect overall network performance
And if something does happen, can we avoid a catastrophe?
Unfortunately, such IT operations management worries are all too real for far too many organizations—not just retailers during the last weeks of the year. Downtime is costly. On average, Gartner calculates that an hour of downtime can cost an organization $300,000, but the cost for some can be much higher depending on their business model.
Because many enterprises now rely on cloud and software-defined operations to conduct business around the clock, when an outage occurs it is imperative that ITOps teams be able to identify, diagnose, and fix the problem quickly, if not automatically, to keep things up and running.
The challenge is, as IT environments grow more complex, the interconnectedness and ephemerality of a typical infrastructure means it is vital to have a complete, real-time view of the network. AIOps is proving to be the solution that can connect the dots and make it possible to gain control of your operations. In fact, according to the new survey conducted by Enterprise Management Associates (EMA) entitled, IT Service Modeling in the Age of Cloud and Containers, AIOps adoption is on the rise with 84% of survey respondents claiming AIOps is either fully active or in deployment their organization.
EMA's goal in conducting this survey is to examine configuration management databases (CMDB), configuration management systems (CMS), and discovery and dependency mapping (DDM) in a holistic context in order to uncover synergies vital to IT operations management in the cloud era. This is an important factor in achieving maximal operational efficiency and uptime, and a key aspect of the value that AIOps brings to IT operations management.
EMA's research "underscores the fact that artificial intelligence and machine learning continue to become less of a science project and more of a platform-driven resource that can help bring value in both unifying and transforming IT. The data was also strongly positive in looking at synergies between AIOps and service modeling across any number of parameters, including strategic success rates, breadth of role coverage, use case support, automation integrations, and other critical factors."
Some of the report's key findings are:
47% of respondents said that service modeling in its various dimensions is extremely important

Application performance management and infrastructure optimization were the lead reasons for valuing service modeling.

53% of respondents had DDM deployed along with either a CMDB or a CMS.

36% had a CMDB or CMS without DDM, and 12% had DDM without a CMDB or CMS.

84% indicated that AIOps/IT operations analytics (ITOA) was either active or in deployment, which correlated strongly with success.
24% of respondents supported 100+ apps via DDM, and the average number of respondents supported 50.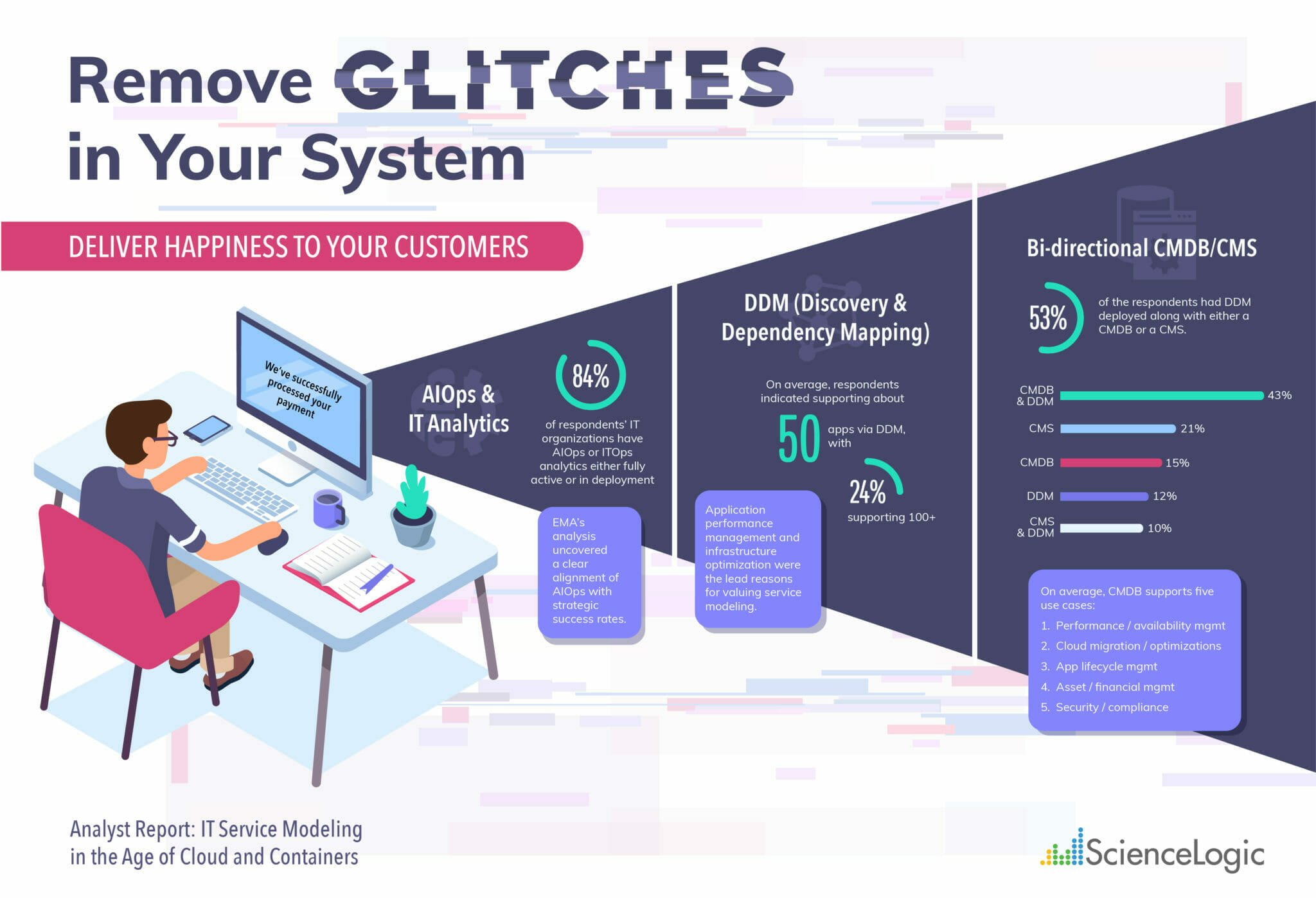 Cyber Monday is supposed to be a day of looking forward to saving hundreds of dollars on a 4K TV, not a day of dreading if/when the shoe is going to drop. When you put your trust in AIOps to take a holistic view of your environment, you know you can handle tasks quickly and automatically, and ensure that unexpected incidents do not become catastrophic events. And when your AIOps platform is SL1 from ScienceLogic, you can have the confidence to rest easy on Cyber Monday. Like our customer, AppCentrix, who uses SL1 to manage 45 data centers, 6000 sites, and 500,000,000 metrics daily.
You can read all about AppCentrix's success with SL1 and get the full survey results by downloading IT Service Modeling in the Age of Cloud and Containers—available to you with our compliments.