Automation helps you move like a butterfly. While legacy ITOM tools will sting you like a bee.
To meet the needs of your customers, it's vital for you to move agilely and innovate for the future—not get stuck with the same tools that may have worked for you a decade ago.
AIOps,
Big Data,
ITOps,
Monitoring

The principal research scientist at MIT, George Westerman once said, "When digital transformation is done right, it's like a caterpillar turning into a butterfly." But what if your company is still stuck in its cocoon—paralyzed, and unable to innovate? What is keeping you from fulfilling your digital transformation initiatives so that you can spread your wings and fly at the speed of business?
Legacy ITOM tools are spoiling your hopes of transformation. And here's why.
Let's first look at your toolset. It should enable operational resiliency—with the ability to bounce back quicker and faster—at the core of your transformation. Add to that list a tool that can provide visibility across your entire IT landscape, and into all your systems from a business service perspective, that can handle the rate and volume of changes and the complexity of a hybrid or multi-cloud environment.
Why? Because one of the biggest challenges to operational resiliency is that organizations have many siloed tools—many point tools that can do one thing well (e.g., network monitoring, VMware monitoring, or application performance monitoring). And because you have so many tools doing one thing, finding the root cause of an issue is much more difficult.  According to the Forrester survey, "The State of IT Operations Management," 33% of companies are using 20 or more tools.
Secondly, does your current toolset include cloud coverage? Legacy tools were made for datacenter environments—not a mix of clouds, containers, and microservices. According to Forrester, 37% of companies extensively use legacy tools. How can that 37% see what is happening in their clouds—and how it relates to their datacenter and overall business if their monitoring tools were not made to support that visibility? Stings right?
Finally, you want your toolset to be able to handle the onslaught of new cloud elements and data that come with transforming to the cloud—bringing the need to automate your operations as much as possible. Why? Because automation helps enable your Ops team to focus on strategic initiatives instead of spending hours putting together 20 different tools and types of data in order to find out what is causing an outage in your business-critical app.
Need to automate? Then be ready to deal with IT complexity and a lot of data.
According to the Forrester survey, 68% of decision makers cite speed and agility as the top drivers for change in IT operations. But as you shift toward the cloud and modern app architectures, your IT landscape becomes more and more complex.
IT complexity is compounded with the use of 10 or more infrastructure and application monitoring tools, and according to the Forrester survey, 33% of our nation's largest enterprises use more than 20, significantly hindering agility and visibility. Along with complexity, the massive volume and variety of IT data is also getting in your way of becoming more agile like a butterfly. In fact, the amount of data generated by IT infrastructure and applications is increasing annually at a rate of 2 to 3x, according to Gartner.
And this growth in data requires a new set of capabilities:
Business service visibility across domains
Massively scalable architecture to manage and process the data
Support for modern technologies
Automation to keep up with the ever-increasing workload
Artificial Intelligence for IT Operations (AIOps) provides the capabilities to deal with all this data. And legacy tools just don't give you the core foundation to get you to AIOps. Why? Because the data that legacy tools do have, is spread across multiple products and is incomplete. These tools only offer you limited context, and without a complete data set plus full context, they struggle to apply analytics across the full IT spectrum.
Modernize your monitoring and observability with AIOps.
So, if legacy monitoring tools cannot provide the foundation for AIOps, what can? To achieve truly intelligent IT operations management, or AIOps, you should have three primary components:
Data: Merge and correlate all relevant IT data from across multiple sources.
Analysis: derive relationships, and bubble up insights.
Automation: Execute the tasks needed to restore service or remediate issues.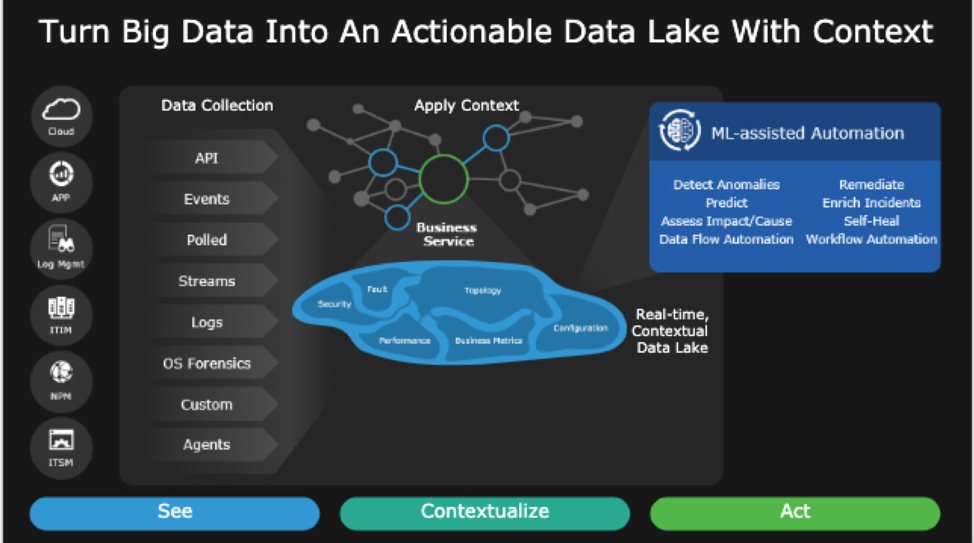 A modern AIOps-enabled monitoring solution like the ScienceLogic SL1 platform helps you metamorpihize into an agile and automated enterprise—unlike legacy tools that cannot support the transformation. SL1:
Takes all your data sources and uses a variety of collection methods to feed the data into a data lake–in real-time, so you can see what's in your environment
Applies context to that data to make it more meaningful–and actionable
Allows you to apply machine learning and analytics and drive intelligent automations