Cisco Live. Equal parts inspiration and exhaustion. But most of all, a great opportunity to interact with thousands of IT pros looking to up their game.
Last week, 28,000 Cisco Live attendees flooded the halls of Mandalay Bay's Convention Center in Las Vegas, Nevada. It was a record crowd for Cisco Live, driven in large part by the need to stay up-to-date with advancements in networking technology. As one attendee shared with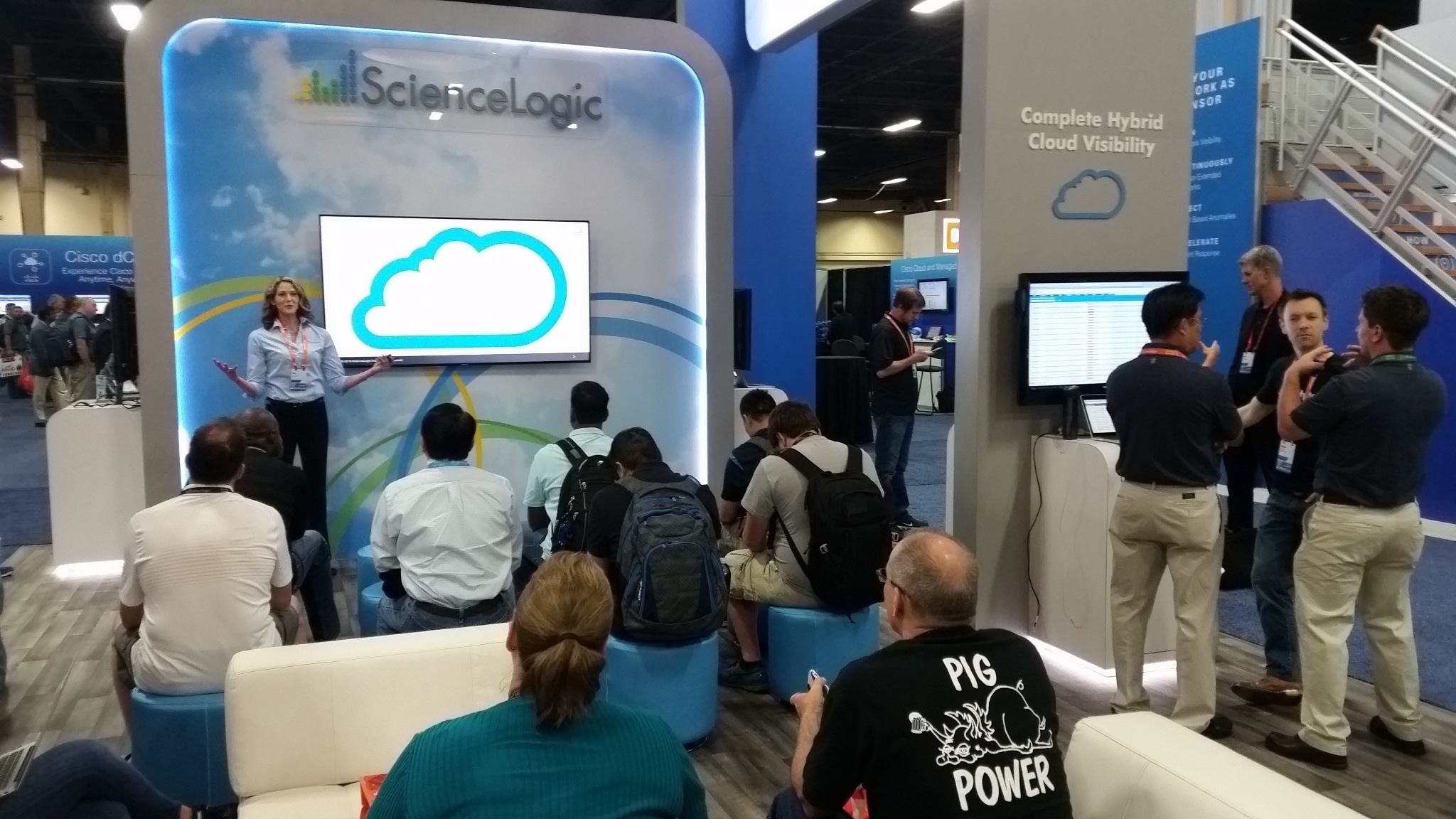 me while hustling to his next breakout session, "It's my one chance to get out of the office and learn what's new that I can leverage to improve the business… and my own value to my company."
ScienceLogic was a sponsor of Cisco Live, so most of my time was spent in Cisco's World of Solutions – the show floor packed with vendors demonstrating their wares. It's a great venue for gathering insights from show attendees. Here are the three discussion topics I heard most often:
Security, Security, Security – All organizations are concerned with maintaining vigilant security practices for protecting company and customer data. At the show, Cisco announced security enhancements for a number of products, such as Meraki and Integrated Services Routers (ISR). The company also unveiled its new Cisco Defense Orchestrator, a cloud-based security management solution. Cisco ACI also saw a security boost with the integration of security policy management from Tufin.
Digitalization Drives Demand – Curiosity persists around IoT use cases, but most of the attendees I spoke with cited interest in other next-gen technologies that drive digital transformation. SDN (via Cisco ACI) was probably the most common interest, followed by discussions around hyper-converged infrastructure and Cisco's new Digital Network Architecture (DNA). There's a good article on Cisco DNA from analyst Enterprise Management Associates (EMA) that debates whether DNA is simply "marchitecture" or a real shift in networking.
Still Too Many Tools – 9 out of 10 attendees I interacted with admitted they have too many tools for monitoring the performance and availability of their IT infrastructure. Point solutions and silo'd tools abound. When asked what tools practitioners use, common responses were, "What tools don't I have?" and "Too many, and I'm going to have more by the time I leave Vegas!" Tool consolidation is a clear objective, especially when IT teams realize their existing monitoring tools aren't well-suited to discovering and monitoring new software-defined technologies.
Of course, it wouldn't be Cisco Live without the annual contest for best t-shirt. Call me biased, but the feedback I heard was that ScienceLogic's "Talk Nerdy to Me" tee was best of show. In fact, we handed out 3,000 of these shirts during the first day.
I'm nerdy this week. #TalkNerdyTee @ScienceLogic pic.twitter.com/tiF5LAIqjt

— Robert Attebery (@reattebery) July 13, 2016
Did You Know?
ScienceLogic boasts the most complete coverage of Cisco technologies from any performance monitoring vendor. In fact, Cisco uses ScienceLogic to monitor managed services for their customers. You can learn more about ScienceLogic's monitoring of Cisco technologies – from routers to UCS, ACI, Unified Communications Manager, and more – on our Cisco monitoring page.