Supercharging Your ServiceNow CMDB Using ScienceLogic's Service Graph Connector
We're strengthening the value to ServiceNow and ScienceLogic customers through a stronger partnership.
by Frank Sun, Sr. Product Manager, ScienceLogic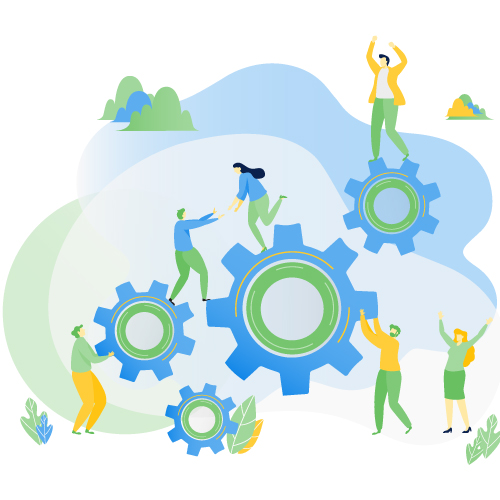 It's a never-ending story for IT administrators that technology keeps changing and growing more complicated. For years, successful organizations relied on their Configuration Management Database (CMDB) to track and manage configuration items (CIs: infrastructure, assets) and their relationships. However, CMDBs are based on structured, relational models – a method that worked well for decades, but no longer cuts it today.
Modern infrastructure and applications—built around modularity, scalability, and reuse—create exponentially more complex relationships that do not easily fit into relational models. To address that, ServiceNow recently introduced Service Graph, an extension of their CMDB, as the next-generation digital data foundation for ServiceNow's platform and products.
Designed to create tighter alignment between developers, infrastructure operators, and service managers, Service Graph better represents complex digital business relationships. As a long-time development partner with ServiceNow, ScienceLogic is standardizing on ServiceNow's new Service Graph technology to bring better flexibility, tighter integration, and greater value to our shared customers.
Accurate Data Is the Foundation for Automation
While Service Graph will serve as a more advanced, holistic repository for data, it does not inherently solve the challenge of getting data into the CMDB and ensuring that data is accurate and complete. This remains an important step to get right. As the scale and pace of today's ITOps practice outstrips manual management, organizations are relying on automation to keep costs down, maintain SLAs, make customers happy, and keep the business running.
However, automations are only possible if IT operations has an accurate view of what is in their environment, what is changing, who or what those changes impact, and when and how to route problems when something breaks. Thus, creating a strong CMDB and efficient process for maintaining it is one of the most valuable initiatives an IT organization can undertake.
Futureproofing Your SL1 Integrations with ServiceNow
The ScienceLogic SL1 Service Graph Connector helps you build and maintain your CMDB by:
Using guided workflows to kickstart your CMDB setup
Keeping your CMDB up to date
Gaining real-time insights into your ever-changing IT ecosystem
Contextualizing your environment to see how your CIs relate to each other
Establishing the critical digital data foundation for automating incident management, change management, problem management, and other ITIL processes
More easily transforming and sharing data payloads between SL1 and ServiceNow's CMDB
Moreover, by standardizing on Service Graph, ScienceLogic helps you protect your investments in both ScienceLogic and ServiceNow, while reducing your integration maintenance costs.
More Power Under the Hood
The key to data integration is seamless transformation and mapping. Before ServiceNow implemented Service Graph, transformation between ScienceLogic SL1 service topology data and ServiceNow's service definitions was accomplished within SL1 PowerFlow.
The SL1 Service Graph Connector, while still using the Identification & Reconciliation Engine (IRE), now also leverages IntegrationHub ETL transform maps to bring forward the transform layer functionality between third-party data updates and the ServiceNow CMDB.
This transform layer is presented in an intuitive interface where you can easily map technologies, classes, and asset fields. This solves the problem of having to manipulate the IRE rules by giving you the option to manipulate the data payload before it gets to ServiceNow's CMDB.

For instance, in the past, users needed to spend time configuring SL1 to deliver a data payload into ServiceNow according to ServiceNow's data schemas. This could cause issues when changes in the environment altered how that data was being collected, requiring time to troubleshoot the configuration of both SL1 and ServiceNow. With the SL1 Service Graph Connector, data is sent in its raw form into ServiceNow, allowing ServiceNow's IntegrationHub ETL to transform the data into the latest schema requirements. The result is greater confidence in your integration with less maintenance.
Additionally, this Service Graph Connector interface provides a uniform method of getting data into the CMDB, regardless of the data source.  So, whether you're using SL1 on its own or using SL1 with other connectors available on the ServiceNow store, you are guaranteed a consistent user experience throughout.
Laying the Foundation for Future Automations
Automating CMDB management is just the start of a transformational journey to automating IT operations. For years, companies like Cisco, Content+Cloud, and NetDesign have relied on ScienceLogic SL1 to automate the workflows needed to keep their ServiceNow CMDB up-to-date.
These companies started with ensuring their CMDB management was a solid foundation off which to drive additional automation. That has enabled them to save huge sums of money, reduce MTTR by automating things like ticketing, routing, troubleshooting and remediation, and even repurpose workers away from maintenance work to value added work like creating new, revenue-generating managed services.

ScienceLogic's Service Graph Connector arms more customers with the tools needed to see similar success through easily and reliably loading data into ServiceNow.  To learn more about ScienceLogic's Service Graph Connector, please visit our ServiceNow store listing.