ScienceLogic Wins the 2023 TrustRadius Tech Cares Award for Exemplary Employee Resource Groups (ERGs)
ScienceLogic is proud to announce that we've received the 2023 TrustRadius™ Tech Cares Award.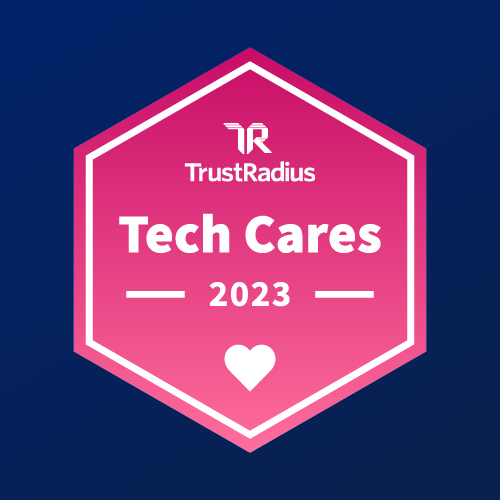 There's no greater validation of a company's commitment to social corporate responsibility than being recognized by esteemed organizations like TrustRadius. This recognition highlights our unwavering dedication to employee and customer support, diversity, and inclusion through our outstanding Employee Resource Groups (ERGs).
A Trust Indicator for Social Corporate Responsibility
The Tech Cares Award was created as a symbol of trust and confidence for buyers in the tech community. Companies that receive this recognition demonstrate their commitment to corporate social responsibility, encompassing key areas such as volunteerism, robust diversity, equity, and inclusion (DEI) programs, and a supportive workplace culture for both in-office and remote employees. For ScienceLogic, receiving this award underscores our ongoing efforts to create a workplace that fosters an inclusive environment and empowers our employees.
ScienceLogic has earned a 2023 Tech Cares award for their exceptional commitment to corporate social responsibility. Through their five Employee Resource Groups, they showcase a strong dedication to diversity, equity, and inclusion. By fostering a positive workplace culture and promoting volunteerism, ScienceLogic actively supports both employees and communities, making a meaningful impact on society.  
Megan Headley, VP of Research at TrustRadius.
Celebrating Employee Resource Groups (ERGs)
One of the cornerstones of ScienceLogic's commitment to DEI is our exceptional ERGs. Let's take a closer look at them:
PowHER: This group aims to empower and uplift women at ScienceLogic. It provides a platform for women to connect, share experiences, and advocate for gender equality in the workplace. Through various initiatives, PowHER supports women's career development and ensures their voices are heard and valued.

Black Logicians: This group is dedicated to supporting Black employees at ScienceLogic. It fosters an inclusive space where members can discuss issues related to racial equality and social justice. Black Logicians also works to promote career growth opportunities and celebrate the achievements of Black employees within the company.

SciLo Pride: ScienceLogic's LGBTQ+ ERG is committed to creating an inclusive and accepting workplace for LGBTQ+ employees. The group advocates for LGBTQ+ rights and offers educational opportunities to foster understanding and allyship among all employees.

SciLo Vets: This ERG supports ScienceLogic's military veterans. The group focuses on assisting veterans transitioning into civilian roles, leveraging their unique skills, and providing a sense of camaraderie within the organization.

Hola: Hispanic/Latinx Organization for Leadership and Advancement (HOLA) promotes the advancement and development of Hispanic and Latinx employees at ScienceLogic. It celebrates the rich diversity of cultures within the community and strives to create an environment where all voices are valued and respected.

A Tradition of Excellence

Our Tech Cares Award isn't our first TrustRadius award, and certainly isn't the last. Earlier in 2023, for the fourth year in a row, ScienceLogic SL1 won Top Rated Awards on TrustRadius. Earning a Top Rated Award means we're one of the most trusted, reliable vendors on TrustRadius, according to the people who matter most—our customers.

Each month TrustRadius helps over half a million buyers make informed decisions by delivering verified, peer-based reviews and ratings. Their insights and analysis help organizations make informed decisions and buy confidently with the support of comprehensive, vetted product information. Their awards are based entirely on customer reviews and sentiment, and that's why when TrustRadius says ScienceLogic is a top performer, the compliment carries weight.

Creating a Brighter and More Inclusive Future

ScienceLogic is honored to receive the Tech Cares Award and is proud to be recognized as Top Rated for our platform, ScienceLogic SL1. We'll continue to champion social corporate responsibility and inclusivity through our ERGs and drive innovation and excellence with our technology. We are committed to making a positive impact in our community and beyond and are grateful for the trust and support of our customers and partners. Together, we'll shape a brighter and more inclusive future for the tech industry.