ScienceLogic Earns TRUE Certification from TrustRadius: A Testament to Transparency, Responsiveness, Unbiasedness, and Ethical Practices
Receiving the TRUE certification is a significant milestone for ScienceLogic, but it's just one step in our ongoing journey.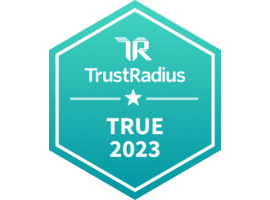 At ScienceLogic, we believe trust is the bedrock of any successful relationship, whether it's with our customers, employees, or partners. We're excited and humbled to announce that we received the TRUE certification from TrustRadius, a recognition that underscores our unwavering commitment to ethical practices in all our peer review operations.
TRUE Certification: A Mark of Excellence
The TRUE certification from TrustRadius is much more than a badge of honor. It signifies ScienceLogic's dedication to embodying the highest standards of transparency, responsiveness, unbiasedness, and ethical conduct in how we source and handle reviews.
Transparency: We take pride in being open and honest about our products and services. We actively encourage our customers to share their experiences knowing that transparency builds trust. Buyers deserve accurate, unfiltered insights to help guide them to smart purchasing decisions, and that's precisely what we aim to provide.
Responsiveness: Our commitment to responsiveness means we don't just collect reviews and let them gather dust. We actively engage with our customers' feedback, addressing their concerns and working tirelessly to incorporate that input to improve our products, services, and support. Every review is an opportunity to learn and grow.
Unbiasedness: TrustRadius is a company known for its unbiased reviews, and we're proud to uphold that standard. We don't manipulate or influence reviews in any way, and we believe the most valuable insights come from authentic, impartial experiences, and we're committed to maintaining the integrity of those insights.
Ethical Conduct: Ethics are the foundation of our interactions with customers, partners, and the broader tech community. We believe in conducting ourselves with the utmost integrity, honesty, and fairness, and it shows in how we manage our customers' reviews.
Our Ongoing Commitment
Receiving the TRUE certification is a significant milestone for ScienceLogic, but it's just one step in our ongoing journey. We're committed to continually raising the bar in our quest for excellence, trustworthiness, and customer satisfaction.
As we move forward, we remain dedicated to delivering the highest level of service and to fostering trust, not only in our reviews but in everything we do. Thank you for trusting us with your technology needs, and we look forward to continuing to earn that trust every day.