ScienceLogic Prospers in EMEA Region Growing Business by 80%
Our own CEO, Dave Link, sat down with the Senior Vice President of the EMEA region, Clive Spanswick, for an interview to discuss ScienceLogic's rapid growth in EMEA. Here's an excerpt of their conversation.
AIOps,
Managed Service Providers (MSPs),
ScienceLogic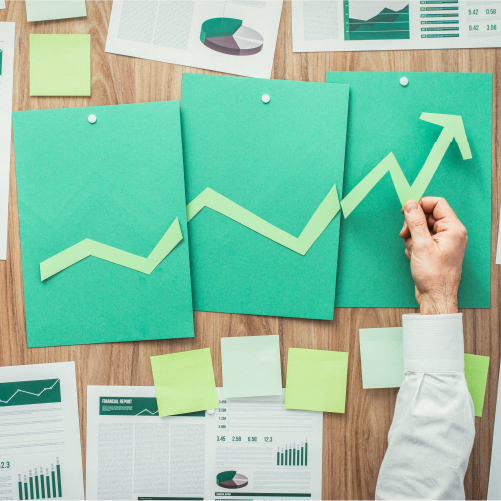 Dave Link:
I'm here in London this week, and it's great to be back. We are here with our customers after a fantastic finish to 2021 and an incredible start to our first quarter of 2022. I'm here today with Clive, who leads the EMEA region for ScienceLogic. And it's great to be back and see you in person, Clive.
Clive Spanswick:
Dave, it's fantastic to see you. Thank you so much again for coming over and spending some time with us here.
Dave Link:
I love being with customers and being in the market. And just to cap off, what a great year. And when you have such a great year, I think it's good to give back to customers and share a little bit about why we had such a great year. So, what are we seeing? Where are we seeing the most demand in the region, Clive? Where is it coming from?
Clive Spanswick:
So, in the region overall, we've seen fantastic growth year over year for 2021. We grew the business more than 80%. The business was really growing in three core areas:
We had our UK markets supported by MSPs and enterprises.
We saw terrific growth in the banking and finance sector.
Moving out into Europe, we also saw significant growth of more than 40% year over year, supported by our global systems integrators, our managed service providers, and some very large direct enterprise customers.
We've also seen a very big growth in demand in Middle Eastern Africa, which is in many parts fueled by a lot of the digital transformation journeys that we are seeing customers embark upon.
Dave Link:
So, we've seen this customer journey. We've also observed that people want packaged solutions. When you think about the solutions that are fueling your growth throughout EMEA, how would you characterize those for people, not just ScienceLogic customers, but the prospective customers that we're working with in the market?
Clive Spanswick:
A lot of the solutions that were helping package our customers today are really centered around simplification. The simplification is driven by demand from our customers that are embarking upon digital transformation, moving to cloud, hybrid services, but also the hybrid working environment that we've seen that's been characterized by the changes that we've all undergone over the last two years. So that simplification really enters the tool chain because we're finding many of our customers now are really struggling with the tool sets that they have today and how those tools are restricting the agility by
We are really helping them centered across two areas:
The first area is centered around observability, so seeing that journey as you go through day one, but more importantly, how you then observe the behavior of those workloads in day two and beyond.
The second area is centered around automation. Automation is centered at two levels. The first level being around how to drive efficiency and lower costs of operations for day two. But the second part of that equation is around agility. So, releasing the time spent in troubleshooting and operational support issues so that they can focus on project delivery in a far more agile and speedy way.
Dave Link:
Clearly those are making a difference in impacting customers throughout the region. We've been investing; the company's had an amazing growth profile. Last year we had the best growth we've seen in four years. The business has grown over 500% over the last six years from our recurring revenues. And what we've done is we've continued to invest back into the business. Over 40% of our investments are in R&D and innovation. But we're also investing in lots of other different areas of the business. We have big plans based on your growth to invest in the region. Share with the audience, where are we investing in this region?
Clive Spanswick:
Dave, as you said and characterized, we've been growing tremendously. And of course, behind that, that creates a demand for focus. And the focus for us for the growth of our region here is really centered on really helping our customers realize the value through the journey towards AIOps. And we are really investing centered on customer success in the first instance, and then secondly, in services and support. Supporting those customers that have already started that journey with us and helping them derive even more value out of the platform that we have.
And then the final area is really all about getting more feet on the street to evangelize the story that we have so that we can share more of the positive message of how businesses can really drive far better outcomes on the platform that we have to share.
So, if I were a customer of ScienceLogic today, what could I expect from the business, from you and the organization in my journey towards AIOps?
Dave Link:
We are relentlessly focused on helping the customer through their journey. The journey includes a number of different segments. Often you have one foot in the past, another foot in the present, and then a third foot, which is really hard to straddle, into the future. You want to work with a vendor that's thinking about all three phases of your business and understands all three phases. And that is one of the differentiators of ScienceLogic.
As aforementioned, over 40% of our revenues go back into R&D. When I think about where most customers are, it's the observability layer. You can't manage what you can't see. But beyond that, we spend a lot of time on the automation front to become a recommendation, an advisory level of the business. And that I think is the future where most of our customers want us to help them get to.
Some are there, but many are on the pathway to that utopia. Some would call that ticketless IT or no ops. I think we'll continue evaluating the pathway where customers can gain the most value, the best business outcomes from the use of our platform, where we're going to keep investing to make it simpler, better, faster, and as resilient as possible so it delivers the business outcomes that our customers expect.
It's great to be in EMEA this week. Our customers, seeing them again face to face, I can't tell you what that means to me. But I also can't wait to see how 2022 finishes for the EMEA team. They had an epic year last year, and I see even greater outcomes in 2022 for the team and our customers.
Learn more about how ScienceLogic can help you on your AIOps journey>