Blog, Customer Stories
August 6, 2020
From Vision to Reality: Transforming with Monitoring as a Service
Softcat had a vision to transform from one of the UK's biggest value-added resellers into one of the largest managed services providers (MSPs). Here's how they transformed that vision into a reality.
by it-network@sciencelogic2.wpengine.com
AIOps,
Managed Service Providers (MSPs),
Monitoring

Softcat had a vision to transform from one of the UK's biggest value-added resellers into one of the largest managed services providers (MSPs). Here's how they transformed that vision into a reality.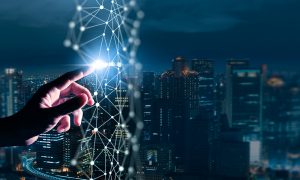 Softcat's legacy IT operations monitoring tool was holding them back, so they set out to find a technology partner that could share their vision and help bring it into being.
"We started by drawing up a long list of everything we wanted in a tool," said Andy Barron, Softcat's solutions development manager. He told his people to be creative, reminding them to "fight against the urge to reference the limitations of the current platform."
Barron wanted Softcat to think big. It's a new era, after all. Customers don't want to know what they can't do. Instead, they want to work with a managed service provider that is obsessed with customer satisfaction, customer success, and that has the audacity to help them achieve their biggest goals.
Softcat was determined to turn the dial up on their solutions and adapt to the changing marketplace. Their search led them to the ScienceLogic SL1 platform.
Barron said that Softcat needed a tool that was as good at monitoring assets in the public cloud as it was for on-premises systems and infrastructure monitoring. This on its own is not an easy task, and they also needed a tool that could handle the complexity of an organization with lots of customers, lots of devices, and lots of business services without forcing its monitoring team to look at lots of screens and become overwhelmed with lots of alerts.
"We wanted a tool which could help reduce alerts by utilizing deviation from normal, rather than standard alerting systems. And Softcat wanted to become psychics," Barron laughed. "We wanted a tool which could look at what was going on, predict as best as possible any issues, and minimize downtime by taking precautionary steps to avoid it."
As a value-added reseller turned MSP, Softcat said they'd seen customers evolve from asking them to configure and deliver 10,000 end-user devices to saying, "We've got 10,000 employees. We need them to be secure and productive with the right tools for the way they want to work," Barron said. "And it has to work perfectly with as much automation as possible. No downtime, plenty of insights into the data, and for each employee to have the greatest user experience."
In other words, Barron said, they aren't asking to buy products, "They want to buy an outcome."
Delivering a Vision with Differentiated Monitoring Services
Data is at the heart of delivering those outcomes, but on their own, customers are not dealing well with the tidal wave of complexity inherent with today's technology. They have data, but not enough actionable intelligence. But with SL1 and an AIOps strategy to develop a differentiated monitoring service (monitoring as a service), Softcat can ingest all their customers' data, put it in proper context, and deliver valuable insights in real-time. That enables Softcat to break down its approach to customer service and service innovation into five simple steps:
Discover what the customer wants;
Scope to the need of the outcome;
Implement the service;
Monitor & support the customer's environment; and,
Review the outcome and continue to innovate.
From there, Barron said, "We pull the data together for them to help them run their devices and business services better, help them with capacity planning, and make recommendations of either hardware, software, or configurations to avoid issues further down the line.
"Internally, we utilize the data for our operation center to reduce outage times by adding to our own knowledge base, automating triage for devices and business services based off events generated and anomalies," Barron added. "Even utilizing ScienceLogic to try and predict issues before they happen. And then we feed those insights back to our customers to help them achieve their business goals."
The results have been measurable and significant. According to Barron, "The numbers speak for themselves. In less than two months we had already created five new monitoring services which could not have otherwise been created, saved over 65 percent on licensing fees and additional modules, and over the next three years we anticipate saving over $5 million."
But the biggest benefit of Softcat's digital transformation? Barron said that its investment in AIOps and a monitoring as a service strategy has been a major investment in its own people. Thanks to ScienceLogic and SL1, Softcat employees operate in an environment where their training and experience translates to greater job satisfaction, more innovation, and a higher quality of customer service.
If you want more information about Softcat's digital transformation, watch our ScienceLogic-Softcat webinar, Monitoring-as-a-Service with Andy Barron, his colleague and Softcat head of sales for technology services and solutions, James Hunnybourne, and ScienceLogic's own product marketing director, Vidhi Bhansali.