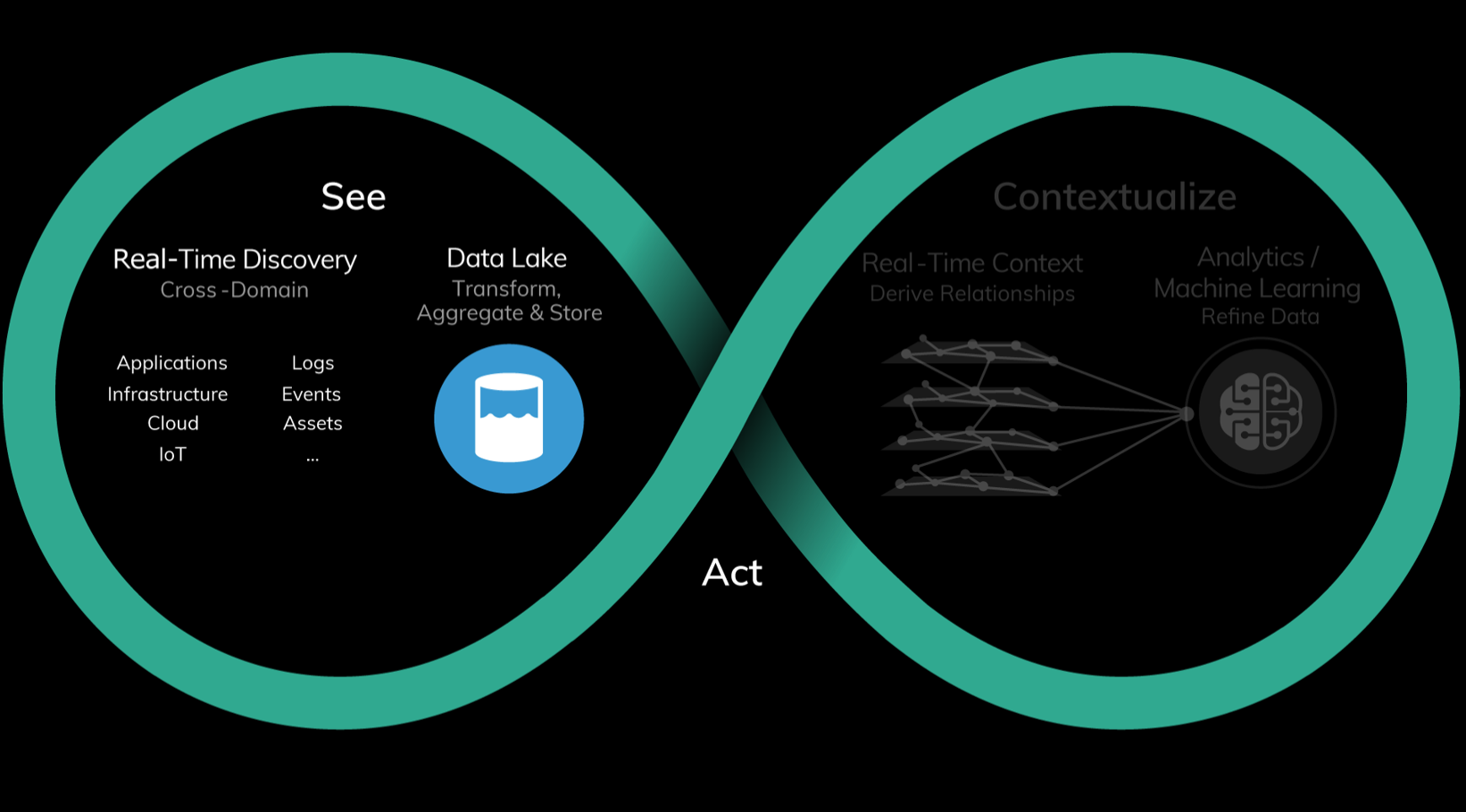 Connected Ecosystem
Integrate and automate data, in real-time.
SEE ALL YOUR DATA IN ONE PLACE
Discover all components within your enterprise – standard and unique – across physical, virtual and cloud. Collect and store a variety of data in a clean and normalized data lake.
APPLY AI/ML FOR ACTIONABLE INSIGHTS
Understand relationships between infrastructure, applications and business services. Use this context to gain actionable insights.
CONNECT YOUR IT ECOSYSTEM
Integrate and share data across technologies and your IT ecosystem in real-time. Apply multi-directional integrations to automate both responsive and proactive actions at cloud scale.
Connect Your Ecosystem
Integrate and automate data in real-time.
PowerSync applies a variety of techniques to continuously discover, collect, integrate, and exchange data across your IT ecosystem. It stores data in a clean data lake where PowerMap applies context, and AI/Machine learning (ML) to derive real-time, actionable insights. Use PowerSync to initiate self-healing and automate operational processes.
Automatically
discover
physical, virtual, cloud, serverless, and microservices infrastructure, and more. Use SL1's patented "miss-nothing" discovery technology to continuously discover, merge, and store IT ops data in a common data lake, so predictive action can be taken. Apply best practice
monitoring policies
to collect, assess, and visualize the right data.
Learn more about automatic discovery.
Fuse multiple types and sources of data into a common data model and store it in a unified Data Lake. Gain clear visibility across all IT operations data. See any vendor, any technology, anywhere—from one place, in real-time.
Easily integrate and exchange data with third party data sources, technologies, and enterprise IT management tools. Chain them together for full visibility and improved operational efficiency. Use PowerSync to quickly integrate with asset management systems,
CMDB/CMSs
,
ITSM
, APM, NPM, Log Management, and more. Push, pull, and publish/subscribe to data feeds in real-time.
Achieve higher levels of productivity. Significantly reduce or eliminate the risk of human error. Streamline and automate operational processes within and across organizational silos. Free up time to focus on more important business-critical tasks. Improve mean time to repair (MTTR) by streamlining and automating every possible step of the problem identification and repair process. Learn more about
PowerPacks.
Explore Our Technologies and Functions
Click on a technology or function below to learn more.
Too much IT data? Get context.