Monitor the health and performance of your Amazon Web Services (AWS) infrastructure and all of your cloud and on-premises services and infrastructure from a single platform. Get a unified operational view of your entire IT universe—across multiple technologies, vendors, and clouds.
Keep your AWS resources healthy with patented discovery, mapping, and pre-configured monitoring policies for AWS services and technologies; monitor additional AWS services and technologies with ease
Optimize investments in AWS by discovering what you have, what you use, and what it connects to; place workloads optimized for latency, security, availability, and cost
Boost IT efficiency by automating IT operational processes for both cloud and on-premises services
Monitor Your AWS Clouds Right Out-Of-The-Box
CloudWatch
Auto Scaling

Billing

DynamoDB
EBS
EC2
ElastiCache
Elastic Beanstalk
Elastic Load Balancing
RDS
Route 53
S3
SNS
SQS
CloudFront
CloudTrail
Direct Connect
EMR
Glacier
OpsWorks
Redshift
Storage Gateway
VPC
Lightsail
Lambda
API Gateway
Security Group
Route Tables
VPN Gateway
GovCloud (US)
WAF
Shield
ECS
Keep Your AWS Environments Healthy
Monitor the health and availability of your AWS network, storage, compute, operating systems, and other services.
Start monitoring immediately with pre-built monitoring policies for your AWS technologies
View AWS resources, regardless of region or zone, in a single dashboard
Drill into specific areas of concern
See relationships between elements to understand impact and troubleshoot issues quickly
Ensure service continuity with Direct Connect monitoring
Monitor the health and performance of services and device groups, including all major Amazon core services such as EC2, EBS, RDS, and many more
Compare performance over extended time
Alert on performance exceptions, configuration changes, and AWS resource status
Discover & Map All of Your AWS Services & Infrastructure
Automatically discover and keep track of changes in your AWS environments.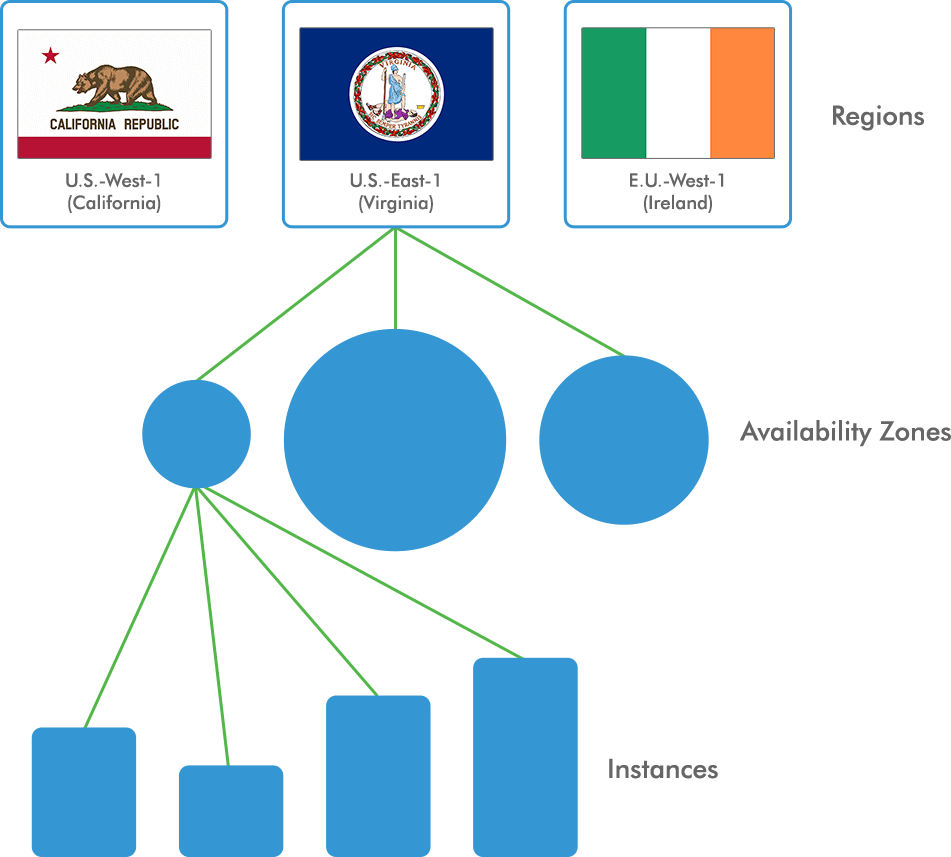 Provide Role-Specific Visibility into Your AWS Environments
Use a single platform to monitor everything, everywhere. See everything you need to see in order to make sure your AWS environment is working.
Get role-specific visibility into all of your AWS services and infrastructure, across all regions and zones with built-in, best practice-based dashboards
Segment visibility by user, business unit, geography, technology, and many other profiles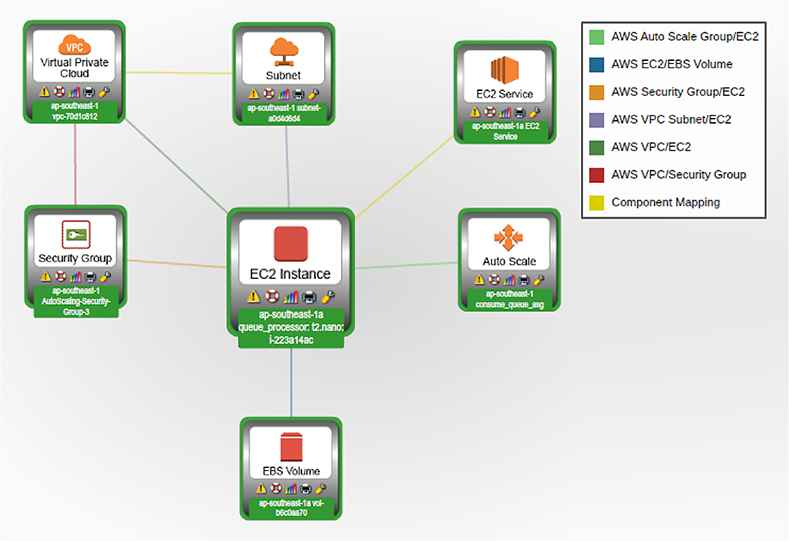 Get Hybrid & Multi-Cloud Visibility
Comprehensive visibility for AWS, Azure, SoftLayer, vCloud Air
Retain full cloud visibility across VMware vSphere-based private, public, and hybrid cloud environments with VMware Hybrid Link Mode and VMware Cloud on AWS
Automatically monitor your entire IT universe—on premises and in multiple clouds—from a single console
Ensure a consistent approach when managing multiple clouds and technologies
Be prepared to support the needs of every business unit—whether in AWS, Azure, or any other cloud
Troubleshoot & Resolve Issues Quickly
Have clear visibility into what's going on anywhere in your AWS cloud to make sure your services are up and running.
Easily navigate relationships across clouds, on-prem infrastructure, and apps to speed problem resolution and ensure optimal performance
Get as granular as you need to, visualizing every aspect of your AWS deployment
Proactively detect and be alerted on configuration changes and performance issues
Avoid finger-pointing and reduce MTTR for critical business services
Utilize runbook automation for immediate response to performance or availability degradation as well as configuration changes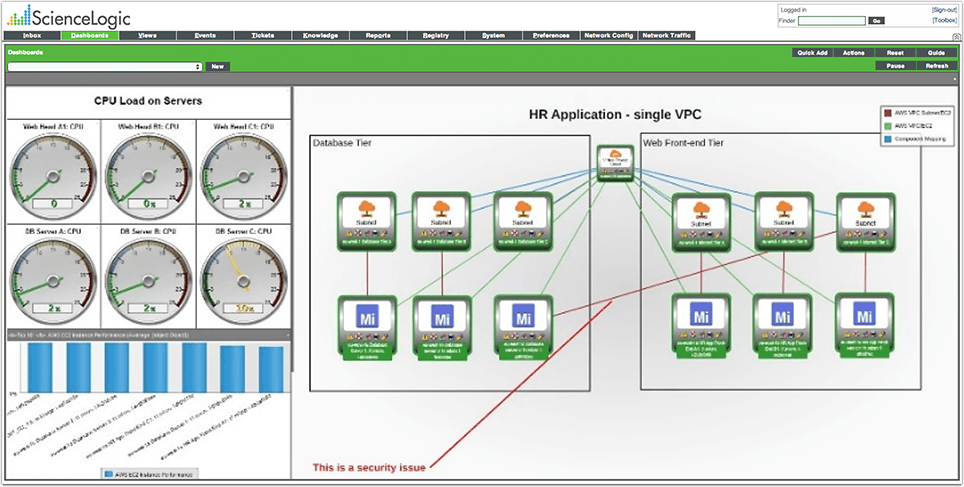 Prepare for a Smooth Migration to AWS
Quickly determine which on-prem workloads to migrate.
Catalog existing workloads running on VMware, Hyper-V, and discrete servers
Understand your workloads and their dependencies to plan for a smooth migration to the cloud
Identify closest equivalent AWS instance for each workload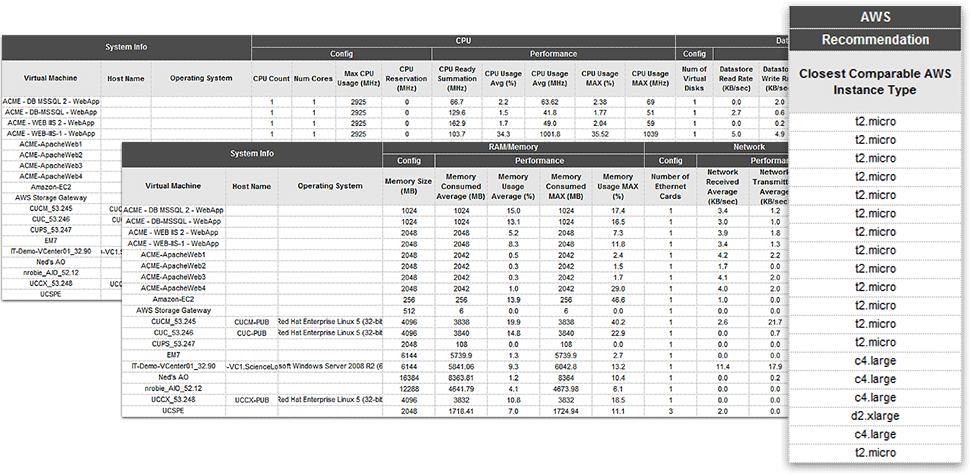 Integrate with Your IT Management Ecosystem
Easily integrate with other IT management solutions for full visibility and optimization of your IT services.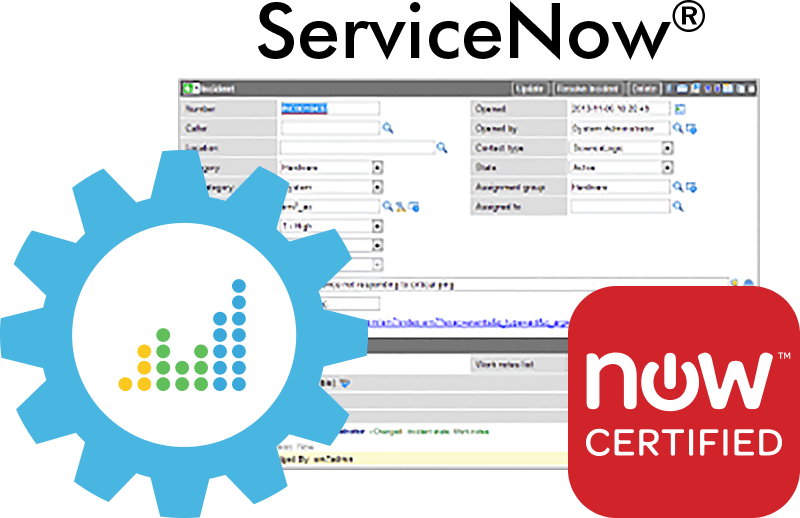 For Service Providers
Scalable, multi-tenant service assurance platform for service delivery and revenue generation
Rapid deployment to multiple customers with low administrative overhead
Grow your cloud and hybrid IT services with our MSP JumpStart program
Create new managed services for AWS, multi-cloud, private cloud, and more