AIOps, Beyond the Buzzword
You're watching TV. You hear "AI". You're reading the news on your phone and see "AIOps is the future of IT operations management." Buzzwords aside, it looks like AIOps is going to be a permanent fixture. In fact, a recent study by Forrester states that "68% of companies surveyed are actively investing in AIOps-enabled monitoring solutions within the next 12 months."
Well, let's back up a little. What exactly is AIOps? And why should you care about it? Next time you hear about AIOps in the boardroom or on your phone in the waiting room, you'll hear much more than just buzz.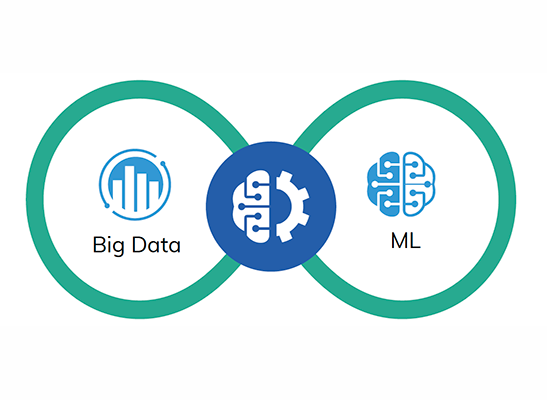 What is AIOps?
AIOps or artificial intelligence for IT operations entered the IT lexicon in 2016 when Gartner coined the term as part of an effort to understand how data analytics were enabling new efficiencies for ITOps teams. AIOps is the application of advanced analytics—in the form of machine learning (ML) and artificial intelligence (AI), towards automating operations so that your ITOps team can move at the speed that your business expects today.
Gartner also defines AIOps as the marriage of big data with ML to create predictive outcomes that help drive faster root-cause analysis (RCA) and accelerate mean time to repair (MTTR). By providing intelligent, actionable insights that drive a higher level of automation and collaboration, ITOps can continuously improve, saving your organization time and resources in the process.
Why is AIOps important?
Major advances in distributed architectures, multi-clouds, containers, and microservices, just to name a few, have created copious, multi-dimensional data flows that create excessive noise and stifle IT's ability to identify and resolve service incidents. And because there are so many different layers of technologies making up your IT infrastructure, there are an increasingly complex set of dependencies between these technologies. Adding to the complexity, your IT infrastructure is shared across an ever-expanding set of business services and applications.
Any type of change to one of these services, applications, or the underlying infrastructure occurs so fast and frequently that we are beyond the point where humans can figure out how these parts are related. We need a machine to do it for us. AIOps builds real-time systems in the form of context- rich data lakes that traverse the full application stack in order to reduce noise in modern performance and fault management systems and drive automation— with the ultimate goal of improving time to resolution. Additional key business benefits include:
Improved reliability and availability;
Reduced operating costs;
Faster digital transformation; and
Improved employee productivity and experience
How can AIOps help you?
A successful digital transformation requires AIOps and the push for business agility leaves an undesirable by-product in complexity— making it extremely difficult for humans to keep up. While agility is core to business innovation and customer experiences, executing to it has created a highly ephemeral state of IT workloads and processes. AIOps can empower your ITOps team to:
Determine the service health of mission-critical services or applications
Gain control and visibility to spiraling consumption of cloud resources.
Accelerate MTTR with automated incident management and real-time configuration management database (CMDB) updates.
Build context-rich data lakes integrating disparate, third-party data sources.
The long-term impact of AIOps on IT operations will be transformative. But if you're not a believer yet—let's go through the everyday problems that enterprises face and how AIOps can help solve them.
Gartner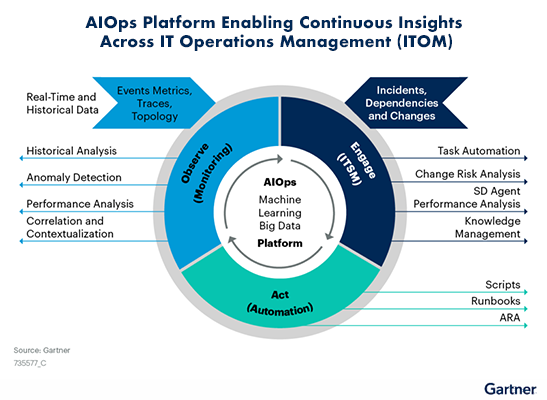 What problems can AIOps help solve?
The main benefit of AIOps is it gives DevOps, SRE, and ITOps teams the speed and agility they need to detect incidents early in order to ensure the uptime of critical services and the delivery of an optimal digital customer experience. Other key capabilities associated with AIOps include:
Noise reduction;
Event correlation;
Collaboration;
Context; and
Automated remediation.
AIOps Customer Use Cases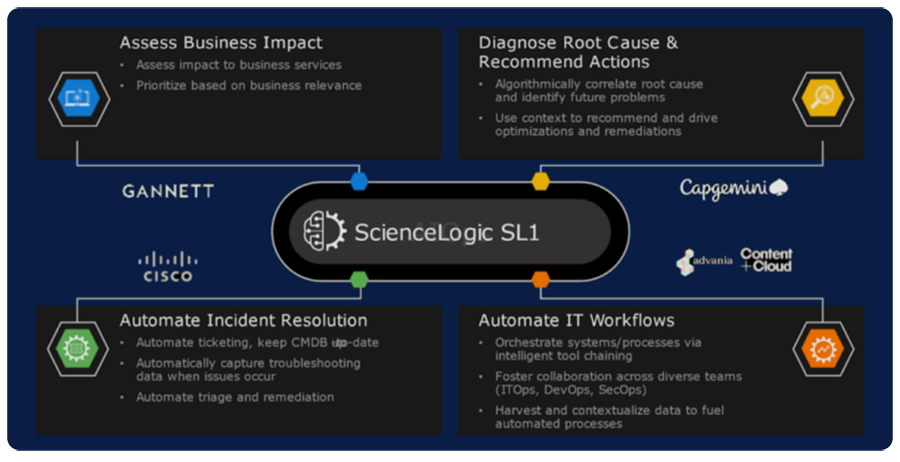 AIOps can help ITOps professionals in four key areas:
Use case #1: Assess Business Impact.
AIOps enables forward-looking organizations to understand the impact on the business service and prioritize based on business relevance.
Use case #2: Diagnose the Root Cause and Recommend Actions.
An AIOps platform can algorithmically correlate the root cause of an issue and identify future problems. It can also use context to recommend and drive optimizations and remediations.
Use case #3: Automate Incident Resolution.
With AIOps, you can automate ticketing while keeping your CMDB up to date. You cam also automate troubleshooting and triage and remediation.
Use case #4: Automate IT Workflows. 
The right AIOps solution should harvest and contextualize data to fuel automated processes and orchestrate systems and processes via intelligent tool chaining. This helps to foster collaboration across ITOps, DevOps, andSecOps teams.
Two Approaches to AIOps: Data Agnostic vs. Data Aware

Now that you know what AIOps is, why it's important, and what problems it solves, you're ready for the two approaches to AIOps.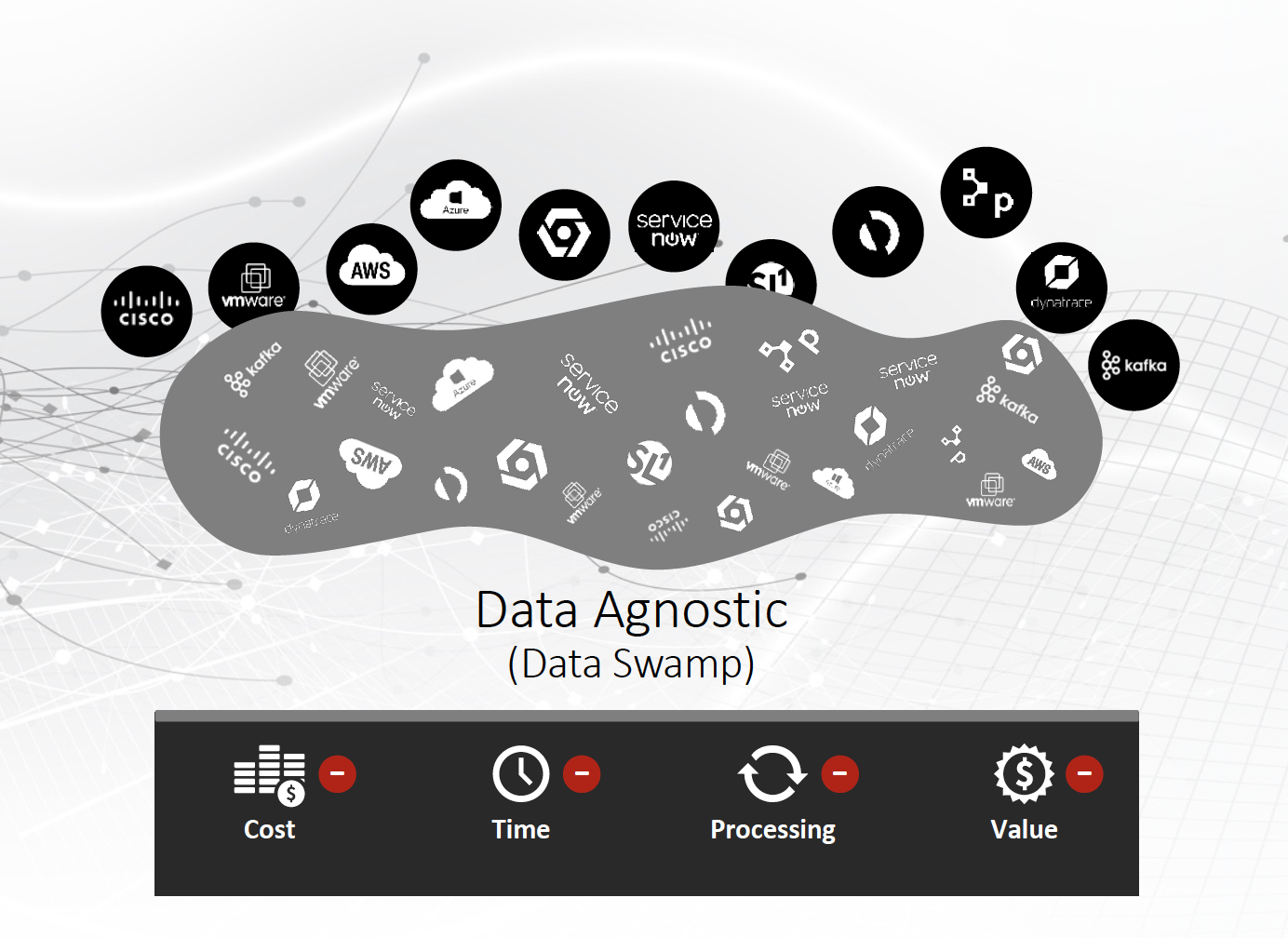 The first is a data-agnostic approach.
A data agnostic approach entails applying analytics to a bunch of data—data that can be disjointed or incomplete—thrown together, not grouped or organized in any way. This approach assumes that there will be a large body of data scientists to help make sense out of the data. But the vast majority of enterprises do not have access to a whole team of data scientists. And according to Gartner, data scientists spend 79% of their time collecting, cleaning, and organizing data.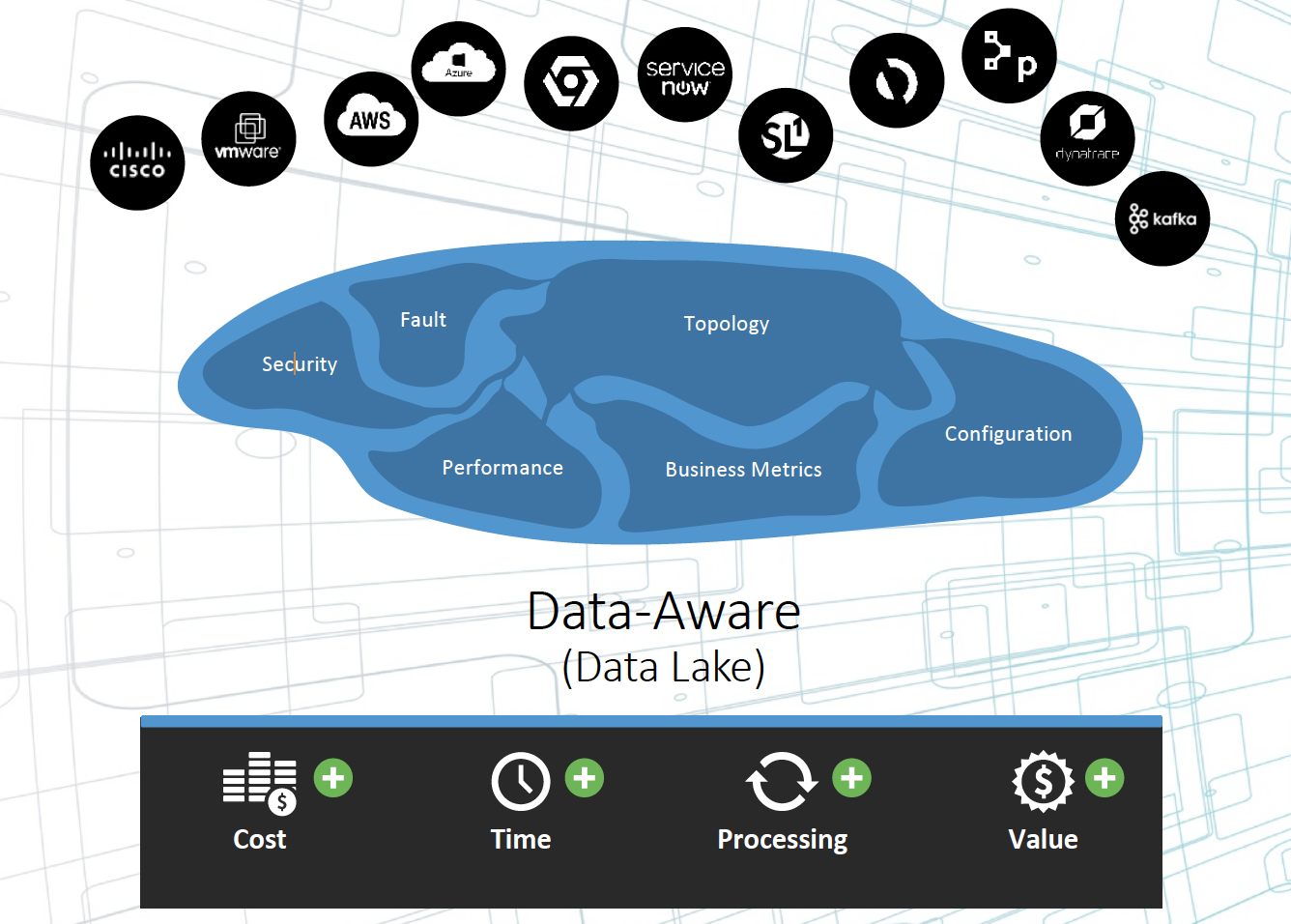 The second is a data-aware approach.
A data-aware approach means you don't need a team of data scientists to clean and structure your data before applying analytics. This helps you build a common data model, enriched with context (through topology) to solve a broad set of business challenges.
A data-aware approach enables your IT teams to craft automated workflows and analyses such as incident management, change management, configuration management, and self-healing, in addition to intelligent RCA (root-cause analysis) and MTTR.
Current State of AIOps Market
If your future involves AIOps, we've done the hard work to find the data, expert opinions, forecasts, and insights to help you step boldly into 2023 with a plan that matters. According to ESC research, nearly 30% of organizations plan to make significant investments in AIOps over the next 12 to 18 months, and more than 90% said they expect to spend as much or more on AI and machine learning in 2023 as they had in 2022. And 35% of organizations are prioritizing investments in AIOps to improve data center performance (ESG). Adding more depth, nearly one third of those organizations indicated that new monitoring and observability tool investments would complement their investments in AIOps in that same period. This correlates as to why in 2024, 30% of enterprises will extend network attentiveness across IT teams, including AIOps. (IDC)
For this exact reason is why we'll likely see a similar acceleration in the adoption of AIOps even if a recession does materialize. Performance gains in areas like reliability, along with boosting the productivity and efficiency of ITOps staff were cited as reasons why AIOps makes sense, along with other factors like:
Faster MTTR & MTTD through data-driven automations;
Continued need to support remote operations; and,
Enabling predictive remediation and self-healing systems.
Who is using AIOps and for what purpose?
AIOps is being used globally by organizations of all types, industries and sizes. The following are those who invested the most:
Large enterprises with complex environments;
Cloud-Native SMEs;
DevOps teams amongst organizations;
Organizations utilizing hybrid cloud as well as on-premise; and
Businesses pursuing digital transformation.
ScienceLogic SL1: AIOps Solution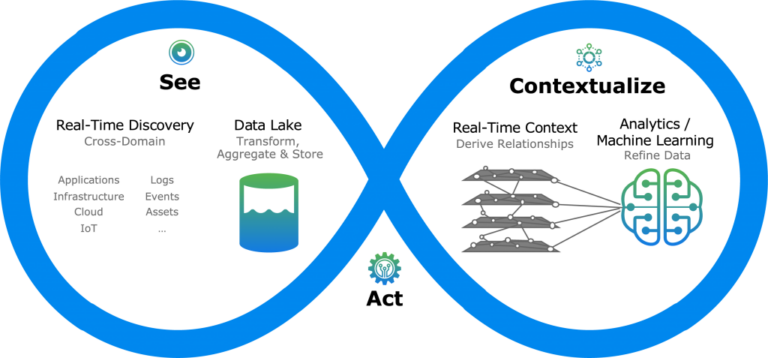 ScienceLogic believes strongly in a data-aware approach.
SL1 takes any data from any infrastructure and uses a variety of collection methods to feed the data into a data lake–in real-time, so you can see what's in your environment.
Our AIOps platform then applies context to that data to make it more meaningful–and actionable. If you think about it, operational patterns leave "breadcrumbs". SL1 connects the dots between them, providing layers of abstraction–so you understand how each layer interrelates and interconnects.
This allows you to apply machine learning and analytics, and drive automations.
AIOps is a journey but every journey begins with a single step. At ScienceLogic, we have created a maturity model to help our customers and partners think through their current starting point on the AIOps journey. If you are not achieving your operations goals and are ready to take the first steps along the journey of AIOps—embracing a unified vision, one rooted in a data-aware approach—with automation as its final goal, then ScienceLogic is here to help you each step of the way.
Getting Started with AIOps
Build a business case: Investing in AIOps requires strategic planning and a strong business case. Our AIOps Value Calculator is intended to help companies demonstrate, justify, and realize the tangible value of IT investments to key business stakeholders. Prove why investing in AIOps is a no-brainer for your organization.​
Choose an AIOps solution: There are a great deal of AIOps solutions on the market today. Before locking in on a solution, be sure you have a thorough understanding of the different types of solutions, the time they take to implement, as well as the overall time and effort needed to maintain. If you're still unsure which AIOps solution is right for you, check out the latest AIOps Forrester Wave report.
Ready to see AIOps in action? We offer product tours to give you a self-service experience to see firsthand how ScienceLogic can help your organization tackle the most complex IT challenges. Get started on your AIOps journey today by signing up for a personalized demo.
Let us show you how today's technology leaders are using SL1 to transform IT operations.