Blog, Customer Stories
March 10, 2020
Fuel managed services revenue growth by transforming your managed service business.
Managed service providers (MSPs) are looking for ways to grow business while keeping costs low. And this requires the modernization and simplification of operations.
Managed Service Providers (MSPs)

Today's MSPs have a broad range of options for building and managing a hosted environment and for offering services to their customers. Every technology investment is evaluated based on how it contributes to the bottom line by creating new revenue streams and cutting operations costs.
These modern tools can enable MSPs to simplify operations, expand options for service creation and delivery, speed up customer on-boarding/time to value, increase visibility (across client infrastructure – both modern and legacy technology), and reduce the risk of outages or SLA violations.
Hanging on to legacy tools, on the other hand, can lead to just the opposite: increased costs, delayed service delivery, hampered onboarding of new customers and new technologies (and associated revenue), increased downtime resulting in penalties and missed SLAs, and increased lost opportunities.
But once an investment in a legacy tool is made, the lure of hanging on to it can be strong. We understand the impulse to squeeze a little more mileage out of that investment and avoid spending precious capital, or your customers are slow to change—but not if it means increased operational costs and lost business opportunities.
Top Challenges for MSPs
MSPs operate in a dynamic, highly competitive environment. To build a successful business means offering the front-office services a target industry and clientele requires, while keeping the back-office operations efficient.
Among the top challenges an MSP faces in that regard are:
Ensuring maximum visibility into their IT infrastructure—and that of their customers;
Collecting complete, accurate operational data and keeping the CMDB populated with trustworthy data;
Simplifying the scope of the tools used by the IT operations management (ITOM) team;
Minimizing manual labor costs for routine tasks like maintenance and break-fix; and,
Maximizing service reliability and mitigating the risk of costly down time.
The respected technology analyst firm Forrester has a powerful research methodology called Total Economic Impact™ (TEI) they use to evaluate the experiences of organizations that have made significant investments in new technologies. TEI helps the organization understand if and how the purchase they've made has benefitted them. In a recent TEI report based on an in-depth analysis of one company's investment in the SL1 platform, Forrester quantified a number of business benefits that should be of interest to MSPs.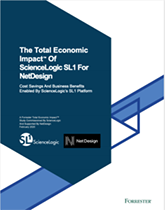 Forrester's report, "The Total Economic Impact of ScienceLogic SL1 for NetDesign," studied the results of the Denmark-based MSP's investment in SL1. NetDesign is an IT infrastructure MSP that monitors 128 clients totaling roughly 23,000 devices, including approximately 4,500 network devices, 500 servers, 400 applications, 400 virtual machines, and thousands of access points.
Prior to making its investment, NetDesign struggled with inefficient IT management because it did not have enough operational data to inform its ITOM team what was happening; it did not recognize when, where, and why incidents were happening; and it lacked a clear picture of how incidents were affecting service delivery and how to quickly diagnose and fix the resulting problems. NetDesign also realized that the growing complexity of its IT infrastructure had, over time, saddled it with an expensive, disparate set of more than five different management tools that were not capable of keeping pace with the new technologies they and their clients were using. That all added up to an escalating manual workload for NetDesign's IT staff, and a growing risk of downtime and SLA violations.
To address these conditions, NetDesign knew it needed to replace its legacy tools with a single platform that would simplify the overall ITOM view; collect and consolidate complete and accurate operational data from its infrastructure and that of its clients—in real time; support operational automation that would reduce manual workloads on both routine tasks and incident response; and mitigate the risk of unexpected downtime and SLA violations.
The Total Economic Impact
After more than two years of experience, Forrester identified a number of cost and business efficiencies resulting from the investment that generated $4.22M in savings, representing a 60% ROI and a 16-month payback period.
Among the year three quantified benefits were:
Cost improvements of 40% for critical (P1), 35% for major (P2), and 30% for normal (P3, P4) priority events;
Cost improvements of 25% realized through ITOM tools consolidation;
Onboarding time savings of 60% by year three through automation and more efficient staff allocation; and,
A 60% reduction in SLA violating incidents and a 10% improvement in overall service reliability.
Forrester found that NetDesign also realized additional business benefits from the investment, including increased customer satisfaction and retention through more reliable service delivery and a better understanding of the client's use of NetDesign services. That allowed NetDesign to use its technical staff in a more consultative role, helping the client to make better use of its business services and also informing the MSP of ways to demonstrate to the customer the need for different products and services. In other words, generating more revenue from within its existing customer base.
By investing in state-of-the-art tools, NetDesign was not only able to improve day-to-day operational efficiency and improve service delivery, but it was able to see a path toward aggressively building the business. As one executive interviewed by Forrester said, "Our aim is to grow managed services revenue by 20% in 2020. ScienceLogic is a critical driver in getting there."
If you want to review the complete results for yourself feel free to download a copy of the Forrester report, "The Total Economic Impact™ of ScienceLogic SL1 for NetDesign" and discover what's possible when you make a prudent technology investment in the future of your business. When you're done, we'd love to answer your questions and talk to you about how ScienceLogic can help you modernize your operations.