ITSM Tasks Got You Down? Make Like a Dad on Christmas Eve and Throw Out the Manual.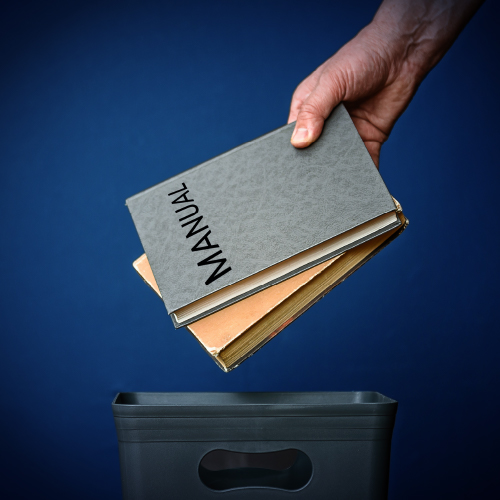 Automation is a smart investment in efficiency, productivity, and profitability. According to VentureBeat, companies that invested in automation technologies began to see results almost immediately, including an average 7% increase in revenues. In total, U.S. companies that adopted automation in 2021 generated an extra $195 billion in revenue per month, adding 7.1 million jobs to the economy. The most popular automations involved cloud computing, data integration, big data analytics, and the Internet of Things (IoT).
With numbers like that, why would any organization continue to rely on manual labor to do tasks that can be automated? That's why it's time to throw out the manual because the scale, complexity, and pace of change that characterizes today's IT infrastructure means way too many manual processes in IT, and especially for IT service management (ITSM). That is the topic covered in the latest ScienceLogic webinar, "Throw Out the Manual: Automate ITSM Workflows to Save Time & Digitally Transform."
Slow and error-prone? Automate!
One of the challenges for IT operations associated with a reliance on manual ITSM processes is the downstream issues they create. Because handling these things manually is typically a slow, error-prone process, you end up with an inaccurate CMDB, unactionable tickets, and protracted response and resolution times. These challenges are compounded by a lack of visibility across on-premises, cloud, and hybrid infrastructures. And these technical challenges translate to business risks like excessive costs, SLA violations, poor IT performance, and low customer satisfaction.
Automating with an AIOps platform like ScienceLogic's SL1 is the remedy to these problems. By creating a high-quality data lake, gaining full visibility across the IT estate, and leveraging tight integration with your ITSM tools, IT operations teams are using SL1 as their automation engine. With SL1 discovering and ingesting data from all your configuration items, you can have rich, relevant data to share with ITSM tools like ServiceNow.
Need a single source of truth? Automate!
And, by automating simple IT management processes, you can begin to build even more complex automated workflows with the confidence that comes from knowing your data are accurate and up to date. That's because the SL1 data lake is your single source of truth for maintaining an accurate CMDB and sharing data with all the IT management tools in your arsenal, supporting seven key closed-loop automated workflows with all the leading ITSM platforms. These workflows include:
Incident management;
Case management;
Event management;
Change management;
Service request management;
CMDB management; and
Business service management.
Of course, we like to provide case-study proof to back our claims that automating workflows with SL1 delivers significant productivity gains. And as the market- and performance-leading AIOps platform provider, we've got ample evidence. Among the ScienceLogic customers enjoying performance, efficiency, and cost-savings by automating with SL1 are:
NetDesign reduced access point onboarding time, saving a total of 540 hours during one onboarding session.
Capgemini saved more than 39,000 hours of manual labor through ticketing and routing automation.
Telstra eliminated 8 formerly manual steps for onboarding new accounts, saving 50 minutes per customer.
ScienceLogic can deliver these results because SL1 was engineered to work hand-in-glove with your ITSM ecosystem. And as ITSM tools evolve, SL1 is right there working closely with all the leading vendors to ensure our customers continue to get the most out of their investments in both AIOps, monitoring, and ITSM tools. For example, ServiceNow recently introduced an extension of their CMDB called Service Graph. As a long-time ServiceNow partner our standardized ServiceNow integrations now include streamlined setup for ServiceNow Service Graph Connector, providing flexibility for customers in how they integrate SL1 with ServiceNow.
Got ITOps pain points? Automate!
ITSM integrations like these ensure that ScienceLogic customers can realize the full potential of their investments in tools like ServiceNow, maximizing ROI and alleviating pain points common to legacy IT operations management. And we do it by delivering automations that focus on four key capabilities:
Accelerating ITSM time to value;
Achieving real-time CMDB accuracy;
Automating incident management; and
Enriching tickets with triage data to accelerate MTTR.
If your organization is still struggling with too many manual IT operations tasks and slow, inaccurate CMDB updates, ScienceLogic encourages you to make like a father assembling toys on Christmas Eve and throw out the manual. Learn how to step up to automated IT operations in the ScienceLogic webinar: "Throw out the Manual: Automate ITSM Workflows to Save Time & Digitally Transform." It's our gift to you.