Cloud Transformation Strategy & Solutions
Automation,
Cloud,
Hybrid Cloud,
Monitoring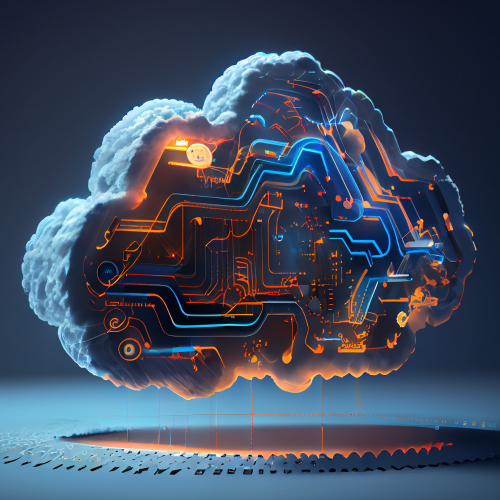 Cloud transformation is real. And it's spectacular. According to global business management and consulting firm McKinsey & Co., cloud transformation is the engine driving $1 trillion in economic activity for Fortune 500 companies alone. Innovations enabled by the cloud touch nearly every aspect of running a successful business, including the development of new products and services, access to new customers and markets, frictionless transactions, streamlined communication and collaboration, and access to talent without concern for traditional geographic barriers.
With such powerful evidence of the value of cloud transformation, it's important to know what it is and how a transformation to cloud platforms and infrastructure can benefit your organization. Too often terms like "cloud transformation" are used in ways that are confusing or inaccurate. That can undermine the confidence of organizations that might benefit from a transformation to the cloud and delay the pursuit and execution of a cloud transformation strategy. That's why it's important to answer the question: What is cloud transformation?
What Is Cloud Transformation?
Cloud transformation isn't the tactical use of cloud services and resources by departments or individuals; it is a strategy that touches every aspect of the organization and demands meticulous planning and execution. When discussing cloud transformation, it is important to make it clear that the term encompasses all the processes involved in transitioning from a traditional operational model to one that is primarily cloud-based. That means storing data, running applications, maintaining partner relationships and the digital supply chain, and accessing services in the cloud.
Cloud transformation is often confused with digital transformation. The differences are subtle, but critical, when engaging on the topic. Digital transformation is a broader technical strategy that encompasses both cloud and on-premises systems. Digital transformation extends from the data center to the cloud, so cloud transformation can be (and usually is) part of an organization's digital transformation, but it is not necessarily a digital transformation.
Similarly, cloud migration is not cloud transformation, even though cloud migration is an essential element of a cloud transformation. That may seem like an obvious point, but there is a lot of noise in the market that implies cloud migration is a simple matter of opening an account with a cloud services vendor and, voila!  Not so. When an organization decides to embrace a cloud transformation strategy, it must have a plan and the pieces in place—infrastructure, services, vendors, partners, monitoring and management tools, etc.—before migrating data, applications, workloads, and other operations from the data center into the cloud.
What Is the Value of Cloud Transformation?
Cloud computing has emerged as a major force in IT over the last decade. Gartner projects that spending on cloud infrastructure and services will reach nearly $600 billion this year as organizations embrace the many advantages gained through cloud transformation, including things like:
Cost savings;
Operational flexibility;
Support for innovation;
Increased mobility and collaboration;
Business resilience and disaster recovery; and,
Access to and development of new products and services.
Cloud transformation is a necessity for data-centric enterprises that generate, store, and manage huge volumes of data. Accenture estimates that, worldwide, more than 5 exabytes of data are generated each day, and Cybersecurity Ventures predicts that by 2025 there will be 200 zettabytes of data stored in the cloud. That's a lot considering total data storage capacity globally in 2020 was only about 7 zettabytes.
Enterprises generate and capture a lot of that data, and most of it happens in the cloud. It is estimated that more than 90% of organizations use the cloud in some capacity, and that more than 80% of enterprises operate on a multi-cloud basis, meaning they have infrastructure and services in one or more private or public clouds. That is a lot, but it doesn't mean that all cloud resources operate within a cohesive cloud transformation strategy. One study points out that 97% of cloud applications in use by businesses are unsanctioned.
What Are the Benefits of Cloud Transformation?
Any cloud transformation strategy must take current and future business needs into consideration. And while there are advantages to the cloud that any organization can enjoy, enterprises can reap specific benefits depending on their industry, size, and business model. Some organizations may pursue a cloud transformation strategy that embraces a traditional data center for working with highly regulated data, while using the cloud to leverage collaboration between people and locations in a remote, distributed workforce.
Consulting firm PWC observed that, for its clients in financial services, cloud transformation delivered "substantial" benefits, including "the ability to deliver business value faster and to innovate at scale, increased data processing (approaching real-time), unique customer experiences, greater business agility and the capacity for continuous transformation."
For healthcare organizations pursuing cloud transformation McKinsey's analysis "shows that cloud capabilities have the potential to generate value of $100 billion to $170 billion in 2030 for healthcare companies. The major driver of this value lies in enabling them to innovate more effectively (for example, new use cases in analytics, IoT, and automation), digitize (for example, stakeholder journey transformation), and realize their strategic objectives."
Meanwhile, the not-for-profit manufacturing consulting firm MANTEC says that transformation to cloud delivers manufacturers benefits like "facilitating better communication, managing products throughout their life cycles and tracking inventory," adding that "cloud-based manufacturing will be the industry's future, but companies must lay the groundwork for it now. The question should no longer be why manufacturers should use cloud computing, but how can they implement it." In addition to these use cases, below are some additional benefits of cloud transformation:
Streamlined operational efficiency;
Increased level of adaptability;
Enables businesses to scale;
Enhanced data security; and
Optimized cost management.
How Do You Start a Cloud Transformation?
To start a cloud transformation requires an agreement by all stakeholders that your organization needs to embrace the cloud to carry out its mission effectively, maintain a competitive edge (or achieve parity with the competition), and operate cost effectively and at its most efficient level. That's the easy part (and it might not be that easy). And while the journey to cloud transformation won't be without its challenges, it will be a lot more difficult if you fail to consider the following:
1. Pick the right partner(s).
While there is no such thing as a cloud transformation service, per se, there are organizations that specialize in helping organizations plot a course and navigate their way through a cloud transformation strategy. Whether you end up choosing a partner with expertise in your industry, one that excels at working with organizations of your size, or one that brings a strong network of complementary service providers to the table, you do not want to go it alone. Organizations that try the do-it-yourself approach end up reaching out to a consultant more often than not, so it's better to begin by taking the time to explore all of your options and make the best decision from the outset.
2. Align and adjust current business objectives with cloud strategy.
Identify elements of your current and projected business strategy with the areas that will be affected by your cloud transformation strategy, then work with your partner to make realistic adjustments. The cloud isn't magic, and merely adopting a cloud strategy won't result in revenue gains unless there are specific alignments involved, such as new product development or new sales channels that can be realized through the cloud.
3. Set quantifiable goals for progress and success.
Working with your cloud transformation partners, identify the goals your organization needs to be successful, establish quantifiable measurements—based on current performance benchmarks—for achieving those goals, and use those measurements to track progress and make adjustments along the way.
4. Identify infrastructure and technology needs.
Cloud transformation is not a switch to be flipped. Before you can embark on cloud transformation and migrate your services, applications, and workloads to the cloud, you must establish the right foundation. That includes knowing what legacy systems will be retired in favor of new cloud services, how data flows and IT operations are affected, and which hosting platform will best meet your long-term needs. Your partners in cloud transformation will be invaluable during this process, including identifying the right tools for monitoring and managing your new IT estate.
5. Consider cybersecurity and compliance.
Although last on this list, cybersecurity and regulatory compliance must be top of mind from the start of your cloud transformation journey. A transformation to the cloud will have a major effect on your approach to cybersecurity and will require a complete re-evaluation of your regulatory compliance programs. Cloud security isn't just your vendors' problem, and legacy security tools may not translate to your new IT operations. Finally, understanding how data flows within your planned infrastructure and where data is stored can help you to establish management processes that are in keeping with laws pertaining to things like cross-border data transfer.
What Are the Typical Stages of Cloud Transformation?
After choosing partners, identifying and quantifying goals, and taking all other factors into consideration with your cloud transformation strategy, you're ready to begin the actual transformation. When embarking on a cloud transformation journey, there will be many challenges, expected and unexpected, that you will encounter.
Every transformation is different, and to attempt to define precisely how your journey will unfold is impossible. But broadly speaking there will be three phases to your organization's cloud transformation, including:
Initial Migration – During initial migration is when things are most likely to go wrong. Having the right IT operations monitoring and management tools in place will help accelerate identifying incidents and their root causes, enabling quick resolutions.
Test and Measurement – To ensure you are making progress on achieving your goals, ongoing testing and measurement of infrastructure, services, and application performance is essential.
Optimization and Improvement – Cloud transformation doesn't have a sharply defined completion; it is a continuous evolution that seeks to find ways to further optimize and improve performance.
If your organization is ready to embark on a journey of cloud transformation, ScienceLogic has been a part of numerous successful cloud transformations and we can help you, too. The ScienceLogic SL1 platform enables the widest variety of IT process automations to make sure you're getting the most out of your investments in IT.