Press Release
October 25, 2023
ScienceLogic Named to Inc.'s Second Annual Power Partner Award List
AIOps,
Media,
ScienceLogic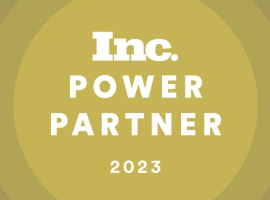 Company recognized for its continued prioritization of partnership
Reston, Virginia – October 24, 2023 – ScienceLogic, the leader in AI-driven IT monitoring solutions, today announced it has been named to Inc. Business Media's second annual Power Partner Awards in the IT services category. The list honors B2B organizations across industries and from around the globe that have proven track records supporting entrepreneurs and helping startups grow.
Out of thousands of applicants, ScienceLogic is one of just 389 companies that received top marks from clients for its instrumental role in helping leadership navigate the dynamic startup landscape. These B2B partners support entrepreneurs across various facets of the business, including compliance, infrastructure development, cloud migration, etc., allowing founders to focus on their core missions.
"Trusted B2B partners provide guidance and expertise that founders rely on at various steps of their organization's journey. Partners that possess a demonstrated ability to deliver quality support are at the core of entrepreneurship and help bring big ideas to life," says Scott Omelianuk, editor-in-chief of Inc. Business Media.
"Throughout the history of ScienceLogic, our partners and customers have been our priority, working closely with them to diagnose IT operations pain points and shape the way we do business to meet their unique needs," said Dave Link, CEO at ScienceLogic. "We take pride in the work we've done to enable our clients to transform and accelerate innovation to drive outcomes and accelerating growth. We're proud to be named an Inc Power Partner and grateful to our employees, partners, and clients who made this recognition possible."
For 20 years, ScienceLogic has helped partners like Capgemini and NetDesign on a journey toward IT operations that are less constrained by complexity, better able to create value, and functioning at a level that ensures continuity and helps drive business results. It is this constant drive and focus to make sure clients remain on the forefront of innovation, supporting the business outcomes that earned the company recognition as an Inc. Power Partner.
The complete list is featured on https://www.inc.com/power-partner-awards/2023 and in the November 2023 Issue of Inc. magazine, available online now at https://www.inc.com/magazine, and on newsstands beginning October 31, 2023.
About Inc. Business Media
The world's most trusted business-media brand, Inc. offers entrepreneurs the knowledge, tools, connections, and community they need to build great companies. Its award-winning multiplatform content reaches more than 50 million people each month across a variety of channels including websites, newsletters, social media, podcasts, and print. Its prestigious Inc. 5000 list, produced every year since 1982, analyzes company data to recognize the fastest growing privately held businesses in the United States. The global recognition that comes with inclusion in the 5000 gives the founders of the best businesses an opportunity to engage with an exclusive community of their peers, and the credibility that helps them drive sales and recruit talent. The associated Inc. 5000 Conference is part of a highly acclaimed portfolio of bespoke events produced by Inc. For more information, visit www.inc.com.
About ScienceLogic
ScienceLogic empowers intelligent, automated IT operations, freeing up time and resources, and driving business outcomes with actionable insights. ScienceLogic's AIOps platform sees everything across clouds and on-premises, enabling business service visibility with relationship mapping, and workflow automation to eliminate manual tasks. Trusted by thousands of organizations across the globe, ScienceLogic's technology has been proven for scale by the world's largest service providers, enterprises and government agencies. https://sciencelogic.com.