The ScienceLogic SL1 Platform
Real-time IT operations data, in context.
The SL1 patented AI and machine learning (ML) gives you real-time context for exceptional outcomes. Fuse data from multiple data sources. Dynamically map and track infrastructure, application, and business service relationships across static and ephemeral workloads and applications–spanning data centers and clouds
Unlock the Power of AIOps: From Vision to Reality
Infrastructure
Applications
Business Services
AI / ML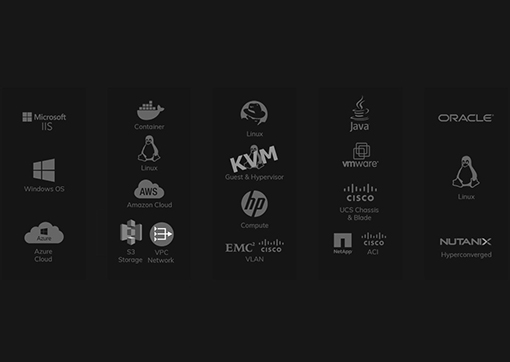 Infrastructure
SL1 auto-derives relationships and topological context for all internal and external IT infrastructure to accelerate root cause and impact analysis. Accurately gauge infrastructure health, availability and performance – in real-time.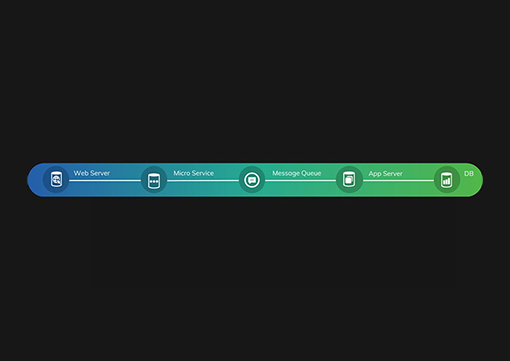 Applications
Understand relationships between application components and the infrastructure they run on. Monitor the health, availability, and risk for all your applications, across all application tiers, and within each tier – web servers, app servers, database servers, application services, and more. Know how all your on-premises, cloud, and SaaS applications are working – at all times.
Learn about application dependency mapping.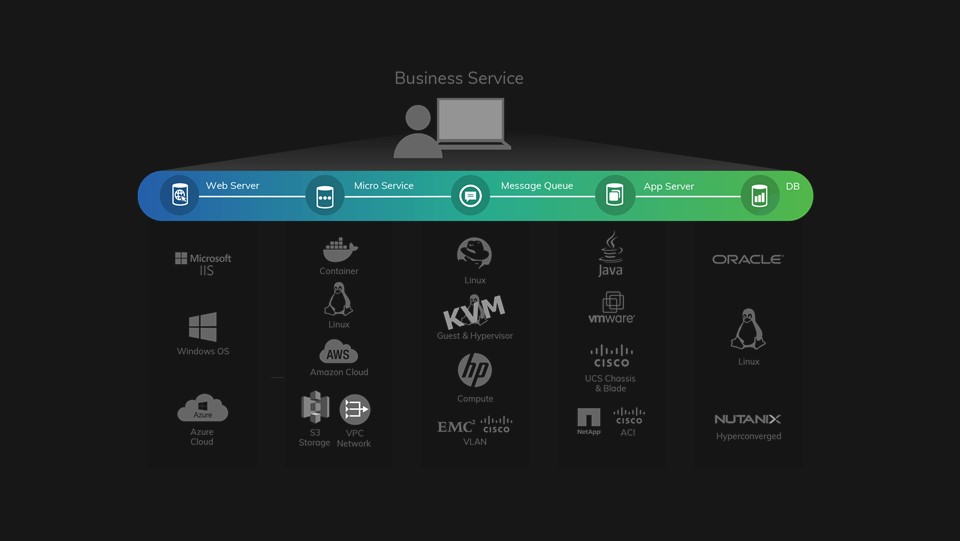 Business Services
Dynamically model and maintain business services across static and ephemeral workloads and applications. Know how your applications and infrastructure affect the health, availability, and risk of your critical business services. Automate proactive and responsive repairs based on service impact.
Learn more about business service visibility.
AI / ML
Avoid being overwhelmed with too much unrelated data. Use PowerMap to fuse data from multiple sources and establish a multi-layer topology that provides context to raw data. With this new context, apply AI/ML to proactively detect unusual behavior, determine root cause, and proactively respond.
Events
Metrics
Logs
Topology
Metadata
Configuration
API Telemetry
Data Center
Stortage, Compute, Converged,VMware
Network
Network, Config, Software-Defined
Applications
App Components, APM, User Experience
Native Cloud
Containers, Microservices, Serverless, Kubernetes, Docker
Public Cloud
Multi-cloud, AWS, Azure, Google
Agent and Agentless Data Collection
API
Events
Polled
Streams
Logs
OS Forensics
Custom
Agents
Monitor
What Makes ScienceLogic SL1 Platform Unique
Infrastructure Health
Eliminate visibility gaps – legacy and modern
Event correlation & noise reduction
Root cause analysis
Map cross-domain infrastructure topology
Hybrid Cloud Monitoring
See
Business Service Health
Service impact analysis
Behavioral correlation
Anomaly detection
AI/ML
Root cause analysis & recommended actions
Business Service Visibility
Contextualize
Synchronize CMDB with Monitored Environment
Automate ticketing & routing
Automate troubleshooting & remediation
ITSM Workflow Automation
Automate processes & workflows
Data federation & synchronization
Author low-code workflow automations
IT Workflow Automation
Act
Infrastructure Health
Eliminate visibility gaps – legacy and modern
Event correlation & noise reduction
Root cause analysis
Map cross-domain infrastructure topology
Hybrid Cloud Monitoring
See
Business Service Health
Service impact analysis
Behavioral correlation
Anomaly detection
AI/ML
Root cause analysis & recommended actions
Business Service Visibility
Contextualize
Synchronize CMDB with Monitored Environment
Automate ticketing & routing
Automate troubleshooting & remediation
ITSM Workflow Automation
Act
Automate processes & workflows
Data federation & synchronization
Author low-code workflow automations
IT Workflow Automation
Act
Hyperscale
Multi-Tenant
Secure
ScienceLogic SL1
Automate & Synchronize
ITSM
ServiceNow, Cherwell
Notification
PagerDuty, xMatters, Slack
Security
Nessus, National Vulnerability DB
BI/Analytics
Watson, Google, Splunk
Orchestration
Ansible, Puppet, Chef
Monitor
Automate & Synchronize