Think 5 years is plenty of time for SAP users to migrate to the cloud? Think again.
If you use SAP's Enterprise Resource Planning (ERP) software, and you're not using SAP S/4HANA, you're on a deadline. A deadline that was recently extended to 2025, but still, the clock is ticking.
Automation,
Big Data,
ServiceNow

SAP is the backbone of many businesses today. And SAP's deadline for moving to HANA is driving enterprise customers' SAP digital transformation from the server to the cloud. HANA, which stands for high-performance analytic appliance, is an application that uses in-memory database technology to enable the processing of large amounts of data in a short time. A shifting away from database agnosticity is causing SAP to require their customers to migrate to SAP s/4HANA (in-memory database).
SAP will continue to offer support for its ERP software until this clock runs out. But then support stops, and those businesses that want support from SAP will need to migrate to SAP's flagship ERP software, S/4HANA. The new ERP suite will run exclusively on SAP's own database, HANA. Previously, SAP's software worked with a number of databases, including Oracle, but businesses migrating to the new system will also need to migrate their entire database.
SAP serves nearly a quarter of a million businesses. And today, 80% of those companies are using SAP on-prem, 0-20% will be on-prem in five years, and only 10% have adopted SAP S/4HANA to date. This means that the HANA tsunami is coming.
Migrating to HANA is a two-year effort for most companies and can be expensive and risky. And keep in mind that time and resources will need to be used not just on migrating to the cloud, but also on testing and training users on how to use the new software. A migration of this scale also requires expertise and knowledge that most companies simply don't have.
And this is why companies are turning to managed service providers (MSPs) to do most of the heavy lifting.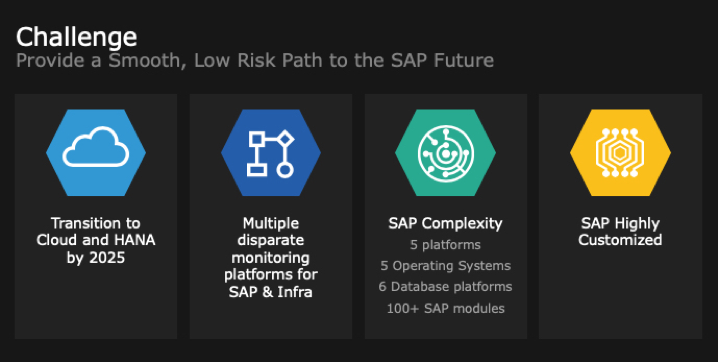 How are MSPs supposed to support their SAP clients so that they avoid the HANA disaster? Well, there are four key challenges to getting to the SAP future smoothly, with lower risk:
Looming deadline: You have to transition to cloud and HANA by 2025.
Lots of different tools: Most companies have multiple disparate monitoring platforms for SAP and their infrastructure.
High complexity: SAP uses five platform, five operating systems, six database platforms, and over 100 modules.
Customization: Most SAP implementations are highly customized.
To deal with these challenges, MSPs are looking for a solution that can:
Scale to support the corporate growth and increasing number of tools and technologies.
Ensure a consistent level of service/customer experience.
Provide visibility through a single pane of glass—combining application and infrastructure.
Integrate with ServiceNow.
Which is why the ScienceLogic SL1 platform is purpose-built for MSPs and hybrid cloud environments—enabling unprecedented visibility into the health, availability, and risk of critical business applications like SAP, as well as key performance metrics that matter most to enterprise customers.
SL1 helps MSPs and their enterprise customers overcome the challenges of migrating to SAP s/4HANA by providing:
Unified SAP and infrastructure monitoring and management to deliver consistent, reliable services, and a single view across for entire SAP landscape
Integration with ServiceNow to help increase proactive customer support
Customer visibility achieved with comprehensive dashboards for executive- and technical-level audiences
Infrastructure-agnostic for SAP to help manage on-prem and third-partydata centers and hybrid/public cloud
Future proofing, by enabling your enterprise to consume data from anywhere (via API) and offering flexibility to create custom PowerPacks
Want to learn more about how ScienceLogic can help you to a smooth, low risk path to the SAP future? Watch this webinar >