News Roundup, December 6, 2019: What's Happening in AIOps, ITOps, and IT Monitoring
When gaudy holiday decorations that have been splattered across the brick and mortars since Halloween finally look right, and the cheesiest carols are suddenly charming, we're ready for the holidays.

While moldering pumpkins, denuded mum plants, and lawns strewn with leaves can be hidden by a heavy blanket of snow, neglecting to keep up on tech will surely secure a place for you on the naughty list. Not worth the risk when you can easily catch up on the latest goings-on in ITOps, AIOps, and IT monitoring with our blog.
1. Significant increases in corporate adoption of AIOps are predicted within the next four years.
According to a recent article in BizTech Magazine, Forrester predicts over half of surveyed enterprises are expected to adopt AI in the next four years, while recent data from AIOps Exchange agrees with a prediction of 68 percent. This adoption is continuing to be driven by the ever-increasing volume, variety, and velocity of data generated by IT.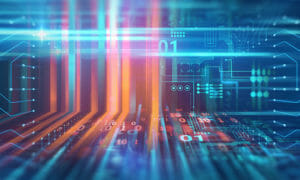 It's not news that technical complexity is increasing, nor that digital transformation and AIOps adoption are becoming critical to effective data analysis. Without AIOps data, professionals are forced to spend more than half of their time searching for data or rebuilding information assets. With the implementation of AIOps, automated, agile, and intelligent responses to emerging IT issues avoid the downtime that can consume your valuable IT professionals' time. As ScienceLogic's own chief marketing officer, Murali Nemani, is quoted saying, AIOps is "a framework that helps companies move from human to machine-powered worlds."
Here are some of the ways your IT team can benefit from AIOps deployments:
Reduced mean time to recovery (MTTR):  According to Nemani, one company that leveraged ScienceLogic's platform reduced its MTTR from four hours to just 15 minutes.
Enhanced use of human resources: AIOps streamlines the process of searching, sorting, and cleaning data for use in the machine learning tools process.
Automatic remediation: AI-driven platforms can quickly detect and remediate common IT problems on their own, allowing operations staff to focus on the deployment and integration of new technologies.
Empowered transformation: According to Nemani, operations teams "are the custodians of the digital experience." With AIOps, operations teams are empowered to fully understand interconnected application stacks and drive digital transformation.
2. According to AWS, every industry wants to move off mainframes.
Amazon Web Services (AWS) uses its re:Invent learning conference as a showcase for large customers in highly regulated industries that have made substantial migrations to the AWS platform. And, according to an article by TechTarget, AWS CEO, Andy Jassy, made it clear that industries are ready to jump off of mainframes and into the cloud at this year's AWS re:Invent.
The move is also away from databases, he added, including a move away from the Microsoft SQL and Oracle servers. Even though AWS has long been a host of Windows server workloads, it unveiled a new "bring-your-own-license program" for the Windows Server and SQL server that is designed to make it easier for customers to run those licenses on AWS instead of Azure.
The most important update at re:Invent is the general availability of AWS Outposts. These are specialized server racks that reside in customers' own data centers that allow customers to comply with regulations or meet low-latency needs. They are managed by AWS, loaded with AWS software, and maintain continuous connections to local AWS regions.
3. AIOps and IT automation will be widely embraced by organizations in 2020.
According to an article in DevPro Journal, an IT talent shortage is a critical concern to senior executives as 756,000 IT and telecommunications jobs will go unfilled in Europe in the next 18 months and a demand for more than a million skilled workers is predicted in the US by 2030.  Meanwhile, as IT complexity and data volumes continue to grow exponentially, most CIOs find themselves still spending over 70 percent of their budget and staff just to keep things up and running. The answer to this problem—AIOps and IT automation.
As enterprises adopt intelligent automation and AIOps to attain digital transformation, the demand to achieve truly self-healing IT is becoming imperative. Self-healing IT offers the possibility of not only significantly improving performance and uptime, but also ultimately "NoOps," which relies on automation and AI to handle most IT operations and frees up IT resources to focus on more value-added projects and innovation. The goal of self-healing will be one of the main driving forces for the AIOps and IT automation adoption we can expect to see in 2020.
4. AI will not replace human operators.
If it wasn't made clear in the previous article, the demand for skilled IT staff is expected to far outpace the supply for the next ten years, at least. According to an article by Rick's Cloud, strategic oversight by expert users, preserving valuable human intelligence for less frequent, unpredictable, and high-value activities, is the secret sauce to successful digital transformation. Imagine a world where humans and machines work together, with algorithms that augment human capabilities and free humans to focus more on meaningful tasks, like innovation.
So, what will AIOps be doing that will free us up for all this good stuff? AIOps platforms will analyze the big data collected from various IT operations tools and devices and provide full visibility into real-time issues that affect the availability or performance of the IT systems.  As network infrastructures evolve at a breakneck pace (by humans), it becomes increasingly necessary for successful digital transformation to rely on AIOps. This, in turn, allows humans to do what we do best.
The future of IT isn't coming, it's already here, and businesses are either going to adapt or die. So, whether you are an IT professional or a CIO, digital transformation is your future—and adopting AIOps sooner rather than later is the right journey to be on.
Just getting started with AIOps and want to learn more? Read the eBook, "Your Guide to Getting Started with AIOps"«