How ITOps Can Support the Shift to Remote Work
As many companies expand their remote workforce due to the COVID-19 pandemic, a much higher demand is placed on their IT infrastructure, collaboration tools, networks, and systems.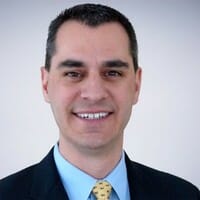 Our top priority at ScienceLogic is the health and well-being of our families, customers, partners, colleagues, and communities we live in.  Due to the nature of our business, it is important we are operating seamlessly and at full capacity to ensure our own customers can support the well-being of theirs.
Naturally, we want to ensure that our employees around the world do not experience a disruption in their daily work activities due to an increased demand for expanded telework infrastructure support.  Here is how we use our own ScienceLogic SL1 platform, people, processes, and systems for our enterprise and how we advise our customers to do as well.
Firewall health—SL1 monitors CPU and memory capacity and provides us insights into how we can handle increased load to ensure our firewalls are healthy and secure.
Network bandwidth—We can confirm our ability to handle an anticipated load based on historical performance.
Active directory servers—We can ensure active directory (and/or SSO) is healthy and that services on active directory are up and allowing proper authentication.
For our R&D engineering environments running in AWS and VMWare, SL1 can monitor the load on these servers, network traffic, and build systems to ensure Development, Product, and Testing organizations remain productive.
SL1 has cloud monitoring PowerPacks such as AWS, Azure, Google, and IBM Cloud to ensure healthy operations of Cloud Infrastructure and can keep up with demand.
We can check our office productivity tools such as O365 using PowerPacks.
We can check logs and historical performance of our Cisco Call Manager Phone and Collaboration systems to ensure we maintain Quality of Service as usage scales.
As a global event such as this occurs, upward executive communication and visibility of preparedness is vital. Having instant access to data and visuals of key metrics is invaluable.
These are some of the key areas we measure:
Remote monitoring posture to ensure that our tools are accessible from anywhere in the world by key IT staff
Capacity and bandwidth health and abilities with alerts that are actionable
Trends over time, so we can see historical performance and use data to anticipate growth levels
Managing our license counts and potential cost impacts if we are bumping up against any thresholds where we may hit limits and need alerts
Alerts on SSL Certs to ensure we have visibility into any expiring certs in our core network components that could disrupt remote workers—often overlooked at many companies and we use SL1 to alert on expiring cert
These are just some of the areas we cover using SL1. We believe ScienceLogic is better prepared now more than ever to continue supporting and serving our customers during these challenging times.  Let us know how we can help support your mission.