News Roundup, February 14, 2020: What's Happening in  AIOps,  ITOps, and IT Monitoring  
Sending gifts on Valentine's Day originated in Norfolk, UK, where a stranger "Jack" Valentine left presents for children. And here's our gift to you—the latest news in AIOps, ITOps, and IT monitoring.
AIOps,
Cloud,
ITOps,
Monitoring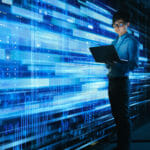 Not to be done with Valentine's Day, the history of this holiday includes numerous early martyrs who were, oddly, all named Valentine. Relics of these various martyrs were kept in churches and catacombs throughout Europe during the middle ages and included a flower-crowned skull exhibited in the Basilica of Santa Maria in Cosmedin. So, it is with a sense of relief that instead of a saint cranium, we offer this blog as our Valentine to you.
1. ScienceLogic was named one of the "20 Coolest Cloud Management and Migration Companies" of the 2020 Cloud 100.
In their review of the cloud management and migration companies listed in the 2020 Cloud 100, CRN selected us, ScienceLogic, as one of the 20 coolest. The criteria focused on the ability to successfully move workloads and manage cloud architectures as organizations strive to modernize their information technology operations.
According to CRN, "ScienceLogic focuses on context-infused AIOps for multi-cloud management. Its SL1 platform removes the difficulty of managing complex, distributed IT services, enabling visibility across all technologies and vendors running anywhere in data centers or clouds. It counts Amazon Web Services, Cisco, Microsoft Azure, ServiceNow, and VMware as technology partners."
CRN listed ScienceLogic along with a great picture of our founder and CEO, David Link. And we couldn't be prouder.
2. AIOps enables IT organizations to remain competitive.
According to this article in Forbes, AIOps equips IT organizations not only with tools that enable them to innovate, but most importantly, to remain competitive in their industries by managing infrastructure and empowering insights across increasingly complex hybrid and multi-cloud environments efficiently.
Traditional tools are rule-based and inflexible, and this has made it challenging to deal with innovative new technologies. However, the adoption of AIOps enables IT to achieve scale and efficiency, allowing them to take advantage of these innovations by effectively managing infrastructure and empowering insights across increasingly complex hybrid and multi-cloud environments.
And since AIOps algorithms can take time to learn the environment, organizations should seek out those AIOps solutions that also include auto-discovery and automated dependency mapping as these capabilities provide out-of-the-box benefits in terms of root-cause diagnosis, infrastructure visualization, and ensuring CMDBs are accurate and up-to-date.
And, as with any new approach, adopting and using AIOps requires preparation and commitment. IT operations that are looking to adopt AI should have prerequisites in place to take advantage of its capability, including:
Ability to measure and report on associated performance metrics such as accuracy, throughput, confidence, and outcomes
Technical infrastructure to support—including but not limited to—model training, hosting, management, versioning, and logging
Data set management, including traceability, data provenance, and transparency
Low confidence/fallback data handling (this could be either a data annotation or other human-in-the-loop process or default when the AI system can't handle a task or has a low-confidence output)
These considerations require a new mindset. Organizations that adopt a production mindset and approach machine learning and AI holistically in everything from data practices to how the business consumes and uses the resulting predictions will achieve successful outcomes. Applied responsibly, AIOps has the potential to achieve scale and efficiency and offers the only effective path for the future of IT operations.
3. SAP faces challenges converting legacy ERP base to S/4HANA.
According to an article in TechTarget, SAP's cloud growth for 2019 faced challenges getting the majority of its installed customer base onto the S/4HANA platform, which was billed as the next generation offering to enable the radical transformation of existing processes or the development of new business models.
Christian Klein, CEO of SAP, said that changing the technology is not the "biggest problem" when implementing S/4HANA—SAP has tools "for the data migration and for the upgrade itself… Oftentimes, it's really about changing business processes, changing the business model of a company where you have to get the people with you, where you have to readapt and redefine business processes, which were standing there for a very long time."
However, the momentum to move to S/4HANA may be improving, according to recent reports from DSAG, the German-speaking SAP user group, and ASUG, the Americas SAP user group. The 2020 DSAG Investment Report said that for the first time in four years, IT investments from DSAG member companies in S/4HANA are more than investments in SAP Business Suite. The ASUG report indicated that more than half of its member companies, 56%, plan to move to S/4HANA in the future.
"The reality on the ground for the customers is that this can't move as fast as the vendors and their investors would like, it has to go at a pace that makes sense to these customers," according to Joshua Greenbaum, at Enterprise Applications Consulting. So, while the numbers show good momentum, but there is still a lot of work to be done in getting the majority of SAP customers to migrate to S/4HANA.
From the love CRN showed ScienceLogic, to IT's engagement to AIOps, and even the difficult divorce from SAP's legacy platform, all business is about relationships. Don't be a digital spinster. Digital transformation isn't the future, it's here. And AIOps is the right path to be on.
Just getting started with AIOps and want to learn more? Read the eBook, "Your Guide to Getting Started with AIOps"»