AIOps Means Business: IT Innovation for a Competitive Edge
Technical talent is in high demand. According to the Bureau of Labor Statistics, 94% of organizations reported difficulty finding qualified IT staffing.
AIOps,
ITOps,
Monitoring,
ScienceLogic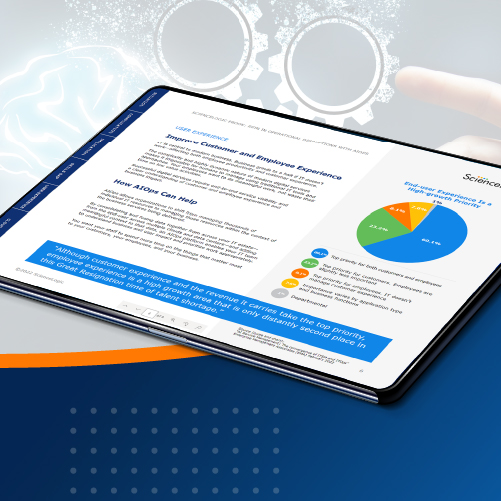 Technology professionals, already in high demand before the onset of the COVID-19 pandemic, are in even shorter supply today thanks to the Great Resignation. This shortage of IT talent is exacerbating the difficulties associated with a number of top tech challenges organizations already face, as identified by EMA research, including:
Lack of automation;
Gaps in end-to-end visibility;
Cloud management silos;
Recurring legacy systems; and
The proliferation of silos and tools.
To meet their needs, organizations are turning to AIOps to enable automated processes that free valuable IT resources, drive digital transformation, and slash service disruptions. In the latest ScienceLogic webinar, "AIOps Means Business: IT Innovation for a Competitive Edge", Valerie O'Connell, Director at EMA Research, and Leslie Minnix-Wolfe, VP of Product Marketing at ScienceLogic define AIOps in its current state and explore its potential to solve real-world business challenges with practical guidance from the proving ground of real-world experience. This webinar session will dig into topics that include:
Which matters more, AI or IT automation;
AIOps' impact on IT's role and business relationship;
AIOps use cases that give top results; and
The drivers, drawbacks, and delivered benefits of AIOps.
Transformations Disrupted
Prior to the pandemic, most organizations had some form of digital transformation strategy in place, but those initiatives stumble when IT talent is hard to source, and those who are on the job are swamped with routine tasks. At the same time, businesses can't tolerate operational delays and service disruptions. That creates a conundrum: to take the burden from IT staff, organizations are turning to automation, but IT staff shortages make automation initiatives difficult to implement.
AIOps can help overcome that impasse by improving workflows, cross-domain processes, and enabling the collection of data for analytics that can drive further, more complex automations. Organizations are adopting AIOps as a platform for automation and for simplifying IT operations through tools consolidation. That is something that recent EMA research found was already a priority for most organizations who, when asked if there was currently a consolidation effort underway responded:
Yes (61%)
No (24%)
No, but should be (15%)
Breaking Down Siloes and Merging Tools
Not only is tool consolidation a major issue for enterprises today, but platform consolidation has also become part of the conversation. Without an AIOps platform, you have siloed operations and automation. An AIOps platform enables organizations to merge data together within an analytical context, generating insights for understanding the root cause for incidents, how to remediate those causes, and even how to take preventative measures and avoid problems in the first place.
For any enterprise struggling with IT transformations that have been disrupted by accelerated demands and the Great Resignation, or for organizations already considering the adoption of AIOps for tools consolidation, automation enablement, or any other reason, there's comfort in knowing others have made the decision—and benefitted from it. Three case studies highlighting the results of AIOps adoption include a large federal agency, a commercial airline, and a global IT consulting firm. Each had different challenges that they were able to overcome with the help of the ScienceLogic SL1 AIOps platform:
Proving the Concept: 3 Case Studies
Case Study #1, U.S. Department of Veterans Affairs (VA): The VA is one of the largest U.S. civilian federal agencies, serving approximately 9 million veterans and their dependents with a variety of services, including operating the country's largest healthcare network. Suddenly with the pandemic, the VA was forced to accelerate its modernization plans to provide its members with more reliable services. The VA faced a literal overnight shift from in-person visits to offering virtual and telemedicine services for tens of thousands of veterans.
Pre-pandemic, VA telehealth would typically handle 25,000 visits per month; but in April of 2020, demand rose to more than 40,000 visits per day. The VA adopted SL1 and quickly gained 100% service and infrastructure visibility, including across Azure and AWS clouds and VMware components with both IT and DevOps organizations. That allowed them to address the problem of an inaccurate CMDB and provided support for the agency's remote workforce. With SL1, the VA was also able to integrate with technologies like ServiceNow, Dynatrace, and AppDynamics while reducing tool dependency and increasing support levels for all the VA's different services and applications that their members rely on.
Case Study #2, Southwest Airlines: Southwest Airlines needed core infrastructure monitoring capabilities, wanted to drive automation, and also required access to end-user and application performance monitoring (APM). But after years of expansion, they faced the consequences of legacy creep and were using more than 36 different monitoring tools. With ScienceLogic's SL1 platform, Southwest consolidated to fewer than six core tools in addition to a service desk while increasing the reliability and availability of IT services for a mostly remote workforce.  Today, Southwest has an APM tool integrated with their service desk through the SL1 platform, enabling incident workflow automation that provides more efficiency for an organization that shut down its centralized call centers in favor of a work-from-home model.
Case Study #3, Capgemini IT: Capgemini is a global IT consulting and services organization with 270,000 employees in more than 50 countries around the world. Capgemini partnered with ScienceLogic to transform their digital processes to make IT more efficient and productive, and to drive more innovation for the business. Since adopting SL1, Capgemini has seen 111% ROI and over $4 million in net benefits. Factoring in the amount of time IT operations staff used to spend creating, populating, and investigating tickets, ScienceLogic has helped Capgemini reduce its total ticketing metric from 50,000 tickets down to about 17,000 per year—a 66% improvement in efficiency.
Furthermore, Capgemini realized dramatically improved business services performance through a 50% reduction in service outages by using SL1 to proactively identify and take preventative maintenance measures, saving thousands of hours in the IT war room and avoiding costly SLA violations. Capgemini is also saving time by automating processes like data collection, CMDB updates, and promoting collaboration across IT investigative teams using tools like Slack and Teams, ensuring everyone is working off the same data. Capgemini's partnership with ScienceLogic is building toward further automating incident troubleshooting and remediation while consolidating more tools and leveraging the data in SL1 to fuel greater IT ecosystem integration and workflow automation.
If you want to learn more about the competitive advantage of AIOps, register to watch "AIOps Means Business: IT Innovation for a Competitive Edge" on June 2 at 11 a.m. ET.