AIOps, ITOps, & Infrastructure Monitoring 2021 Predictions
'Tis the season for making predictions for the coming year in technology. These exercises are fun, informative, & offer interesting insights into the thinking of notable industry experts & insiders.
AI/ML,
AIOps,
Cloud,
Monitoring

But as we learned in 2020, such pursuits are (ironically) at the mercy of unpredictable events. None of the sources we cited a year ago mentioned the emergence of remote IT management or a sudden shift to a distributed workforce. How could they have foreseen what was to come?
In contrast, we think you'll note the influence that the impact of the COVID-19 pandemic on this year's prognostications. Here are some of what notable analysts, executives, and insiders see when they look ahead at 2021.
1. IDC recently announced its top ten predictions for digital transformation in 2021.
Accelerated DX Investments Create Economic Gravity. The economy remains on course to its digital destiny with 65% of global GDP digitalized by 2022 and will drive over $6.8 trillion of direct DX investments from 2020 to 2023.
Digital Organization Structures and Roadmaps Mature. By 2023, 75% of organizations will have comprehensive digital transformation (DX) implementation roadmaps, up from 27% today, resulting in true transformation across all facets of business and society.
Digital Management Systems Mature. By 2023, 60% of leaders in G2000 organizations will have shifted their management orientation from processes to outcomes, establishing more agile, innovative, and empathetic operating models.
The Rise of the Digital Platform and Extended Ecosystems. By 2025, driven by volatile global conditions, 75% of business leaders will leverage digital platforms and ecosystem capabilities to adapt their value chains to new markets, industries, and ecosystems.
A Digital First Approach. While "digital first" prevails in every experience, 60% of enterprises will invest heavily in digitalizing employee experience in 2021, transforming the relationship between employers and employees.
Business Model Reinvention. By 2021, at least 30% of organizations will accelerate innovation to support business and operating model reinvention, fast-tracking transformation programs to future-proof their businesses.
Sustainability and DX. By 2022, the majority of companies will realize greater value by combining digital and sustainability, giving rise to digitally-driven and sustainably-enabled projects as the de-facto standard.
Digitally Native Cultures. To thrive in digital supremacy economy, 50% of enterprises will implement the organizational culture optimized for DX in 2025, based on customer-centric and data-driven.
Accelerating Digital Experiences. By 2022, 70% of all organizations will have accelerated use of digital technologies, transforming existing business processes to drive customer engagement, employee productivity, and business resiliency.
Business Innovation Platforms. By 2023, 60% of G2000 companies will build their own business innovation platform to support innovation and growth in the new normal.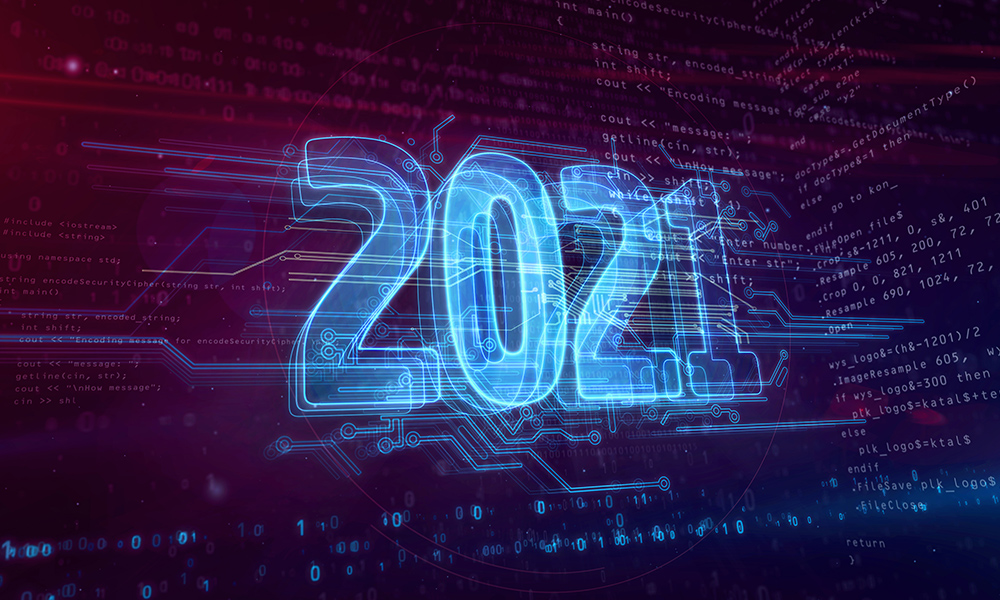 2. Forrester issued a series of predictions under the headline Accelerating out of the Crisis. Here's some of what they believe is ahead in 2021.
Remote work, automation, and HR tech will flourish.
Software developers will face mounting pressure.
Technology diversity will drive IoT growth.
Edge computing will hit an inflection point.
Cloud computing will power pandemic recovery.
Automation will be a business imperative.
3. Gartner made a number of predictions for the coming year. Two we find interesting are their Top Strategic Technology Trends and the firm's Top Six Trends Impacting Infrastructure & Operations in 2021. The strategic trends are:
The Internet of Behaviors (IoB) uses data collection and analytics to understand and influence the way people act.
Total experience combines employee, customer, and technology data to understand and improve business outcomes.
Privacy-enhancing computation is a model that blends security, analytics, encryption and more to create a trusted environment for the collection, protection, and use of consumer data.
Distributed cloud is described as a way of distributing cloud services "to different physical locations, but the operation, governance and evolution remain the responsibility of the public cloud provider."
Anywhere operations is an IT operations model that "allows for business to be accessed, delivered and enabled anywhere — where customers, employers and business partners operate in physically remote environments."
Cybersecurity mesh is a response to the presence of IT assets outside of traditional perimeters and that allows the enterprise to scale its control to items and individuals as they move, connect, and change.
Intelligent composable business "is one that can adapt and fundamentally rearrange itself based on a current situation."
AI engineering allows the enterprise to overcome the challenges of integrating artificial intelligence to realize its value in mainstream business functions.
Hyper-automation is the idea that anything that can be automated, should be automated—and will be automated.
Gartner's six I&O trends are:
Anywhere operations is a response to the pandemic and the need to support a distributed workforce, services, and operations.
Optimal infrastructure is described as a transformation of infrastructure and operations to integration and operations.
Operational continuity reflects the need to support service reliability in the face of challenging and chaotic external conditions.
Core modernization is all about the need to retire legacy systems in order to accelerate the delivery and support of essential and innovative services.
Critical skills vs. critical roles is a shift that "helps reduce risk and increase resiliency, as multiple people have with the skills needed for business-critical tasks."
4. Over at APMdigest, Angie Mistretta of Cisco's AppDynamics division offered a few predictions for IT operations that are worth a look.
Observability will be key. Having complete enterprise visibility, and the ability to ingest all your data, will be vital to extract the insights necessary to improve business outcomes.
Risk-taking is encouraged. Using those vital insights, and with the lessons learned from response to the pandemic, organizations will encourage calculated risk-taking to effect transformation.
Automation and cloud will be prioritized. Enterprises seeking to maximize IT investments will rely on digital process automation and cloud infrastructure to achieve improvement in five key areas of IT operations: visibility, automation, consolidation, simplification and transformation.
Security and user experience will be integrated. Full-stack visibility and frictionless security will come together to enhance trust and improve application performance by identifying—and addressing—challenges.
5. Finally, CIODive.com took the pulse of the analyst community to see what might be in store for CIOs in the coming year, identifying five areas that will influence the tech leadership role in the age of COVID-19.
Be an ambassador for collaboration. The last year has shown that, for rapid transformations to succeed, collaboration is the key.
CIO inches closer to the customer. Customer expectations changed radically in the last year, revealing a need for service providers and IT leaders to understand user needs in order to deliver reliable services.
Enable work from home. As enterprises continue to respond to the pandemic to accommodate the needs of a distributed workforce, CIOs will be expected to enable the means for delivering a reliable work-from-home model.
CIO will be a change agent. Change is a constant in IT, and especially amid the chaos brought on by the pandemic. The challenges of rapid transformation and response to changing conditions will require CIOs to successfully navigate the unexpected.
CIOs grapple with risk. Risk is part of the package of IT transformation, and risk increases when enterprises are forced to accelerate changes in response to crises.
When we look back at these predictions in twelve months, will we say, "That was obvious," or will another black swan event transpire that turns these forecasts on their heads? That's the fun of looking into the haze of the future. But we can be confident that, no matter what transpires, IT leaders will be asked to shoulder the load and deliver a reliable experience, support transformation, and enable innovation.
Just getting started with AIOps and want to learn more? Read the eBook, "Your Guide to Getting Started with AIOps"»