AIOps Helps Cloud Service Providers Succeed With 5G
Support complex environments at scale, enabling agile service delivery with low opex and a great customer experience.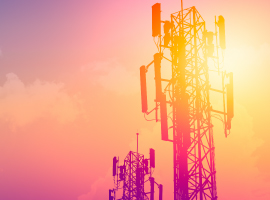 How ScienceLogic AIOps Helps Cloud Service Providers Succeed With 5G
The 5G network market opportunity is big – $20B today (according to Gartner), and growing at 30%. 5G offers high bandwidth, low latency and cloud based provisioning, making it a great technology to build new enterprise services on. Examples include Network Slicing, IoT, Private 5G, Business AR/VR, Smart Factories, Fleet management, Connected vehicles, Gaming and Drones / Robots. But 5G comes with big architectural changes behind the scenes, creating new challenges for CSP operations. ScienceLogic AIOps is ideally suited to help CSPs take on these challenges and succeed in this dynamic market.
5G Networks Break Traditional Boundaries
5G involves many shifts that make it a more borderless world. There's a shift from physical network devices (big iron) in traditional central offices to virtual elements and cloud native services in hybrid cloud environments. This also breaks old operational models with a shift away from vertical vendor specific silos to horizontal (multi-vendor and open source) architectures. The low latency characteristics of 5G are also creating a push to the edge, proliferating thousands of regional and edge data centers and base stations.
Shift From Physical To Virtual / Cloud Native

Shift Away From Vertical Silos & Growth Of Edge
Here are the new challenges this creates for CSPs, and how ScienceLogic's modern AIOps platform tackles these challenges.
See: Deep Insights Into Hybrid Environments at Scale
As the network shifts to a mix of physical, virtual and cloud-native components, CSPs face a challenge with monitoring and managing an environment with massive scale and heterogeneity. It means collecting large amounts of data from a wide range of technologies, vendors and sources, deriving insights from this mix of data, and using it to take quick action.
The ScienceLogic AIOps platform is designed for this challenge – it is massively scalable, natively supports the wide array of sources that a 5G environment needs (and is easily extensible to more sources should the need arise). The platform normalizes all the data sources into a common data model (enabling correlation across sources), and maps each building block into customer facing business services. This means any service impacting issues can be quickly pinpointed to the component experiencing a problem.
Respond: Agile Service Creation and Delivery
The new 5G use cases are cutting edge and require agility, responsiveness and rapid iteration as customers experiment and refine their requirements. This means CSP operations and service delivery need to shift from a more traditional model to a DevOps style agile approach.
The ScienceLogic AIops platform enables this agility. It leverages a rich set of analytical and AI/ML techniques to detect anomalous service behavior, allowing CSPs to act quickly based on trends, prediction of service degrading events, and rapid detection of service impacting issues.
ScienceLogic's low-code/no-code automation tools make it easy to convert manual operations to automated ones, whether proactive or in response to problems. Automation allows CSPs to keep their configuration management databases up-to-date and accurate, automating tasks like backup, recovery and compliance checks. Automation also manages creation and routing of trouble tickets to manage IT workflows. Finally, automation enables "self-healing networks", by linking root cause reports that were generated by AI/ML, to remediation actions, such as a config rollback or a device reboot.
Engage: Leverage AI/ML to Deliver a Great Customer Experience
5G use cases have a high bar for service quality and reliability (low MTTR) given the nature of these new services. Failure can result in customer churn and bad word of mouth. But it is hard to lower MTTR with brute force given operational expense constraints and the tight market for skilled engineers.
ScienceLogic's AI/ML capabilities play a critical role here. Built in unsupervised ML detects any new or impending problems, AND delivers extremely quick and accurate root cause analysis (as good as a skilled engineer). Low code automation features allow fast remediation, making ScienceLogic a key tool to help meet the CX expectations of 5G customers.
Monetize: Automation plus AI/ML Enable Simplicity, Efficiency and Opex Savings
New 5G use cases promise attractive revenue opportunities, as long as it can be done efficiently and profitably. AIOps can play a key role here. AI/ML features replace or speed up time consuming tasks, such as problem detection, triage and root cause. No-code automation enable repetitive tasks to be quickly automated, and linked to AI/ML generated insights.
Finally AI/ML leverage Natural Language Processing techniques like keyword extraction and GPT based summarization simplify problems in ways that relatively less experienced engineers can understand. This lowers the skillset bar required to staff operations, further lowering opex.
Summary
5G opens up exciting new use cases, but needs CSPs to adopt a paradigm shift from traditional silos and operations to an agile, horizontal cloud- native network. ScienceLogic's AIOps platform helps CSPs navigate this shift – supporting complex environments at scale, enabling agile service delivery with low opex and a great customer experience.
Download the latest ACG Research report, 5G Service Assurance: The Case for AIOps.