Cisco Performance Monitoring
Benefit from the Broadest & Deepest Coverage of Cisco Technologies—Network, Data Center, & UC
Whether you have ten or ten thousand Cisco devices, you need to quickly see how they are performing. Use a single platform to monitor the health, performance, and configuration of all your Cisco technologies whether hosted or on-premises. Get a unified operational view of your entire IT universe—across networks, compute, storage, and clouds.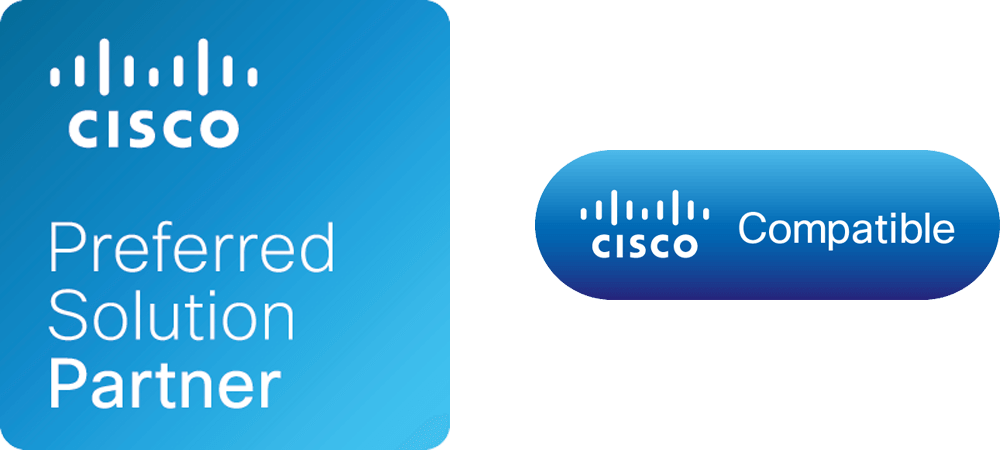 Monitor All of Your Cisco Networking Equipment Right Out-of-the-Box
Data Center & SDN
Monitor your entire Cisco compute infrastructure—converged (Cisco UCS), hyperconverged (Cisco HyperFlex), and SDN (Cisco ACI). View and track relationships between network, storage, and compute resources.
Ensure user satisfaction with application-aware monitoring of orchestration products (Cisco UCS Director, Cisco Cloud Manager (CliQr), and Intercloud). Monitor application APIs and their supporting network infrastructure as a service—in real-time.
Benefit from the Broadest and Deepest Coverage of Cisco Technologies—Network, Data Center, and Collaboration
Keep Your Cisco Network Infrastructure Healthy
Monitor network activity, throughput, availability, performance, usage, configuration, and capacity trends/forecasts of and alert based on industry standards.
Network activity and throughput: monitor active interfaces, BGP sessions, OSPF neighbor states, EIGRP health, and more; view real-time and historical throughput at-a-glance to identify abnormal traffic patterns
Firewall usage: track tunnel usage, session count, encrypted throughput as TCP/UDP statistics and transmissions
SDN: detect, monitor and visualize the entire Cisco ACI system, including Application Policy Infrastructure Controllers (APICs), Nexus switches, Fabrics, pods, tenants, server clusters, end point groups (EPGs), Application Network profiles, and more
Hardware: detect all monitor line cards and installed options as well as CPUs, memory pools, and temperature sensors for consistency and optimal performance
Wireless access points: monitor operational status of access points
Quality of Service (CBQoS): monitor profiles for every interface to meet service levels
IP SLA: monitor policies to detect performance problems in real-time
Discover & Map Your Infrastructure
Automatically discover and keep track of changes:
Provide Role-Specific Visibility into Your Cisco Network
Use a single solution to monitor everything, everywhere:
Get role-specific visibility into your Cisco technologies with built-in dashboards
Segment visibility by user, business unit, geography, technology, and many other profiles
Assess availability, performance, usage, health, risk, anomalies, and trends/forecasts for Cisco components
Troubleshoot & Resolve Issues Quickly
See every aspect of your network from a unified view so you can diagnose and resolve emerging issues before they impact users.
Proactively detect and be alerted on configuration changes, failures, anomalies, and performance issues
Navigate network, storage, and compute relationships for on- and off-premises services to speed problem resolution
Drill into specific areas of concern—without needing a separate product
Reduce MTTR for critical business services with unified troubleshooting; understand if issues are your problem or caused by a third party
Use runbook automation for an immediate response to performance or availability degradation as well as configuration changes
iovation preferred ScienceLogic's ease of implementation and wealth of out-of-the-box features over "Big 4" alternatives
The flexible SL1 architecture drives high value monitoring services for cloud and traditional IT environments.
Cisco Remote Management Services relies on ScienceLogic to enable rapid deployment
WWT uses ScienceLogic for rapid discovery of entire applications and hybrid cloud components.

ePlus uses ScienceLogic to quickly provide differentiated managed services for Cisco customers.
Managing real-time data for digital hybrid IT ecosystems using ScienceLogic.
The ScienceLogic SL1 Platform
Get full visibility and automated operations across cloud and distributed architectures.