News Roundup, January 3, 2020: What's Happening in  AIOps, ITOps, and IT Monitoring  
The holidays have come and gone in a snap. It's time to start 2020 off on the right foot—by catching up on the latest in AIOps, ITOps, and IT monitoring.

While enjoying all your bright and shiny new things, it would be easy to miss out on the latest news in AIOps, ITOps, and IT monitoring. So, let's review, shall we?
1. AIOps thrives on data.
Between 60 and 73 percent of data within an enterprise goes unused for analytics according to a quote from Forrester in an article by NetworkComputing. While large enterprises now amass volumes of data, they can't take full advantage of this information if they lack the capability to ingest and analyze it. And when they analyze only a percentage of the data, enterprises risk making faulty business-critical decisions.
This growth of corporate data combined with the highly distributed nature of enterprise infrastructures makes problems within the IT infrastructure nearly impossible to pinpoint. As a result, many issues are only temporarily addressed with the issue patched repeatedly, while the root cause remains a mystery. That's if they are addressed at all.
With the adoption of AIOps, things are changing. Businesses that turn to artificial intelligence and AIOps to prevent or resolve high-severity outages and other ITOps problems can act more quickly on hybrid, highly decentralized, data-driven infrastructures. AIOps isn't defeated by big data–it thrives on it.  
2. The far-reaching benefits of AIOps are often overlooked by the businesses that adopt them.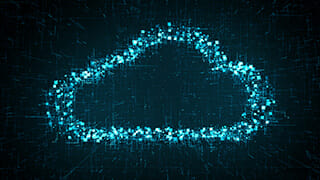 According to an article in InfoWorld, artificial intelligence (AI) engines integrated with cloud-based and cloud-oriented management, monitoring, and self-healing services can now take advantage of AI and machine learning. While the developers and vendors of this technology know this, many customers are still not realizing their investment to its full potential.
Three areas that are underutilized include:
Self-healing. AIOps for the cloud is capable of learning by matching problem patterns with solution patterns over time. Ultimately, they will be able to do this automatically, and even better than humans can. This type of automation reduces human attention needed for ongoing issues and increases reliability.
Defense of cloud-based data and applications. Security and AI have been related to each other in theory, but often the value of this relationship has not been well understood by either AI or security experts. The reality is that AI can allow security systems to become proactive and learn as they go what constitutes a breach attempt and how to defend against it.
Knowledge sharing. An AIOps platform needs to learn things over time to engage in pure cognitive computing. When knowledge is shared in real time, AIOps becomes a smart Ops system, one that benefits from collective learning and knowledge.
3. Companies will require AI and related analytic technologies to scale their ITOps.
You are probably exquisitely aware that virtualized IT infrastructure is exploding on the scene, data is getting bigger, and the cloud is here to stay. And you know that AI tools can simplify virtual system management, but are there a few tips from an article by TechTarget to consider before, during, and after your AIOps adoption:
Recognize the need to adopt AIOps tools. It bears repeating. The use of legacy infrastructure management tools is no longer a viable approach. David Link, CEO at our own ScienceLogic, coined the term "the alert swamp," which refers to how the massive volume of notifications overwhelms modern technicians. AIOps has the potential to help admins drain the swamp by automating the process of separating inconsequential noise from items that admins must act on.
Gain more perspective. New tools that enhance system management also require admins to change business processes and employees to develop new skills. Businesses must move away from segmented management, and support staff should understand how infrastructure elements synchronize.
Clean up the data. Improvements in technology enable admins to monitor more system infrastructure elements, which results in vast amounts of information to analyze. AIOps consolidates such information on the machine end, and organizations must provide consistent terminology to help with this consolidation on the human end.
Protect your data centers. The AIOps market is at an early stage of development. As a result, many startups have begun to emerge. Its best practices to be aware of all vendors, what they offer, and what they can deliver. True AIOps will not come from vendors of legacy tools, or those companies with a vested interest in supporting.
4. Kubernetes and businesses confront new security challenges.
According to a recent article by TechTarget, enterprises are facing new Kubernetes multi-tenant security challenges when they broaden their production container deployments. Multi-tenancy occurs when multiple projects, teams, or tenants, share a centralized IT infrastructure but remain logically isolated from one another. Multi-tenancy demands that IT pros wire together a stack of third-party and, at times, homegrown tools on top of the core Kubernetes framework.
Kubernetes namespaces do not offer isolation by default. Typically, each namespace corresponds to one tenant. This is because core upstream Kubernetes security features are limited to service accounts for operations such as role-based access control—the platform expects authentication and authorization data to come from an external source.
However, Kubernetes multi-tenancy can have advantages if approached correctly. Kubernetes multi-tenancy has the potential for more highly efficient clusters and cost savings on data center hardware and cloud infrastructure. The good news for enterprises that want to achieve Kubernetes multi-tenancy securely is that there are third-party tools they can use to do it. Some Kubernetes multi-tenancy adopters also lean on cloud service providers such as Google Kubernetes Engine.
Happy New Year, friends. And in this new year, the future of IT will be bright and shiny if we embrace all the good things to come. The digital transformation journey has begun—and adopting AIOps sooner rather than later is the right path to be on.
Just getting started with AIOps and want to learn more? Read the eBook, "Your Guide to Getting Started with AIOps"»