Top 10 Trends That Will Shape Modern
Infrastructure and Operations in 2020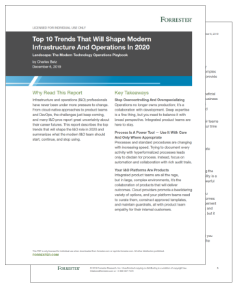 Infrastructure and operations (I&O) professionals have never been under more pressure to change. From cloud-native approaches to product teams and DevOps, the challenges and uncertainty are aplenty. In this Forrester report, Charles Betz predicts the top 10 trends that will shape the I&O role in 2020.
Download the report to learn how you can:
Ensure integrated product teams to drive efficiency
Replace hyper-formalized processes with automation and collaboration to enable agility
Integrate your I&O products to drive better business outcomes
Today's businesses face growing complexity and fragmentation, with a fractured picture of costs, risks, and legacy workloads alongside innovations. The good news is, you're in a position to lead. With these Forrester insights, you'll be prepared to abandon old inefficient ways and adopt new behaviors to jump-start your transition into a modern I&O role.
Stop worrying about what the future might hold and start shaping your own. Get your modern technology operations playbook today.
Trusted by Thousands of Customers
ScienceLogic SL1 Platform
Full visibility & automated operations across cloud & distributed architectures.