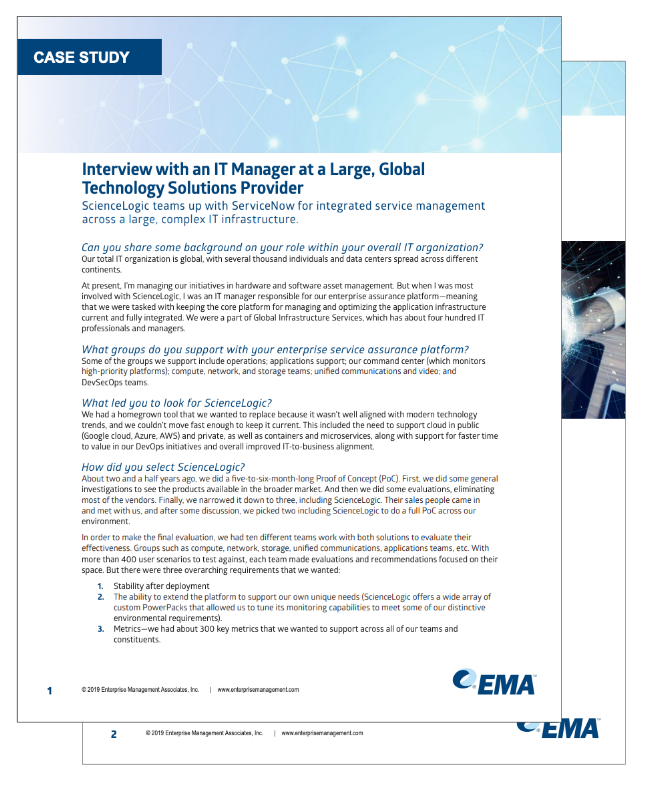 ScienceLogic teams up with ServiceNow for integrated service management across a large, complex IT infrastructure.
This customer interview provides insights into how a global services provider:
Conducted vendor evaluation and selection
Improved IT-to-business alignment
Migrated from legacy to multi-cloud, hybrid IT environments
Improved ServiceNow incident and change management with real-time data and automation
Measures success with over 300 metrics
Sneak Peek:
Q: What would you highlight as top-of-mind benefits achieved?
A: I think the single most top-of-mind benefit with ScienceLogic is the sheer volume of technologies you can manage out of the box: web services, Docker, containers, network infrastructure, out of band, and even enterprise entities via the Internet of Things. Moreover, if it's not out of the box, then you can easily and quickly build it yourself. Secondly, we benefit from ScienceLogic's integrations. They allow us to have a more holistic view of the full-stack application infrastructure with applied machine learning and analytics.