Gartner: Rethink Your Infrastructure Management Tool Selection Strategy
Analyst Report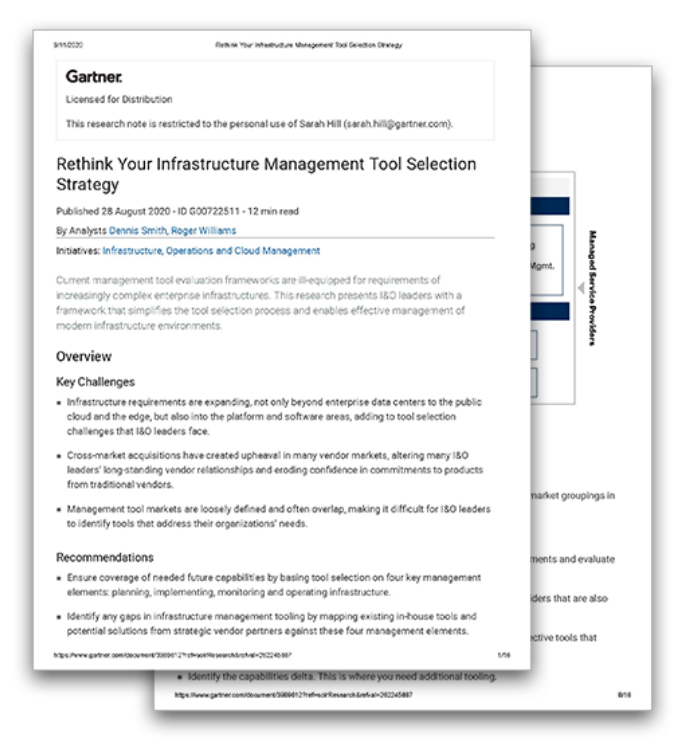 GARTNER is a registered trademark and service mark of Gartner, Inc. and/or its affiliates in the U.S. and internationally and is used herein with permission. All rights reserved.
Gartner Rethink Your Infrastructure Management Tool Selection Strategy, Dennis Smith, Roger Williams, 28th August 2020.
According to Gartner, "Current management tool evaluation frameworks are ill-equipped for requirements of increasingly complex enterprise infrastructures." In "Rethink Your Infrastructure Management Tool Selection Strategy," Gartner offers a framework to simplify your management tool selection process for modern infrastructure environments.
Is your tool selection strategy hindered by these key challenges?
Expanding infrastructure, platform, and software requirements
Eroding confidence in products from traditional vendors
Overlapping tool functionality
In this report, Gartner offers insights around how to future-proof your tool selection, identify tooling gaps, and address operational holes. Get the recommendations you need to effectively manage your modern infrastructure environment and enable digital business success. 
Download the report today.