I recently uncovered persuasive data that argues in favor of IT monitoring tool consolidation. Before I share that data, please allow me to take a step back…
We all recognize the digital transformation that's been taking hold. Enterprise and service provider organizations are riding a massive wave of IT modernization. It encompasses the adoption of hybrid cloud, increased SDN deployments, and practical applications for IoT. Organizations must adopt new digital strategies – and the technologies that support them – to remain agile and competitive.
But these new technologies come with a price. They disrupt an organization's ability to monitor their new digital infrastructure. Many infrastructure and operations (I&O) leaders lose performance visibility when applications and their supporting infrastructure migrate to hybrid and multi-cloud environments, or when networks evolve into software-defined realities.
Adaptation Is Key
It's plain to see we're at an inflection point. IT teams must consider whether or not their existing vendors can adapt to this new, digital infrastructure. They have three options:
Hope that their legacy monitoring vendors are able to deliver solutions they claim they can
Deploy new point tools to monitor specific technologies (SDN, multi-cloud, etc.) not covered by their current vendors
Consolidate legacy and disparate monitoring tools in favor of a modern performance management platform
I'll leave the first option for the reader to contemplate. Suffice it to say, many legacy vendors have not kept pace with providing adequate performance insight over modern IT environments.  I will, however, warn against the second option. This is where the data on tool consolidation comes into play.
Fewer Tools, Fewer Problems
According to Shamus McGillicuddy, Senior Analyst of Network Management at Enterprise Management Associates (EMA), "Enterprises may be tempted to install new management tools to extend visibility into hybrid clouds, IoT, SDN, and other technologies. EMA warns against this approach. Adding more tools to manage new architectures can do more harm than good."
Companies that use less than four monitoring tools outperform the average enterprise in two key areas – reported network problems and reactive trouble shooting.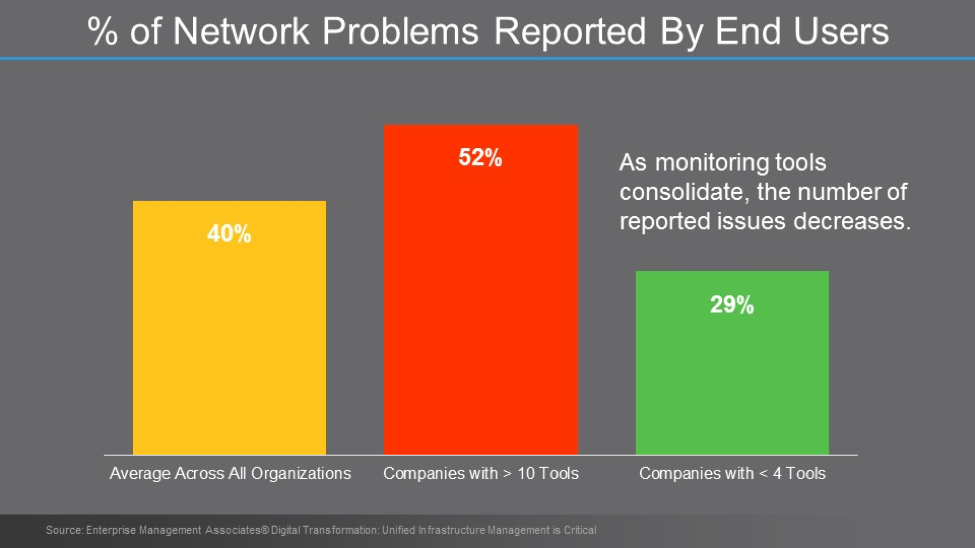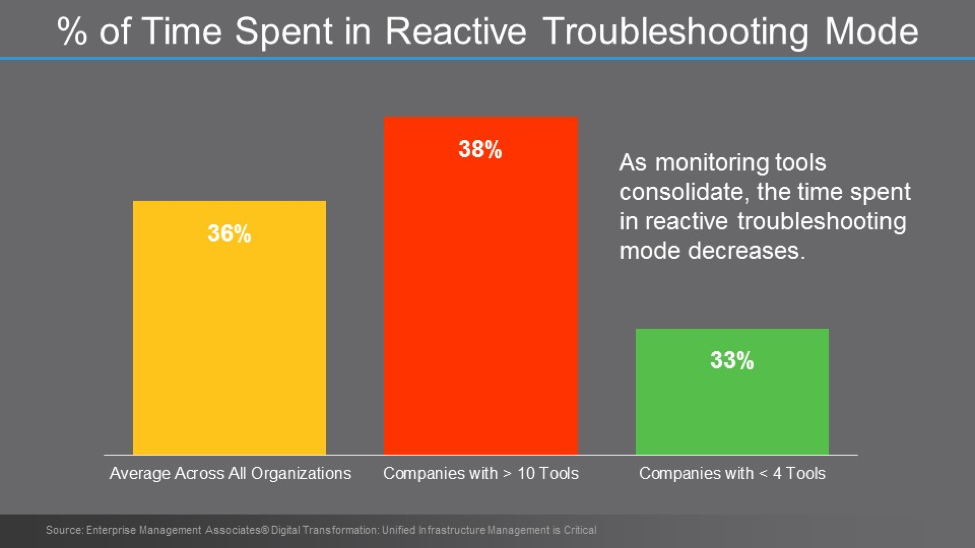 Although, perhaps the most noteworthy data from EMA is the chart below. It shows that 36 percent of organizations deal with daily network outages. However, organizations with fewer than four monitoring tools in place, only six percent of them experience daily outages. That's quite a gap.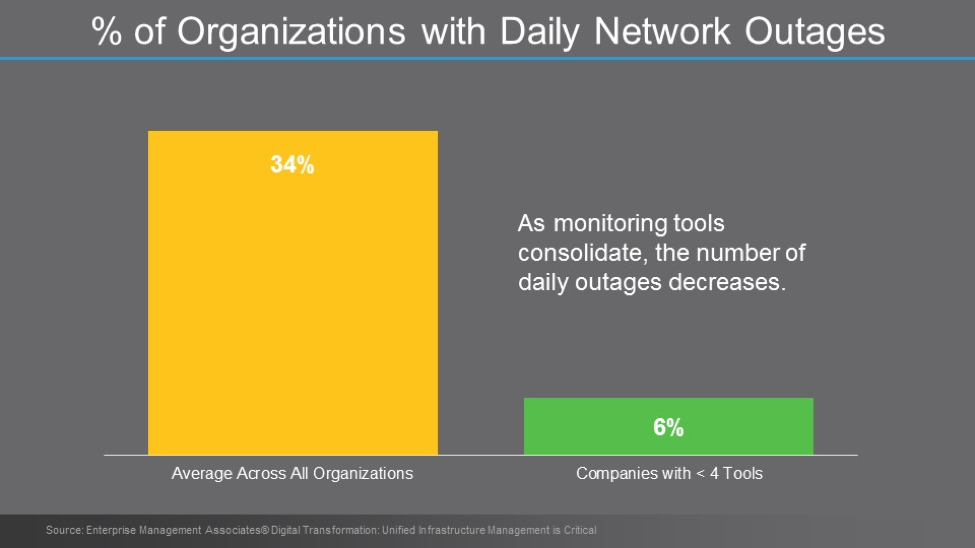 So, when all the evidence is considered, tool consolidation seems a profitable choice. It's no surprise that EMA reports that 26% of enterprises now maintain a unified, cross-domain operations center instead of a standalone network operations center. These cross-domain operations centers jointly monitor and troubleshoot servers, storage, networks, applications, and more.
There's no single platform that performs every monitoring need required by an organization. But there's an opportunity for I&O leaders to consolidate the vast majority of their current functions. Cross-domain visibility of IT service delivery improves troubleshooting efforts and decreases service impacting events.
To learn more about the role hybrid IT monitoring plays in a successful digital transformation, read EMA's new white paper – Digital Transformation: Hybrid IT is Critical