In parts one and two of this series, we defined exactly what ADM is and examined three primary approaches to ADM. Now we're going to discuss ADM in relation to AIOps. Is traditional ADM enough?
As you transition to Artificial Intelligence for IT operations (AIOps), ADM is necessary, but it's not enough. Why? Because ADM is insufficient on its own. Since there are so many different layers of technologies making up your IT infrastructure—from legacy to virtual machines to the cloud to microservices—that means that there are an increasingly complex set of dependencies between the app and the infrastructure. Changes to the application and underlying infrastructure occur so quickly that we are past the point where humans can figure out how these parts are related. We need a machine to do it for us.  
Today AIOps is not just a buzzword or something to think about doing next year. It's become a necessity. You can't afford not to. You cannot do AIOps workflows without a strong topology.
The image above represents a typical, complex, multi-technology application or business service.  It shows the relationships of the application and the underlying layers of infrastructure. What we do at ScienceLogic is:
First, we map the application components east-west.
Then we map the underlying technologies into north-south stacks, giving you a complete picture of the application or "Business Service."
This way, if/when something goes wrong anywhere in your infrastructure—which is often shared across multiple applications and business services—you can quickly identify the impact and isolate the root cause.
Agents can monitor east and west between servers by watching application flows. But the north and south dependencies mostly come from other sources. ScienceLogic has patented PowerMap technology that discovers and maintains the north-south dependencies across all the layers of abstraction for private, public, and multi-cloud environments. This true dependency map is the foundation of algorithms for event correlation, root-cause analysis, and behavioral prediction.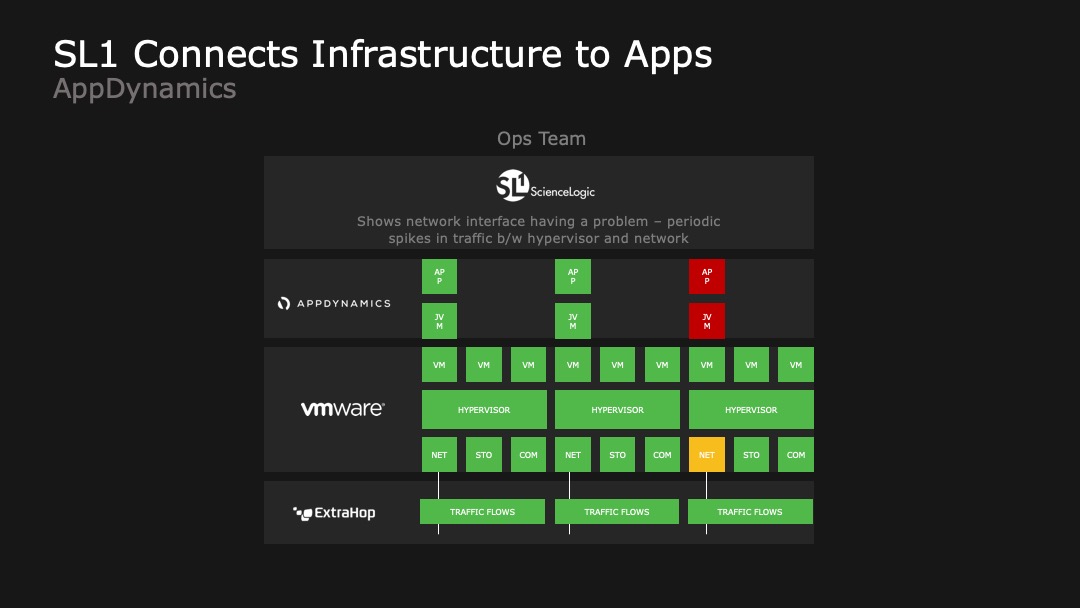 You have an APM tool. Great! But is it enough?
If you have an Application Performance Management (APM) tool like Dynatrace or AppDynamics, that's fantastic. These tools give you ADM capabilities that provide you with a consistent view across your apps. But your infrastructure is not just made up of applications, is it? What if you have a LUN failure which is causing your app to underperform, like in the image above? An APM tool alone does not give you the root cause of why your app is underperforming. But ScienceLogic SL1 does.  

See the SL1 Platform in action—demonstrating how you can extend the reach of your APM tools.
SL1 fuses events, performance, configuration, and relationship data from your APM tools like Dynatrace and AppDynamics with the rest of your infrastructure data, and it maps the APM tool's hosts to the physical and virtual infrastructure—not just servers, but network, storage, and cloud as well. SL1 works with your APM tools to connect the dots by mapping the app relationships from the APM data with the app and infrastructure relationship data it collects natively across your entire IT environment. You get visibility across ALL your infrastructure and apps—not just the 10-20% of apps monitored by your APM tool.  
Since applications are constantly evolving, you need the right ADM to provide you with the actionable insights necessary to accelerate your journey to AIOps. ScienceLogic is here to help you get there. Get more information on how ScienceLogic does this.